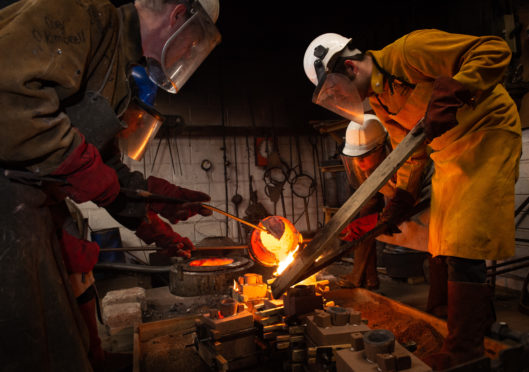 New arts jobs are being created across Scotland as part of a £100,000 investment to help the creative sector bounce back from its darkest hour.
Aberdeen Performing Arts, Eden Court in Inverness and the Tarland-based Scottish Sculpture Workshop are three of the seven groups sharing the cash.
They are being encouraged to "broaden diversity" by using their share of the National Lottery cash to take on people from poorer backgrounds, who are often at a disadvantage when it comes to the industry.
The organisations are to host year-long paid creative fellowships as part of the Weston Jerwood Creative Bursaries programme.
The funding has been hailed as a boost for the sector after an "extraordinarily difficult time for artists".
Eden Court Theatre in Inverness will use its share to recruit a Gaelic-speaking participatory artist in early 2021.
Producer of Gaelic and traditional arts at Eden Court, Seona McClintock, said: "They will work within our exceptional engagement team, connecting creatively with communities across the Highlands.
"We are proud of the work we are doing to embed Gaelic within our organisation and with this new role we will build on the foundations we have laid.
"After a year that has been extraordinarily difficult for artists, we are pleased to be able to offer this opportunity for an emerging artist to develop their practice and enrich the cultural life of the Highlands."
Meanwhile the Scottish Sculpture Workshop will be offering a year-long programmes and communications fellowship.
Its programme and communications manager, Jenny Salmean, said: "We're super excited to have been selected as a host organisation in the Weston Jerwood Creative Bursaries.
"We strongly believe in the ethos of the programme, which seeks to embed socio-economic inclusivity and diversity in the arts.
"The role will support our artistic programming, including our recently launched EU large cooperation project, Art Beyond Participation, developed with 10 partners across Europe.
"The bursary covers 90% of the programme and communication fellow's salary, enabling us to continue supporting artists and producers in the early stages of their learning."
Aberdeen Performing Arts, which runs the city's Lemon Tree, Music Hall and His Majesty's Theatre, is using its share to employ an associate producer, while Atlas Arts will recruit an assistant producer on the Isle of Skye.
Elsewhere in Scotland, The Workroom/Tramway in Glasgow, and the Edinburgh Printmakers and Red Note music group will create new posts as well.
Creative Scotland, which administers the fund on behalf of the National Lottery, said the bursaries will nurture fledgling creative professionals such as artists, curators and producers.
Joan Parr, director of arts and engagement at Creative Scotland, said: "Fair access to careers in the arts is a pressing issue facing the sector, and hearing diverse voices enriches us all.
"With support from The National Lottery these transformative opportunities are being made possible from Skye to Edinburgh, Aberdeen to Inverness, and go some way to ensuring that the most talented people, regardless of background, are given the chance to succeed and contribute to a more vibrant arts sector for us all."