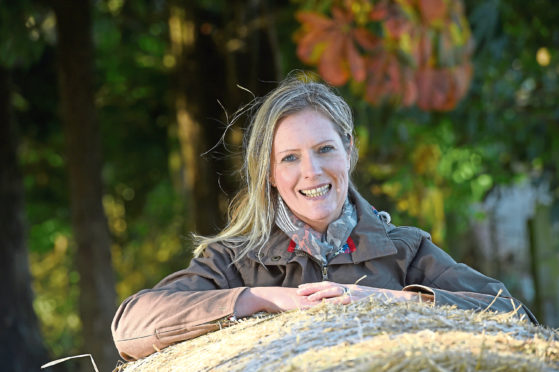 We are all very excited – the vending machine has arrived! We are now eagerly awaiting delivery of our branded glass bottles.
Unfortunately, we couldn't use our signature bright pink and black branding due to prohibitive costs, so we plumped instead for the blush pink we were offered.
Even though we couldn't get our corporate hue (it's quite a lot paler), Nick liked it for being a bit different and I thought it was pretty. I can just see it with a bunch of rainbow-coloured tulips or sunshine-yellow daffys in.
Family and friends are now urging us to have an official vending machine launch, which we're considering, but our first priority is to get it up and running to overcome any inevitable teething problems.
It was surprising, I think anyway, that despite its price tag the vending machine didn't arrive with someone to demonstrate to Nick and the dairy team how to use it.
Nick seems reasonably confident, however, that once he reads the slim sheath of A4 instructions and watches the how-to video on YouTube that all will be well.
Essentially, the big refrigerated steel contraption houses up to 100 litres of fresh pasteurised milk, split between two 50-litre drums. These attach to tubes that feed into the vending outlet. It certainly sounds fairly straightforward.
Customers then take a glass bottle, or any milk-carrying vessel they like, pay, and the machine will dispense up to one litre at a time. The milk will have a shelf life of five days from the day of purchase.
The vending machine will alert Nick or Rosie when the milk is running low, but he anticipates refilling the drums every two days during the week, possibly more in peak months.
Every time the drums are changed, the entire machine goes through a 10-minute cleaning programme to sterilise it.
Customers are responsible for washing their own bottles and can pay for their milk by cash or card, although rather frustratingly the company forgot to attach the contactless card reader to the machine before despatch, so this is being sent separately.
However, as we still need to order the livery for the machine, there's still a bit we, ahem I, have to do before the milk is on tap.
As well as a desire to go greener with the milk processing arm of the business, Nick has invested in milk vending based on customer feedback.
So many of our regular customers said that this is how they want to buy their milk and we are really hoping this turns out to be true. We are also hopeful that this more eco-friendly way of buying milk will attract new customers.
When Nick and Rosie attended the newly launched Dingwall Academy Community Market recently, they were approached by folk who said that they don't currently buy milk from us because of the plastic bottles.
There will be a supply of two-litre plastic bottles in the honesty shed to begin with, just in case customers arrive without a bottle or it's perhaps unsafe to use a glass one – if they've cycled here, for instance.
Elsewhere on the farm, Nick is delighted that one of his Ayrshire heifers is recovering well after suffering nerve damage following the birth of a rather large calf – she lost the calf, unfortunately.
It has been too chilly to get the herd outside quite yet, although the grazing is looking good with the grass growing well despite the recent cold snap.
Rosie and the team continue to fill the ice cream stock freezer in preparation for the season ahead, and we are hoping to get along to a few of our community markets over the next couple of months with milk, yoghurt and cheese.
We have just started stocking a selection of Highland Fine Cheeses in the milk fridge at the farm and they are selling really well. Rory Stone, founder and cheesemaker, buys almost all of our milk (minus the small amount we need to make our own products), so it made sense to add his cheeses to the offering in the honesty shop.
School has been particularly busy of late, with Daisy taking part in a region-wide music festival twice in one day – the morning session with her class singing Touch The Sky by Julie Fowlis, from the movie Brave, and the evening session with her String Club orchestra, performing Squealing Pig and Gaelic Castle.
Daisy and her school friends also had the final cross country run of the season round the Black Isle Showground. Considering they were running into driving rain and a chill easterly wind, the children did particularly well, with one of our boys finishing 19th out of 200.
Yours truly was one of the volunteer marshals at the event, but was dressed in many layers and full-on waterproofs for my duties at the funnel (the very end of the race where marshals were instructed to keep runners in the right order to receive their correct placing).
Parent council, meanwhile, is forging ahead with a road safety campaign following the well-attended B9169 speed campaign meeting last month.
Unfortunately, as a result of traffic calming in the villages surrounding the rural Mulbuie settlement, the B9169 has become a rat run attracting a greater volume of traffic more often than not travelling at unsafe speeds.
This is particularly concerning because the school and nursery sit just a little back from the B9169 and children as young as three-year-old Mollie are being walked right next to this busy road to get into the playground.
On a happier note, we will be embarking on a spring gardening and playground project shortly and will host a community coffee morning for local residents in the hall with help from pupils and teachers.
Next month: Spring time.
* Rootfield Farm is on the Black Isle, north of Inverness, where Jo lives with husband Nick, a dairy farmer, their daughters Daisy and Mollie, and 170 cows.