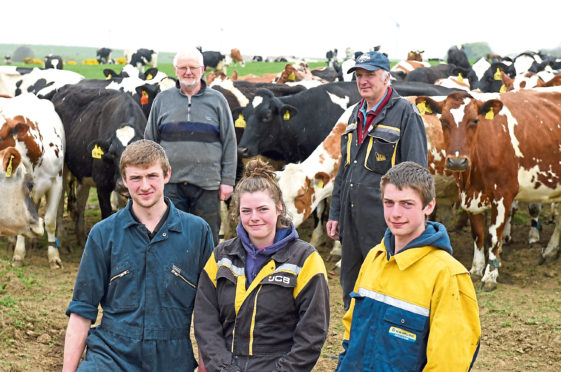 The clock is ticking for a group of north-east dairy farmers to find a new buyer for their milk.
In October a group of 14 farmers located north of Aberdeen were given 12 months' notice to find a new milk buyer.
Existing buyer Muller blamed an "unprecedented 25% surge" in Scottish milk production for the move and said it was being forced to haul 180 million litres of excess milk to England for processing every year.
The affected producers thought a solution had been found at the start of this year when plans emerged to build an evaporation plant to handle the milk.
These plans have since fallen through, and the farmers now have until the end of November to find a new home for their milk.
Gordon Taylor from Upper Braiklay, near Methlick, is one farmer looking for a new buyer.
"We have all missed out," he said.
He said the project collapsed because some of the producers who are on Tesco-aligned contracts failed to sign up.
"I think this will be the end of dairying in the north-east," said Mr Taylor.
"When my father started dairying in 1950 there were around 640 dairy producers in Aberdeen, Banff and Kincardine.
"There are now only about 20 left."
"We have two sons who are keen on dairying. They are pretty devastated."
He said the dairy firm which had been lined up for the evaporation plant project was still interested in buying milk from north-east producers but this would incur a haulage cost of 4-5p a litre.
For Mr Taylor's business, which produces 2m litres a year, the annual cost would be up to £100,000.