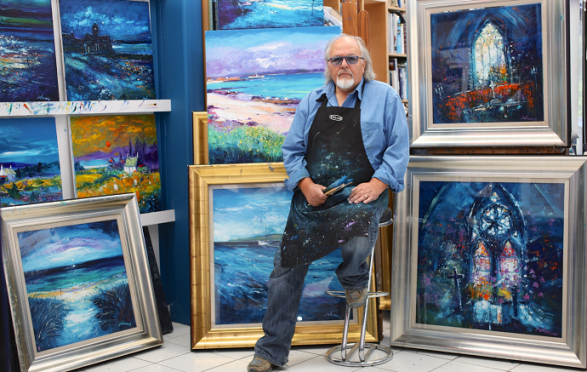 He has never relinquished his passion for portraying the often mystical and mesmerising qualities of Scotland's rugged coastline.
And now, the best-selling Scottish artist John Lowrie Morrison – commonly known as Jolomo – is preparing to unveil 50 new paintings in a solo exhibition at a north-east art gallery.
The collection, entitled Jolomo: West to Argyll and the Hebrides, which opens at the Tolquhon Gallery near Tarves on Saturday, April 1, celebrates the beauty of Scotland's West Coast in his idiosyncratic expressionist painting style.
Mr Morrison is one of the most popular and successful artists in his homeland and enjoys an international reputation. His paintings have been bought by celebrities including Sting, Madonna and Rick Stein.
And even those with little interest in art will recognise a Jolomo landscape with its distinctive heightened colour and richly textured oil paint.
The new exhibition brings together paintings of the artist's favourite places in Argyll with landscapes from the many of the islands, including Iona, Gigha and Colonsay. Figures rarely appear in his works, but he paints a landscape informed by human presence, often featuring crofts and boats.
The fluctuating weather and changing light through the seasons inspire his works, whether they be moody storms or brilliant sunsets.
Mr Morrison said: "I'm always drawn back to painting Argyll and the islands. The light is wonderful, and it varies so much from season to season, from day to day, even from hour to hour. Every time I look at the landscape there is something new to see.
"I like to paint in all seasons and weathers and at different times of the day. The light changes dramatically, and brings out very different tones and colours.
"Even in winter, there is a lot of colour and the light creates surprising colours on the snow and in the sky."
He trained at Glasgow School of Art and worked in education for 25 years before taking up painting full-time in 1997. He first exhibited at Tolquhon Gallery in 1998, which was the first show he held in the north-east of Scotland.
Joan Ross who owns the gallery with her husband, Danny Ross, added: "He was little known at the time, but it was clear even then that there was something special about his work, that it made a strong connection with people.
"He is a hugely energetic painter. He celebrates the Scottish landscape, never tiring of expressing its beauty, and his work always lifts the spirits.
"You cannot ignore a Jolomo canvas. It is always rich, bright and beautiful. 2017 marks our 30th year as a gallery and we are delighted to be welcoming him back to Tolquhon for this special exhibition."
While his work most often features the West Coast of Scotland, Mr Morrison was challenged in 2007 by Alex Salmond, the then First Minister, to try his hand at painting the north-east.
He went on to produce an extensive body of work inspired by the Buchan coast which was exhibited at Duff House, most recently in 2014.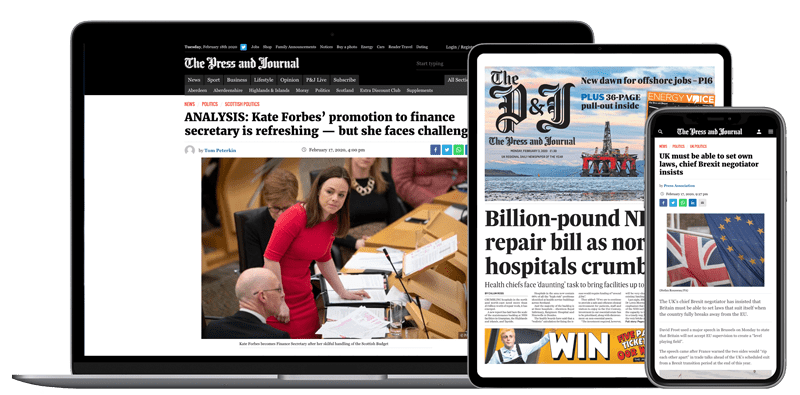 Help support quality local journalism … become a digital subscriber to The Press and Journal
For as little as £5.99 a month you can access all of our content, including Premium articles.
Subscribe