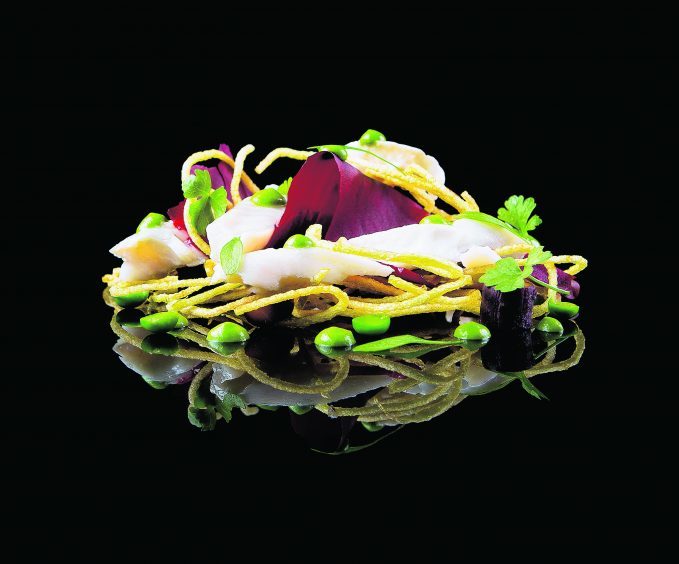 Perceptions is the culmination of more than 20 years in the kitchen, setting out my philosophy as a chef, telling the stories of my journey, the food, people and places that inspire and continue to motivate me.
The book features some of the many world-class suppliers we have on our doorstep who I have been lucky enough to build a relationship with over several years.
Celebrating the finest ingredients across Scotland from Hebridean Sea Salt to Katy Rodger's Artisan Dairy in the Ochils, my book includes modern twists on traditional dining stalwarts, to the fun and frivolous with dessert recipes featuring cherry laces, gels and meringues.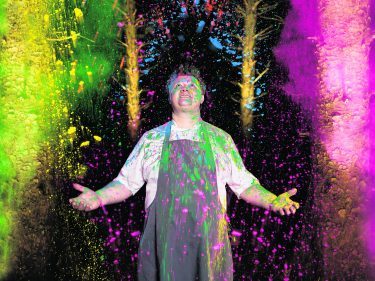 It's not just a book for restaurant chefs, but also one that can be picked up by discerning hobby chefs and food lovers.
On to this week's recipes – we've all had fish and chips before. It is definitely a firm favourite in Scotland. You can't go wrong with fish and chips!
But, this is not your average fish and chips recipe – this is one that allows you to indulge without over indulging. The key components are there, but the dish is arranged differently. Assembling your layers and bringing the flavours together will help build a dish where the flavours stand out on their own and are not lost in the mix.
My signature style is desserts, of course. The classic combination of apple, cinnamon and raisins doesn't always have to look like apple strudel. This recipe can definitely be a dinner party show-stopper to wow your guests.
Next week in YL, look out for my take on pork and sweetcorn and an easy prawn cocktail, unlike any other you have seen before…
Perceptions, Recipes from Restaurant Mark Greenaway, £30, is out now.
FISH | CHIPS | PEAS
SERVES 4
'KETCHUP' LEATHER
8 very ripe tomatoes
1 clove garlic (sliced)
3 sprigs thyme (picked)
50g Demerara sugar
70ml cider vinegar
salt (pinch of)
1 tsp xanthan gum
half tsp crytex
PREPARE AHEAD: Preheat the oven to 85°C.
Slice all the tomatoes in half, scatter over the garlic and thyme, and cook in the oven for 5 hours. Remove the garlic and thyme from the tomatoes and discard.
Make a light caramel with the sugar by melting in a dry, non-stick pan until golden brown. Add the vinegar, being careful as this is extremely hot. Stir in the tomatoes and cook down the mixture for 20 minutes on a gentle simmer. Season to taste with a pinch of salt.
Blend to a smooth purée and add the xanthan gum and crytex. Spread onto a silicone mat to a quarter cm thickness. Dehydrate for 12 hours on the machine's highest setting. Cut into 9cm x 9cm squares and return to the dehydrator until you are ready to serve.
PLAICE
4 x 180g plaice fillets
sea salt (pinch of)
quarter lemon (juice of)
Roll up each plaice fillet tightly in cling film to form a cylinder and tie off the ends. Place in the fridge to set for 1 hour. Cook in a water bath set at 62°C for 40 minutes. Remove from the water bath and discard the cling film. Season each fillet with a little salt and lemon juice.
POTATO LACES
2 Rooster potatoes (peeled)
vegetable oil (for deep frying)
sea salt (pinch of)
Put the potatoes through a spiralizer. Lightly oil and season with salt. Pick out strands about 1m in length. One by one, place the strands in the fryer gathering up all the strands to make loose nests. Fry until golden brown for about 4 or 5 minutes. Drain on absorbent paper and season with a little more salt.
PEA PURÉE
60g butter
1 shallot (finely diced)
half clove garlic (finely sliced)
100ml chicken stock
100ml milk
100ml double cream
150g peas (fresh or frozen)
sea salt
Gently melt the butter in a pan, add the shallot and garlic and sweat until softened but with no colour. Add the stock and reduce by half. Pour in the milk and cream and bring to a rapid boil. Add the peas and quickly bring back to the boil, then remove from the heat. Pass the mixture through a fine sieve, reserving the liquid and the peas separately. Blend the peas, adding in the liquid until a smooth consistency is achieved. Season with salt to taste.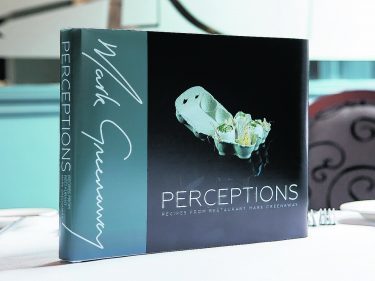 PEAS
200g fresh peas (out of the pod)
Boil the peas in salted water, then refresh in ice water.
PURPLE CARROTS
250ml water
125g butter
1g salt
4 baby purple carrots (peeled)
Bring the water, butter and salt to the boil, then blend with a stick blender. Gently poach carrots in butter emulsion for 4 mins. Cut each one into 4 pieces.
TO ASSEMBLE
baby parsley (to garnish)
Scrunch up the 'ketchup' leather and allow to come to room temperature. This will crisp up as it cools.
Place one of the potato nests in the centre of each plate and top with a piece of 'ketchup' leather.
Arrange the purple carrot pieces into the holes in the nest. Flake a plaice fillet over each plate. Scatter over the peas and dot the pea purée on and around the plaice and potato laces. Top with more potato laces.
APPLE | CINNAMON | RAISINS
SERVES 6
PUFF PASTRY
150g puff pastry
Preheat the oven to 165°C. Roll the puff pastry out to a 0.3cm thickness and cut out random holes using a variety of round cutters 1cm, 2cm and 3.5cm in diameter. Place the puff pastry onto silicone paper and cover with another piece of silicone paper.
Bake between 2 trays with a weight on top for 15-20 minutes until golden brown. Leave to cool completely and break into random shards.
APPLE CRISPS
150g caster sugar
150ml water
half vanilla pod
2 Granny Smith apples
PREPARE AHEAD: Make a stock syrup by adding the sugar, water and vanilla to a pot and bringing to the boil. Allow the syrup to cool. Using a mandolin, slice the apples as thinly as possible. Dip each slice into the stock syrup and shake off the excess liquid. Place the slices, spaced apart, on a silicone mat. Place another silicone mat on top of the slices to ensure they stay flat.
Dehydrate at 57°C for 24 hours. Store between layers of silicone paper in an airtight container.
CINNAMON ICE CREAM
5 sticks cinnamon
140g ground cinnamon
1.8 litres double cream
14 egg yolks
650g caster sugar
40g liquid glucose
5 leaves gelatine (soaked in cold water)
6 egg whites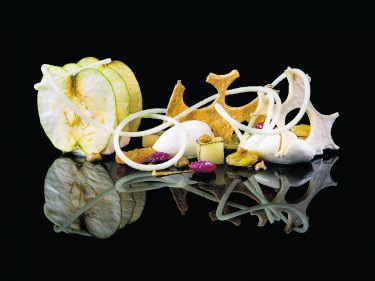 PREPARE AHEAD: Place the cinnamon sticks and ground cinnamon into 900ml of the double cream and place over a low heat. Simmer for 25 minutes, then remove from the heat. Wrap the pot in cling film and leave to infuse for 30 minutes.
Whip remaining double cream to soft peaks. Place egg yolks, 425g of the sugar and glucose into a Thermomix at 80°C for 5 minutes on setting 6. Add in the gelatine and continue to blend for a further 5 minutes.
Whisk the egg whites to soft peaks and gradually add in the remaining 225g of sugar until a stiff French meringue is achieved. Slowly add the egg yolk mixture to the semi-whipped double cream and stir until fully incorporated. Fold the French meringue into this mixture. Finally, fold in the cinnamon infused double cream. Set the ice cream in an airtight container in the freezer for 24 hours.
BURNT APPLE PURÉE
6 Granny Smith apples (stalks removed)
150g caster sugar
25ml olive oil
75ml apple juice
Preheat the oven to 200°C. Place the whole apples in a heavy-based tray and cover with the sugar. Put the tray in the oven and bake for 1 hour until completely burnt.
Transfer the apples to a blender and blend on a low speed. Add in the olive oil and apple juice and blend until emulsified. Pass the purée through a fine chinois and transfer to a piping bag. Refrigerate until required.
GOLDEN RAISINS & CRANBERRIES
100g caster sugar
100ml water
1 vanilla pod (seeds of)
50g golden raisins
15g dried cranberries
Make a stock syrup by placing the sugar, water and vanilla seeds into a pot and bring them to the boil. Leave to cool slightly, then pour over the raisins and cranberries. Leave to steep. Refrigerate until required.
POACHED APPLES
350g caster sugar
300ml apple juice
150ml apple cider
1 vanilla pod (seeds of)
1 stick cinnamon
half lemon (juice of)
2 Granny Smith apples
Combine all the ingredients, except the apples, in a pot and bring to the boil. Peel the apples and place them in the stock syrup. Poach gently on a low heat for 35 minutes until soft and tender. Drain the apples and allow to cool. Dice into 1cm cubes and refrigerate until required.
SPIRALIZED APPLE
1 Granny Smith apple (peeled)
acidulated water
Top and tail the apple with a sharp knife to create a flat surface. Place the apple into a spiralizer. Spiralize 1 long strand of apple. Keep in the acidulated water until required.
BROWN SUGAR & VANILLA WHIPPED CREAM
150ml double cream
22g brown sugar
half vanilla pod (seeds of)
Whip all of the ingredients together to soft peaks. Refrigerate until required.
TO ASSEMBLE
Cut the cinnamon ice cream into squares big enough to sandwich in between the apple crisps. Place 4 cubes of poached apple around each plate. Dot some of the burnt apple purée on the plates and on the apple cubes. Scatter over some of the golden raisins and cranberries. Rocher 3 spoonfuls of the brown sugar whipped cream on each plate, stick 2 shards of the puff pastry coming out of the cream. Sandwich together 2 squares of ice cream between 3 apple crisps, then gently drape some of the spiralized apple over each dish.