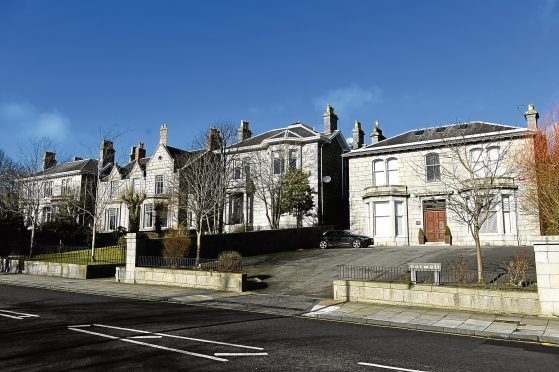 Housing sales have increased in the north-east, but the region is "not out of the woods yet" from the oil downturn according to industry experts.
New figures show that more properties are being bought and sold, and average house prices are increasing – though the picture varies between city and shire.
Research from Savills and Aberdein Considine yielded similar findings.
More than 2,200 residential transactions took place in Aberdeen and Aberdeenshire in the second quarter of 2017, a 7% improvement on last year and the first time market activity has gone up since 2014 according to Savills.
Faisal Choudhry, head of residential research for the firm, said: "A modest recovery in oil prices and consumer confidence is being reflected in mainstream property values.
"From peak to trough, Aberdeen city's average house price fell by 19%, from £199,285 in September 2014 to £162,113 in February 2017. The gap has narrowed slightly to 18%, as the average price has remained somewhat steady in recent months, reaching £163,847 in June.
"Aberdeenshire's average house price fell by 8% from peak to trough, from £202,570 in April 2015 to £186,114 in February 2017. There has been a rapid recovery in recent months, with the average price increasing since February by 8% to £201,145 in June this year, thus reducing the gap from peak to just -1%. However, this recovery has mainly been centred around locations that are within easy reach of Aberdeen City rather than rural locations, where the market is still subdued".
A 3% increase in average prices has been recorded in Aberdeenshire according to Aberdein Considine's research, but city prices have seen a small decline.
Sales are up by 8% for the two regions combined on the same time last year.
Ryan Crighton, director at Aberdein Considine, said: "Average prices in Aberdeen and Aberdeenshire have now fallen to the level they were five years ago.
"The general feeling on the ground is that although the region is not out of the woods yet, there are some positive indications that the worst may be behind us."
North-east MSP Tom Mason said: "This is welcome news and reflects the wider signs of recovery that we have seen in the oil and gas industry in recent months. It also proves the resilience of the north-east economy despite a very difficult few years.However, the fact that sales are still slow at the higher end again highlights the negative impact of the SNP's stamp duty replacement LBTT. The Scottish Government should review and amend this ill-thought policy at the earliest opportunity."