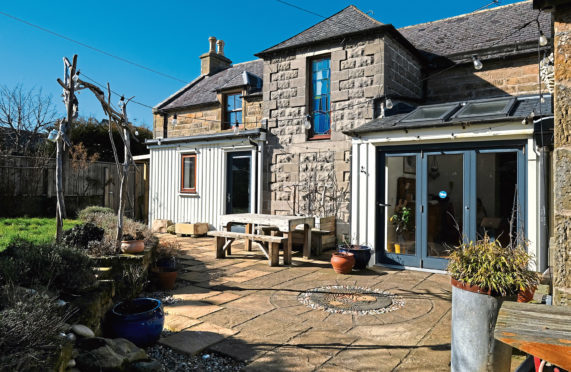 You could say the first time Richard and Tanya Wilson met was electrifying. Some 22 years ago, they were next door neighbours in Cambridge, but hadn't met.
"There was a power cut and Tanya came to ask if I had also lost power. I invited her in for a glass of wine and that was the beginning of our relationship," said Richard, originally from Grangemouth and a former Royal Marine and paramedic.
Tanya, who works as a doctor at Dr Gray's Hospital in Elgin, hails from Aberdeen. She and Richard bought Dumella House in the heart of the picturesque village of Findhorn, 10 years ago, on their daughter Katie's third birthday.
The magnificent family home is the sixth they've shared although, because of his work, Richard has lived at 21 addresses in 25 years.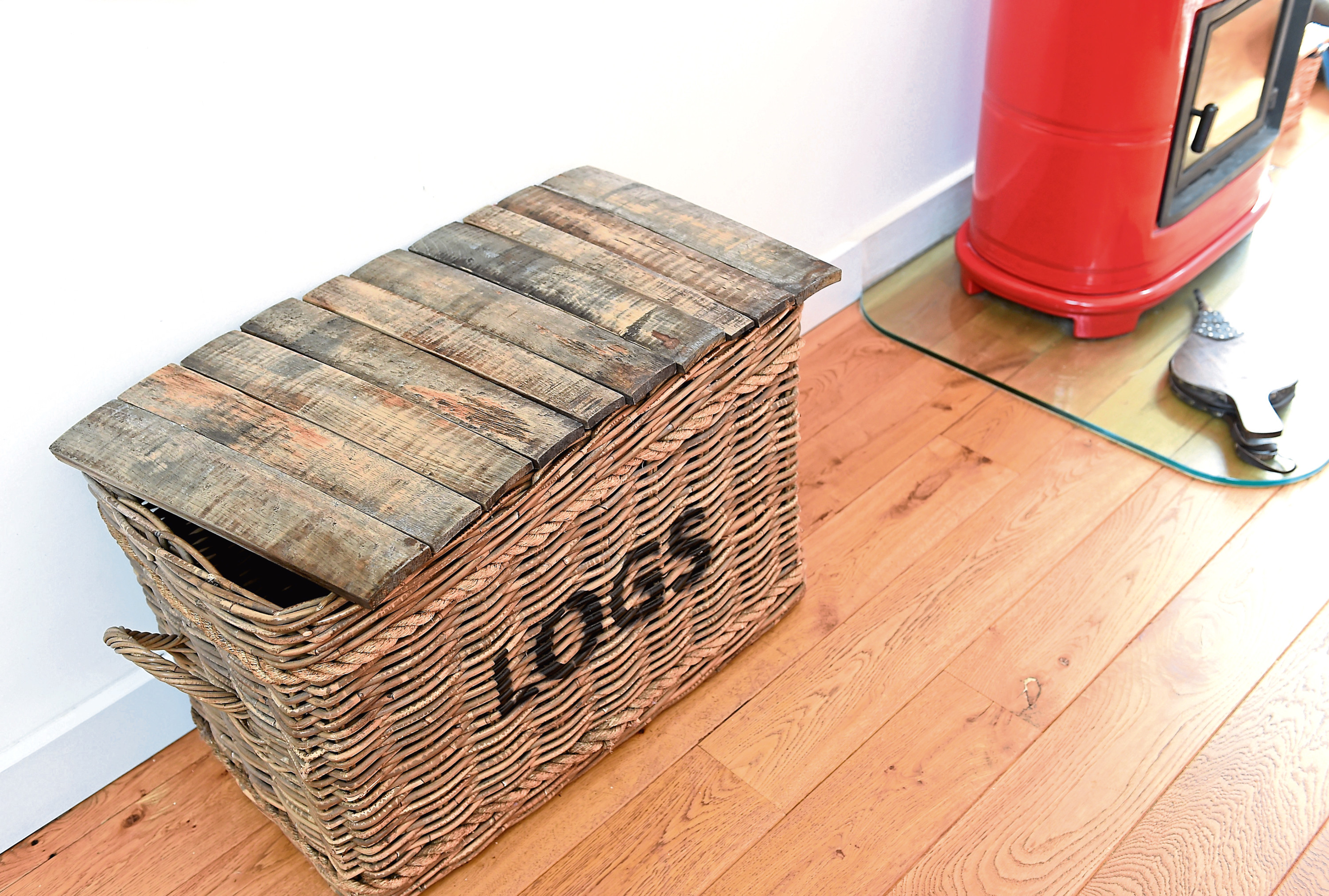 "When we lived in Inverurie we spent weekends and breaks in Findhorn and decided we'd like to live here full-time," said Tanya. "At first we had a house one street away with a view of the bay but no privacy as passersby looked into the sun lounge. I wanted a house with a bit more privacy."
Chance introduced the couple and helped to them buy Dumella House as Richard explained: "We used to play a game called 'which house would you like to own one day?' We picked this house so I took a chance and popped a note through the letterbox asking if the owners would consider selling it to us now, or at a later date.
"A few months later, they contacted us to say they were ready to sell."
Houses don't come on to the market very often in Findhorn, particularly historic ones like Dumella (the name means hello in South African), so they jumped at the chance.
"At one time it had been a granary then extended over the years, and in some rooms you can still see traces of its past," said Tanya.
The house needed considerable work done to make it the dream home they wanted.
"I took two years off work to concentrate on making the changes, which included knocking down walls and adding an extension to create an open-plan-style kitchen and lounge which opens directly into the garden," said Richard. "It was a bit like living in a building site for a while."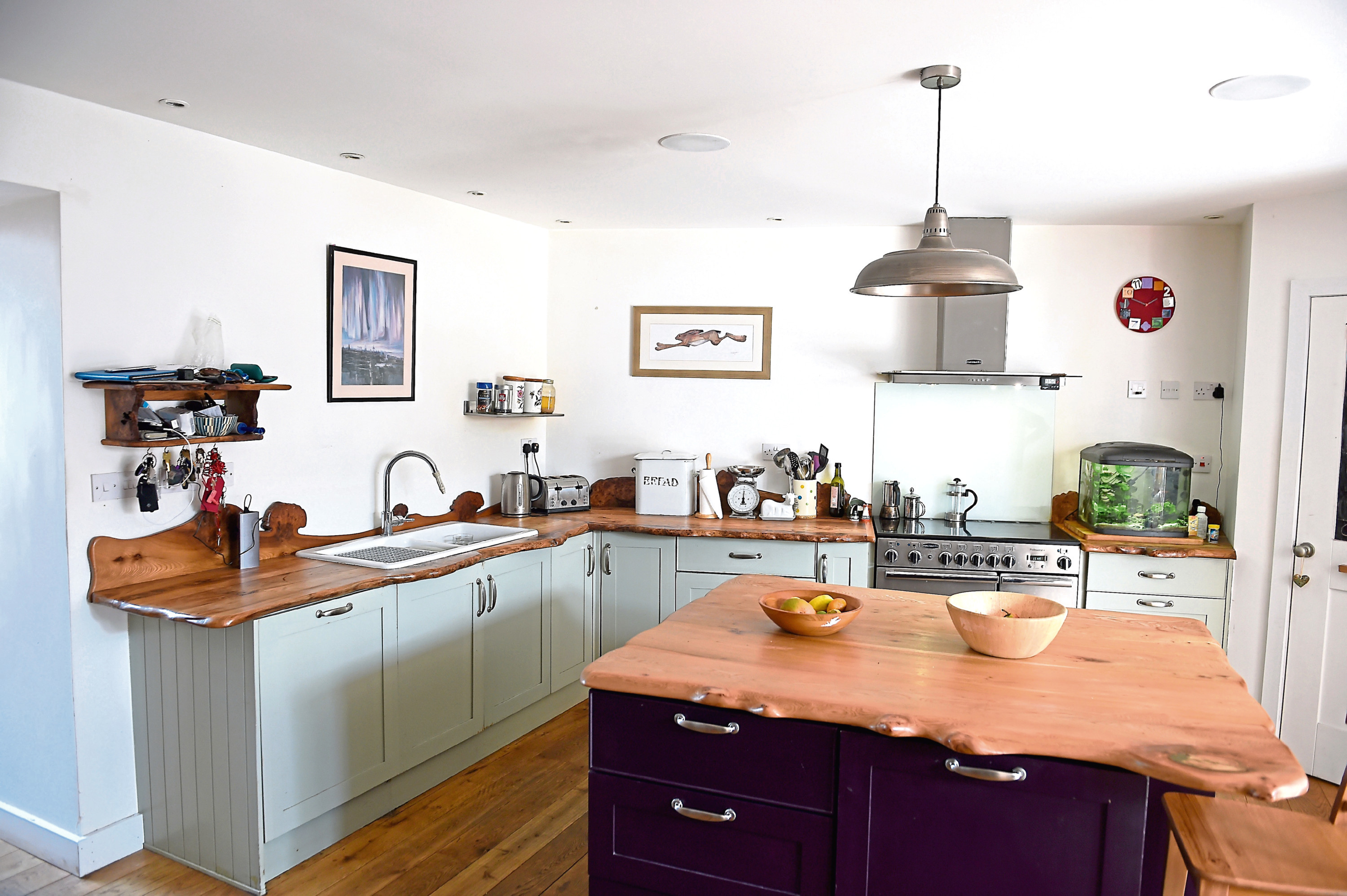 But the years of hard work paid off handsomely.
Having been carefully renovated and extended, the house is deceptively large and has an intoxicating blend of traditional and contemporary features.
On the ground floor, a front door with a charming starfish-shaped door knocker leads into a good-sized porch and boot room. To the right there's a practical wet room with pebble-style tiling which gives it a seaside feel.
The porch opens into a magnificent open-plan kitchen, dining room and lounge with large bi-fold glass doors leading to the private garden.
There's solid oak flooring and the kitchen units are bespoke and hand-built. Nice touches include beautiful oiled Elm worktops and splashbacks with a natural edge. The units are painted in aubergine and grey tones which add a splash of colour. There is a Rangemaster cooker, an integrated dishwasher and a walk-in pantry/larder complete with motion sense lighting.
"There are two things I think are essential in every house – a larder and a dressing room," said Tanya, who has both here.
The lounge area has good natural light from ceiling windows and a glass door, while a bright red wood-burning stove makes a natural focal point.
From here, there's a rear hall with a wall of floor-to-ceiling storage, a home office and utility room.
The dining area has plenty of space for a large dining table and furniture and from here, a door leads to an inner hall and a large sitting room full of character with a solid timber floor, original ceiling beams and timber shutters on the windows, while a wood-burning stove sits in an elaborate carved timber fireplace.
"This is the grown-up sitting room," said Richard. "There's no TV or music played here, it's just a lovely room to sit and relax." Walls painted a shade of dark blue Farrow and Ball paint give it an elegant look.
"Because the walls are thick, the room is cool in the summer but in winter warms up really quickly and is very cosy," he added.
Completing the accommodation on this floor is a double bedroom with glass door offering direct access to the garden.
An inner staircase, thought to have come from a church, leads to the first floor landing, while a modern stained-glass window in the hall adds further interest.
To the right is the large master bedroom which has dual aspect windows. Next to it is a family bathroom with a Jacuzzi bath with a sound and light system and a separate shower.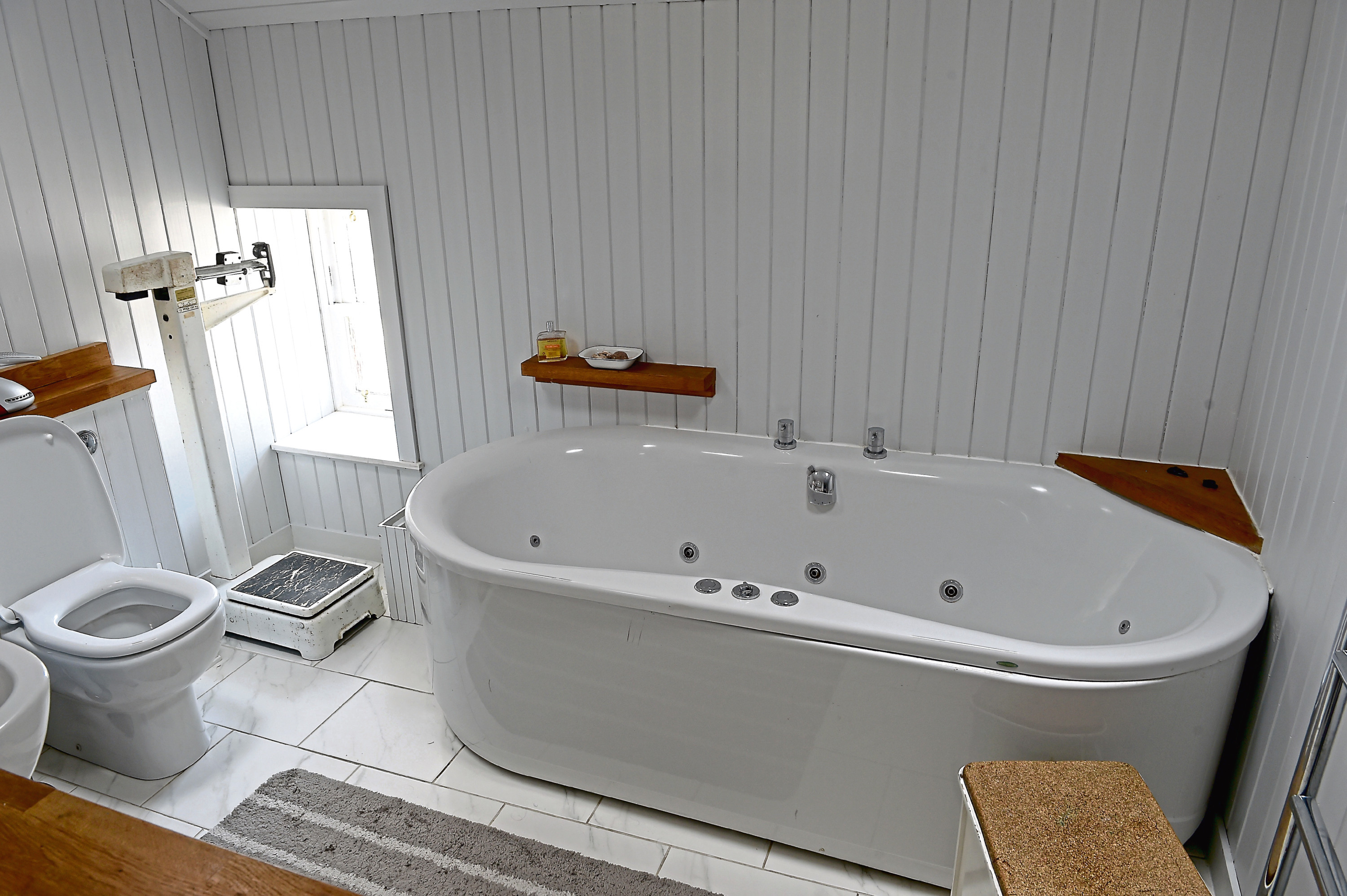 At the end of the hall there's another large double bedroom with views of Findhorn Bay while a third bedroom has been fitted out as a dressing room.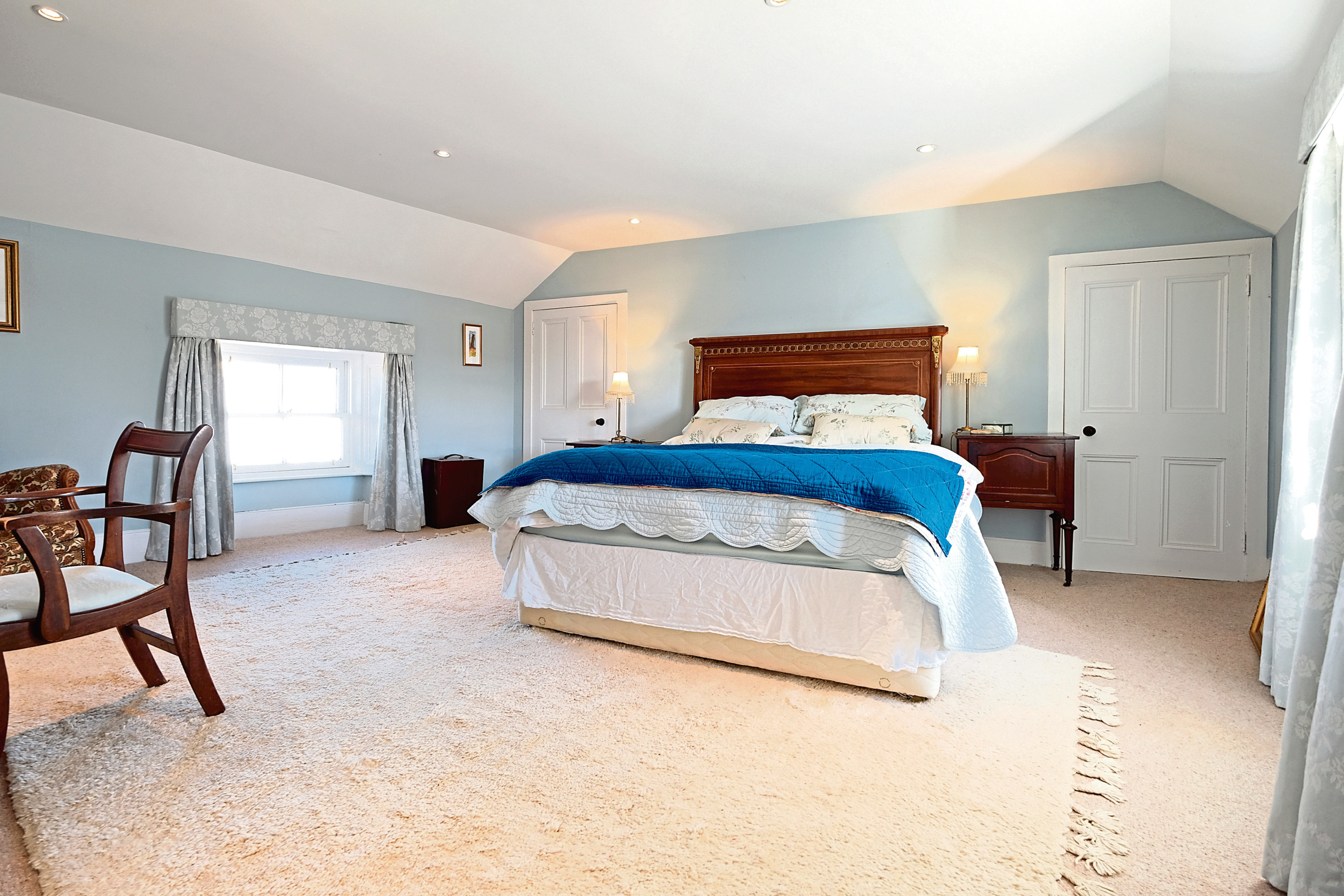 The house is heated by a 35kW biomass (wood pellet) fired boiler which fuels the central heating system and domestic hot water, and is supplemented by solar thermal panels.
"During renovations I discovered mussel shells and ash in the loft. It used to be used as insulation and I'd to clear it with a snow shovel. It's now well insulated with modern materials," said Richard.
Outside, there is parking for vehicles on a drained private parking area, an electric car charging port and garden with vegetable and herb beds. The back garden (originally the front garden) is secluded, private and fully enclosed. There's a store housing the biomass boiler and pellet hopper, a workshop/store and a hot water outdoor shower.
"The outside shower is great if you've spent a day on the beach or been out on the water," said Richard
"We have loved our time here but are selling as we are about to start a new adventure by moving to New Zealand," said Tanya, 49.
Richard added: "We are leaving behind a house that is like a brand new house but big on character. I'll miss it and all the barbecues we had on the beach, but it's time for our next adventure to begin."
Dumella House, 190 Findhorn, is on the market with a guide price of £570,000.
Contact: Galbraith on 01343 546362.