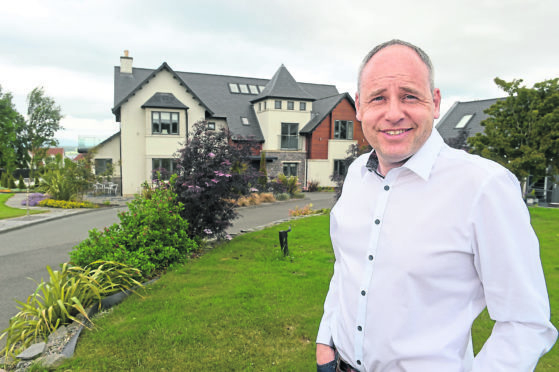 If you work as an architectural technologist, designing your own home makes sense.
Number Nine Heights of Woodside in Westhill, Inverness, is the ninth house that Mark Hornby has designed for himself and his wife Gillian since the year 2000.
But having built this stunning home, they didn't follow their custom of staying for a short while before moving on, as they fell in love with the house they've called home for the past decade.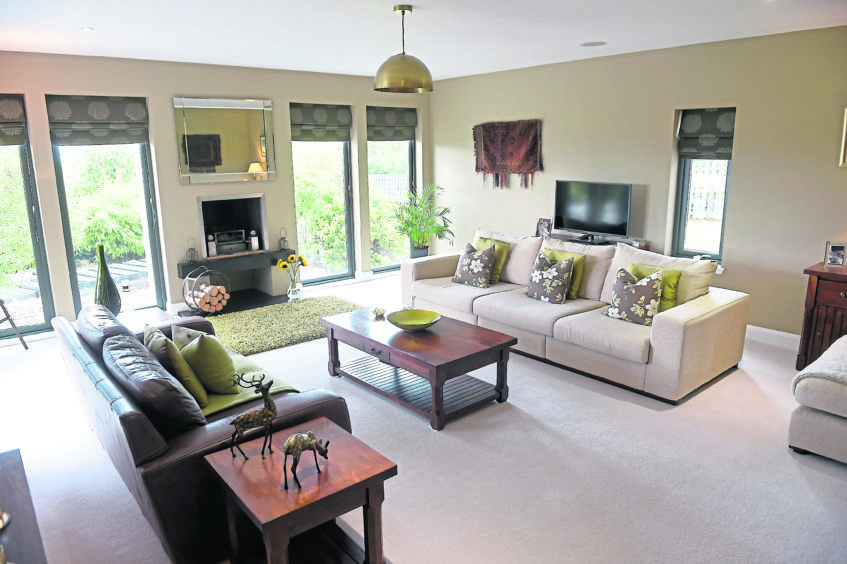 Highly desirable and contemporary, it occupies what is arguably the most prestigious position within a small development of luxury homes, and enjoys fantastic views over Moray Firth towards the Black Isle.
Mark, whose business is MRH Design, put his heart and soul into creating this perfect family pad.
"I was involved with the planning of the development when I worked for a consultants in Inverness," said Mark, 41. "At the time, we were looking to build in a rural location, so I spoke to the landowner and we purchased plot number nine.
"I had a concept in my mind for a particular type of house I felt would work on this site, one that was a fusion of style and elements. What I tried to do was take Scottish-based materials, such as stone from Achilty Quarry, slate and timber, and link it all together.
"In Scotland, you think of baronial homes as having a tower, but that can be pretty costly, so I created a square tower that's within the house and incorporates a study on the ground floor and a bathroom upstairs, which is open right up to the peak."
Mark was 30 when he started work on the house and admits it was a large project for him to take on.
"The reaction from people who saw the house tended to be 'Blimey – you've really pulled out all the stops this time'," he said.
"A lot of items I put in, such as inset LED lighting, a built-in vacuum system and Opus sound system, were cutting-edge at that time. I'd first seen the vacuum system in Australia and liked the idea, as I love gadgets so thought, why not?"
Mark's dad is from Liverpool and his mum is Australian, so he's spent lots of time in Oz.
"They like to have lots of light in their houses, as do we," he said.
"Working with my clients, it's become more apparent that everyone here craves light, so you try to get as much natural light into a home as possible."
That's something he's achieved here, as different areas of the house – on the market at offers over £875,000 – take full advantage of the sun, or sunset, depending on the time of day.
Stepping through the front door of this dream home, it's clear to see it has been meticulously designed. Architectural features include a bespoke Brazilian cherry staircase with inset LED lighting, floor-to-ceiling windows, underfloor heating, built-in Beam Electrolux vacuum and an Opus sound system.
The Balthaup designer kitchen with centre island is a cook's paradise and comes complete with a Gaggenau oven, steam oven, microwave, warming drawer and hob, Miele coffee machine, Quooker hot water tap and AEG American-style fridge-freezer with ice-maker.
The morning room, for informal dining, is located to the front of the kitchen. The garden room at the rear has a free-standing wood-burning stove and bi-folding doors providing direct access on to the large sun terrace. For more formal occasions, there is a large dining room and a sitting room with vibrant, textured wall coverings and a contemporary styled open fireplace.
This floor also has an en-suite bedroom, home office/study, utility room, linen cupboard and WC.
The bespoke staircase leads to a magnificent galleried landing. The master bedroom suite enjoys magnificent views of the sparkling waters of the Moray Firth and features a contemporary inset gas fire.
There's a large dressing room, while the enormous and luxurious en suite is fitted with a combination of Villeroy & Boch and Duravit sanitaryware.
There are three more bedrooms, two of which have en suite, while the recently refurbished tower bathroom has Italian travertine tiling, a Victoria & Albert egg-shaped bath and huge windows.
There's also a family room/gym with a large balcony from where there are fantastic views to be enjoyed.
Outside, there's a gated entrance with driveway and turning circle and meticulously landscaped grounds.
The large sun terrace is beautifully designed and ideal for entertaining in the summer months.
There's also a detached double garage which contains a purpose-built studio.
A door to the side leads to a WC and small kitchen. Upstairs is a large open office area, which is ideal for those working from home.
There's also a kid's playhouse, kennels and a tool store. "I love it all," said Mark.
"It's a great house with great space and a great location, but a dream project of mine has been to renovate a steading and that opportunity has arisen, which is why we're looking to sell.
"However, having put my heart and soul into this house, it will be a bit of a sad moment for me."
Contact: Strutt and Parker on 01463 719171.