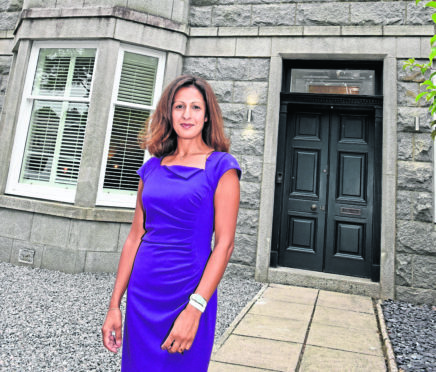 For nearly a century, ministers from Rubislaw Parish Church in Aberdeen's west end were blessed with a manse in one of Scotland's most prestigious postcodes.
Rubislaw Den South is a quiet tree-lined avenue where homes remain among the most exclusive in the city, but two years ago the reverend decided Grade B-listed Number 45 was simply too big for the church.
After only a short time on the market, the property was snapped up by 43-year-old Sayma Robbie, who jumped at the chance to make her home on one of Aberdeen's most sought-after streets. After nearly 100 years as a manse for the Church of Scotland, the Edwardian property was in serious need of some TLC.
"It was just as well I was looking for a project," joked Sayma, who works in senior management at BP.
"The church had maintained the electrics and the boiler really well, but the rest of the house wasn't in good shape
"The first job was to take out the walls affected by wet and dry rot, as well as doing a huge amount of work repairing the roof.
"And when it came to decorating, the whole house was covered in that thick woodchip wallpaper.
"There wasn't a wall without it and it took a ton of effort to rip it all off."
With six bedrooms on offer, redecorating 45 Rubislaw Den South was no mean feat.
Sayma had a vision in her head of the end result, which kept her going as the house quickly morphed into a never-ending building site.
"I love the traditional grand look and the high ceilings and intricate cornicing of the house fit that theme perfectly," she said. "Once all the structural work was finished, my first design focus was the entrance hall.
"I wanted to make the staircase a real feature as the reception area was already so striking it seemed the perfect opportunity to enhance that.
"I added real stone tiles on the wall leading upstairs along with up and down wall-lighters to show it off.
"People love the idea of the tiles and always say they would never have thought to do it themselves. But I think it gives a modern twist and really sets the tone for the rest of the house."
As with the unusual stone-walled staircase, Sayma is not short on ideas and counts interior design among her hobbies.
Spending countless evenings poring over design magazines, she wanted a house that would showcase a mix of her favourite styles.
"I love design and I've picked up a lot of ideas over the years," she said.
"For example the 1.8- metre fireplace in the lounge was something I knew I wanted to include.
"It is a real heavy-duty thing and opens like an oven. In the winter it puts out a fantastic heat, which is great in an old granite house like this
"I'm a London girl at heart so I like it to be properly toasty and made sure that a lot of the main living rooms all have working fireplaces."
Cosy on even the coldest of days, the front lounge is Sayma's favourite spot in the house.
Fabulous original wooden floorboards and high ceilings offer a touch of tradition to the otherwise modern surroundings.
Along with the tiled chimney breast, the eyes of visitors are drawn upwards to the unusual illuminated picture rail, introducing more light into the spacious room.
The formal dining room is also a bright space, with a fabulous spider chandelier and french doors leading to the garden.
In the kitchen there are a comprehensive range of units and worktops along with a large utility room.
Upstairs, the master bedroom is a particularly tranquil space, with plenty of storage and its own cast iron stove.
Three further double rooms along with the family bathroom complete this level.
The only place where Sayma's grown-up designs haven't penetrated are in her children's rooms on the third floor.
Bright pink marks seven-year-old Sophia's room, while sky blue is nine-year-old Aydin's own space for playing with friends.
"The kids love having their own floor and it's great knowing they are safe up there," said Sayma.
"They are really going to miss their rooms as well as the big garden here.
"But I've got a job opportunity down in London which I can't refuse so we are all set to make the move.
"It's sad to leave Aberdeen as there were so many more things I wanted to do to the house, but I'm sure I'll have a new project on the go soon enough."
Offers should be in the region of more than £975,000.
Contact Simpson & Marwick on 01224 622622.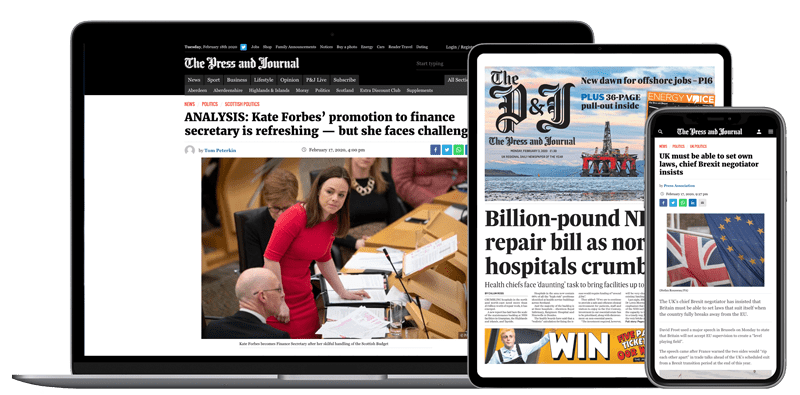 Help support quality local journalism … become a digital subscriber to The Press and Journal
For as little as £5.99 a month you can access all of our content, including Premium articles.
Subscribe