We are lucky enough to be granted access to some of the most stunning houses across the north and north-east.
Traditional castles and novel new builds, we have taken readers on guided tours down grand corridors and up glass staircases.
But just as we thought we'd seen it all, Boulder House opened its door to reveal a truly stunning design.
It may not boast dozens of bedrooms or a thrilling history, but we were bowled over by this fabulous mansion, which owes its name to boulders found on the surrounding land.
Boulders have even been used in the build, after Swiss owners Hans and Monique Baumann commissioned the property to be built by architect Martin Stohr.
There is a fascinating mix of Swiss flair and Scottish heritage, from the beautiful tower which contrasts to a traditional Swiss basement.
But were you to try and find Boulder House, you'd be hard pushed to pinpoint its location in Rothiemay near Huntly on a map.
And that's exactly how Hans and Monique like it, after falling in love with the secluded location.
The couple had previously renovated nearby Blairmore Estate, and transformed the period building from a school back into traditional accommodation.
"That was where it all started really," said Hans, who is a retired entrepreneur.
"We loved Blairmore with all its marble and mahogany, but estates can be terribly draughty.
"There's lots of maintenance involved as well.
"When we started our search for a new property, we had a wish list.
"We wanted a house with a view because we love nature.
"We wanted it to be south facing and have big rooms.
"There didn't need to be loads of rooms, but we wanted space as we love entertaining.
"I wanted a garage for my classic car collection, plus a wellness room with a sauna.
"A wine cellar was pretty important as well.
"We travel a lot so we wanted a house where we could lock up and not worry, it would take care of itself."
It should come as no surprise that despite searching the north-east, the couple were unable to find anything which ticked all the boxes.
Undeterred, they sketched their dream house on a napkin over dinner one night and handed the result to an architect.
"We wanted a basement, as most houses in Switzerland have a basement," said Hans.
"But our first architect said it couldn't be done, it wasn't possible to have a house like that in Scotland.
"Then we met Martin Stohr and the rest is history."
Boulder house was two years in the making, and the couple finally crossed the threshold in 2007.
"It was all about detail for us," said Hans.
"I can make you a promise that this house will still be standing in 100 years time.
"It has thick walls and the quality, all I can say is that we haven't cut any corners.
"Our windows are triple glazed and my friends joke that if there is a war, they will take shelter in my basement because it is like a bunker down there.
"Watching English, Scottish and Swiss tradesmen come together on this project was remarkable.
"They had the drawing and that seemed to serve as their shared language, with lots of hand gestures as well.
"The tower is my Scottish element; the south-facing part of the house is continental."
With large dinner parties a regular occurrence, no expense was spared in the open-plan dining kitchen.
It includes Gaggenau, Miele and NEFF appliances, while the units have been built to measure above average height.
"I think the kitchen is the dream for any housewife, although we both enjoy cooking," said Monique
"But you don't want to be hunched over the units getting a bad back.
"We have a fridge and a hot plate built into our central island, which comes in very handy when I am catering for 10 people.
"The kitchen has access to what I call my Gin and Tonic Balcony, where we enjoy having a barbecue."
As you can imagine, there is ample space for dining furniture and a living area offers spectacular views across open countryside.
Heading down to basement level, you will find a wine cellar, wellness room and extensive garage and basement space.
"I may have the odd bottle or two," says Hans, referring to his extensive collection.
There is also the odd classic car "or two," while the wellness room looks not dissimilar to a spa.
"We have a sauna twice a week; wellness rooms are common in Switzerland but perhaps not so common in bonnie Scotland," said Hans.
The couple were also keen to make their home environmentally friendly, by installing ground source heating.
"We extract heat from the ground to heat our home; we are making the most of what nature can offer," said Hans.
"All our retaining walls are made from the boulders we found on the site, and we have fitted flaps to all our doors so you don't get a draught underneath.
"It is all about detail.
"At one point we had 20 swallows nesting in the eaves, so our friend who is an artist painted swallows on some of the walls upstairs.
"Nature is pure and Boulder House represents that."
All three bedrooms are en suite, and boast high ceilings made from Swiss pine.
Boulder House sits in roughly 11 acres, complete with a sunken rose garden where you'll find a stone built barbecue and pizza oven. Two ponds have proved popular with wildlife, and carefully maintained walkways mean you can make the most of the great outdoors.
"Our son got married here and we put marquees in the garden," said Monique.
"Autumn is my favourite time of year here but it is beautiful all year round.
"We are returning home to Switzerland after almost 50 years away, but Scotland will always be very special to us.
"Boulder house started off as a drawing on a napkin. Our dream has been realised."
Price on application.
Contact Savills on 01224 971110.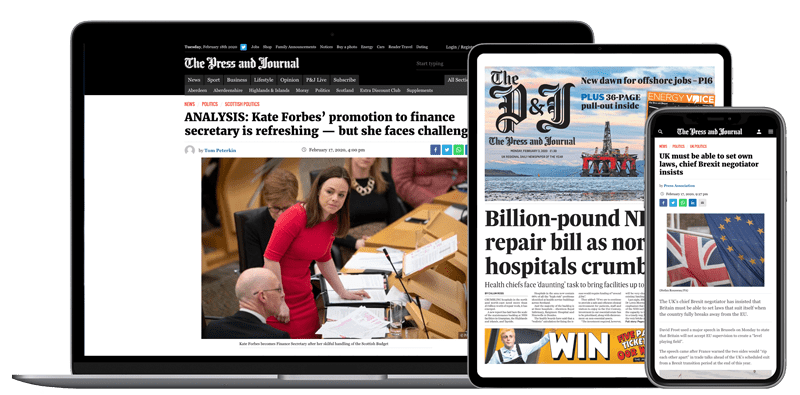 Help support quality local journalism … become a digital subscriber to The Press and Journal
For as little as £5.99 a month you can access all of our content, including Premium articles.
Subscribe