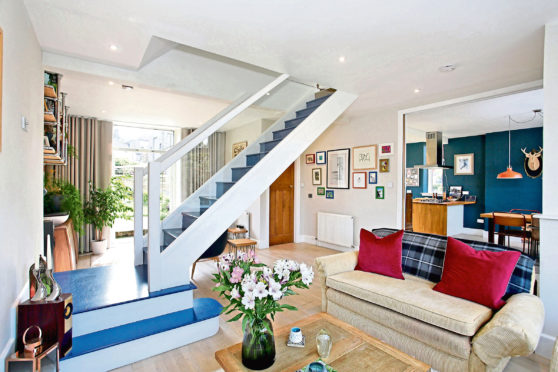 You shouldn't judge a book by its cover, or so the saying goes.
It could not be more fitting in the case of Number Two, Sunnyside Terrace, which looks perfectly ordinary from the outside.
Although easy on the eye, there is nothing particularly remarkable about this three-bedroom semi-detached home in Old Aberdeen – until you cross the threshold that is.
Owners Tricia Schooling and Rick van der Valk have transformed the property into a stunning modern pad, filled with open plan space and quirky features.
Eager property hunters are clearly taken with the makeover, and viewings were booked within 24 hours of Number Two going on the market.
Tricia and Rick are a little bemused by all the attention, having first moved to Number Two six years ago.
They were unfazed by the mammoth task ahead, despite the fact they had never renovated a house before. And although Tricia and Rick were not the highest bidders, their offer was snapped up by the then owners.
"This place used to be a five-bedroom student house. A lot of my friends had actually been to parties here," said Tricia.
"The owners had purchased it for their own children to live in while they were at university.
"They wanted it to become a family home eventually, and that was very much our vision.
"So, although our offer wasn't the highest, I think they knew we wanted Number Two for the right reasons."
It soon became clear that this was not a project for the faint-hearted however, as Number Two came complete with an Artex ceiling and wallpaper in the bathroom.
"It was not pretty," said Rick.
"I remember thinking to myself 'Wow, this is bad'.
"Downstairs had been divided into bedrooms, and outside the garden had turned into a wilderness.
"It was a hotchpotch of rooms, but we both saw the potential.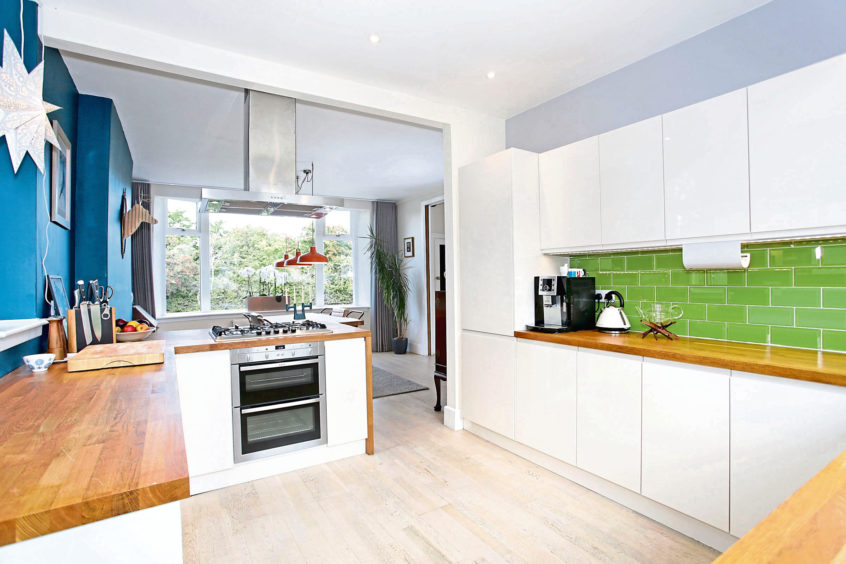 "There was so much light in the rooms and we were really attracted by the garden and garage as well.
"We didn't actually know about the park close by until we got our two rescue dogs.
"We have no regrets and moving will be a real wrench."
The couple are hoping to fulfil a long-held ambition of moving to the countryside, and will be leaving behind enviable space where every detail has been carefully considered.
The entrance vestibule gives way to amazing open plan space, where you'll find a lounge, cosy sitting room, dining area and kitchen.
This fabulous entertaining spot has been structured around the quirky staircase, which features glass panes instead of spindles.
"Tricia is the creative brain," said Rick.
"I am an engineer, so I tend to decide if something will work in reality.
"We knocked most of the internal walls down so we could create open space.
"Our ideas were sketched out on the back of fag packets on nights out.
"Most of this is of our own design.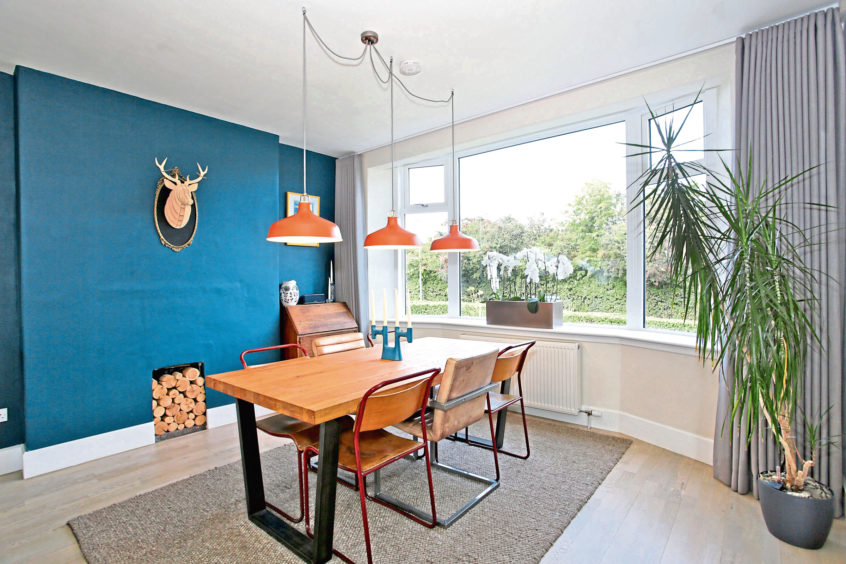 "The glass on the staircase came from Bon Accord Glass, we tried to source everything ourselves.
"To us, this kind of home is normal, but other people seem very taken aback by it.
"It has been daunting at times – we reinforced everything with steel beams.
"But it has also been an awful lot of fun."
The sitting room features French doors, which provide access to the garden, while the lounge area offers a bay window.
Not a single inch of space has gone to waste, and each area suits a different occasion.
The kitchen has cream gloss units edged with green tiles, and is topped with solid wood work surfaces.
"This is our haven and it is nice to have friends and family round," said Tricia.
"We've had Christmas dinner here a few years in a row, and I'm also able to work from home in the dining room.
"The thing that makes the house for me is the kitchen – it is the most perfect space where I can cook and talk to friends at the same time.
"I also have lots of space where I can keep stuff."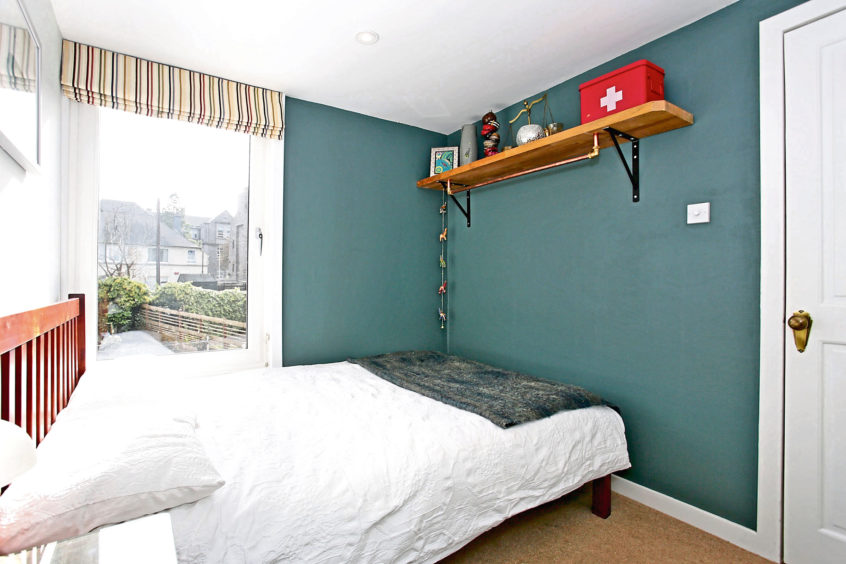 A stylish shower room completes the accommodation on the ground floor.
Head upstairs where you'll discover three lovely bedrooms and a bathroom.
One double bedroom is currently in use as an elegant dressing room, but could easily be transformed into a guest bedroom or nursery.
The bathroom offers a three-piece suite, complete with bold contrasting tiling.
The surprises keep on coming, as outside you'll find a sizeable rear garden filled with flowers and evergreen plants. It has been lovingly landscaped by Tricia and Rick, and features a brick patio for alfresco dining.
"The grass had grown way above knee height when we arrived," said Tricia.
"We landscaped it and laid the patio, so we had somewhere to relax in the summer.
"Now we have a herb garden, with mint, rosemary, chives and elderflower to name but a few.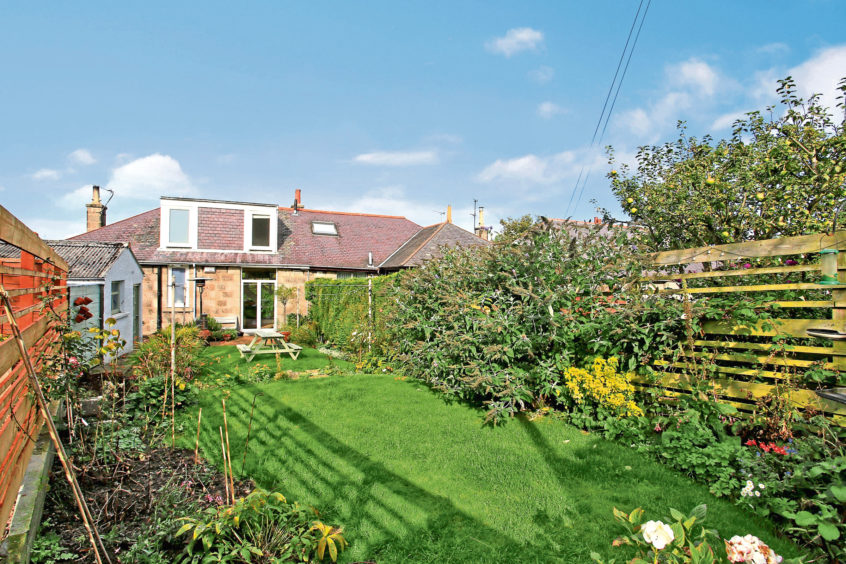 "We're also south facing, which is a huge bonus.
"We've loved living here, the town is within walking distance, but our street seems to be surrounded by green.
"We had an idea what we wanted and we'd certainly do another project in the future."
Offers should be made of more than £250,000.
Contact Raeburn Christie Clark & Wallace on 01224 564636.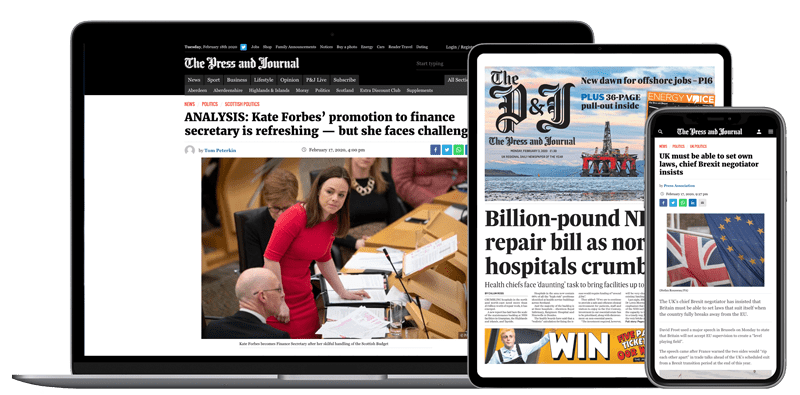 Help support quality local journalism … become a digital subscriber to The Press and Journal
For as little as £5.99 a month you can access all of our content, including Premium articles.
Subscribe