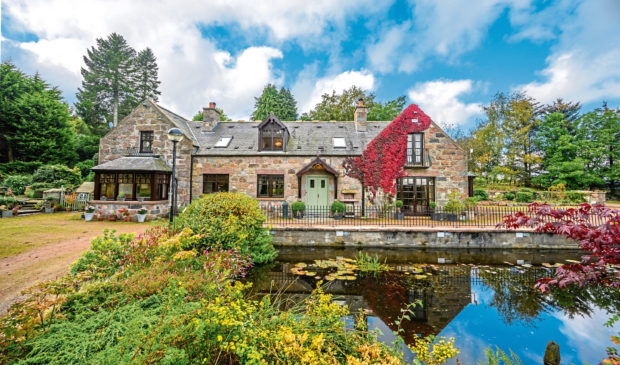 With stunning landscaped grounds and period character, Lurg Lodge is a hidden gem in Aberdeenshire.
The former mill offers panoramic views towards Bennachie, and comes complete with ponds and bridges which cross a burn in the beautiful grounds.
It was the gardens which caught the attention of Louise Galloway and her husband Malcolm, who were instantly smitten when they viewed the property six and a half years ago.
The interior was a different story however, with dated decor in desperate of some TLC.
The couple, who are both doctors, took a gamble and moved in with their young children. Alexandra, 14, 12-year-old Cameron and Finlay, four, have loved growing up in Midmar, with Inverurie only a short drive away.
They've been able to enjoy forest trails with family dogs Jura, Remy and Skye – and are regular visitors at the popular Forest Cafe which is in walking distance.
The family has taken the difficult decision to move due to Malcolm's work, but had hoped Lurg Lodge would be their forever home.
"It was the outside which caught our attention first," said Louise.
"There was something magical about it with these gorgeous views across the valley. I've always loved how there are different aspects to the garden, with a woodland as well.
"The same couldn't really be said for the house though, not when we first stepped inside.
"It was the previous owner who converted it from a former mill.
"There were parts that were quite dated though.
"I'll never forget the month we moved in.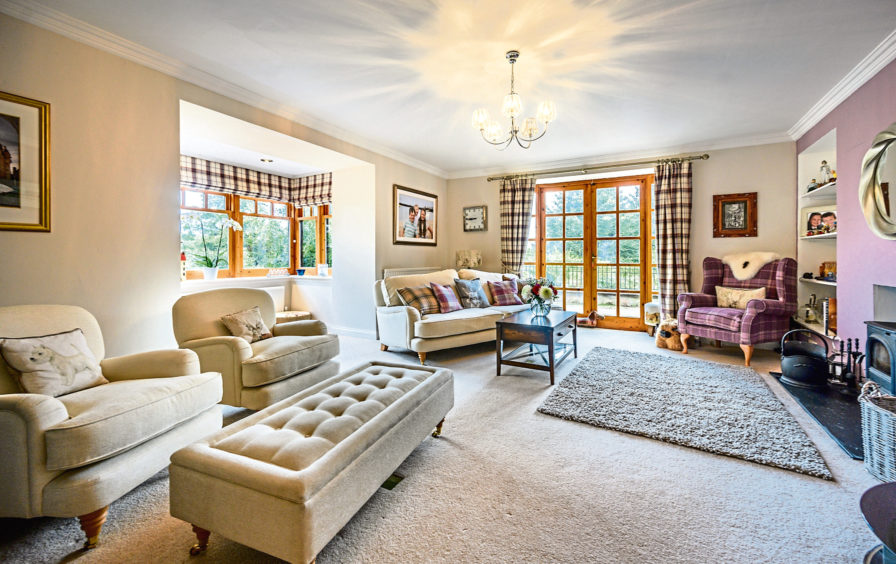 "It was May, but it was unusually cold for that time of year. The heating in around half of the house wasn't working, it was an experience."
Louise and Malcolm wasted no time in getting to work, with new heating top of the list.
From redecorating to new bathrooms and a stylish kitchen, Lurg Lodge now oozes a timeless elegance.
"I think it has taken this long to finally be finished," said Louise.
"You could actually see through the front door because the wood was rotting away.
"We added three stoves but made sure to keep the character, as Lurg Lodge is about 150 years old."
Although this five-bedroom family home is exceptionally spacious, it also manages to be welcoming.
A stove in the reception hall means you feel instantly cosy, and the hall gives way to the formal dining area.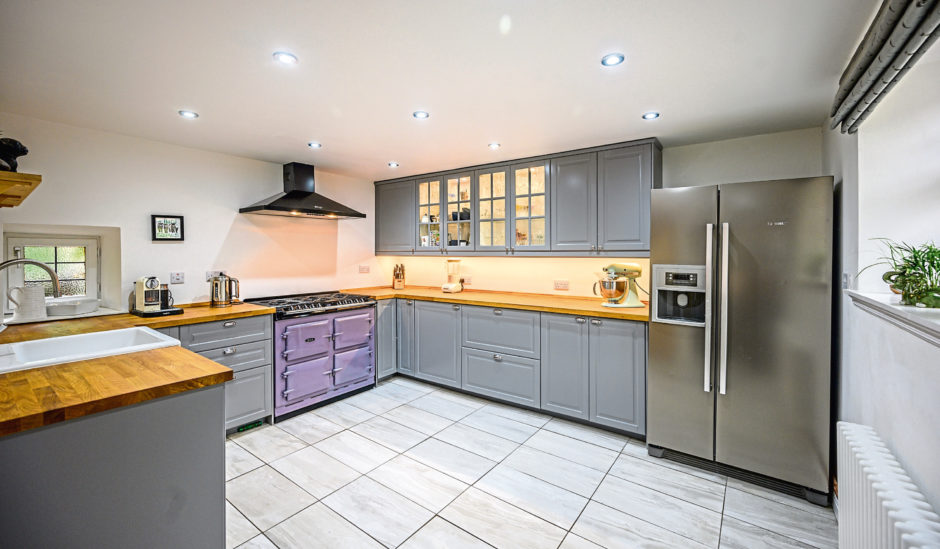 This is the ideal spot for Christmas dinner, with plenty of room around the table for everyone.
You've no excuse not to entertain, thanks to the fabulous kitchen which features a heather-coloured AGA, large ceramic sink and dark grey cabinets.
The style is entirely in keeping with the property, and attention to detail has paid off.
You'll find a traditional laundry pulley in the utility room, while the family room offers a wood-burning stove.
"We spend most of our time in the family room," said Louise.
"It's on a semi open-plan level with the study where the kids do their homework."
You'll be spoilt for choice when it comes to finding a spot to unwind, as there is also a lounge and a lovely playroom.
The lounge offers a square bay window and has been decorated in tasteful colours, while the play room could be used as a guest bedroom if required.
Head upstairs to the first-floor landing, which offers the perfect spot for a reading nook. Two bedrooms can be found in the east wing, and offer views towards Bennachie, which can be enjoyed from wrought iron Juliette-style balconies.
The master bedroom has views across the grounds, and boasts an en suite with walk-in bathroom.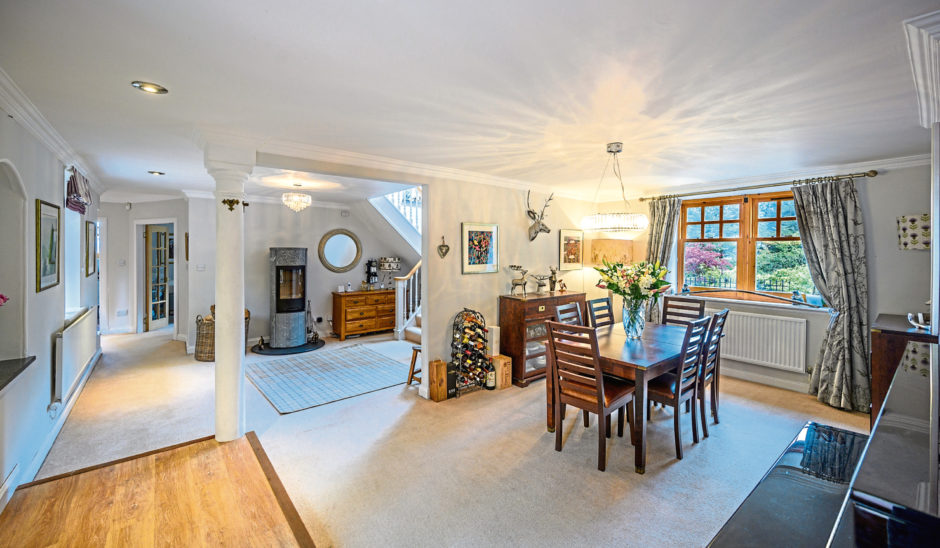 Two further bedrooms can be found in the west wing, which benefits from its own self-contained entrance.
"It means our teenage daughter can enjoy her own space, but it is very handy for guests as well," said Louise.
"There's no need to be on top of each other. We've just completed Alexandra's shower room as well."
The jewel in the crown for Lurg Lodge is undoubtedly the gardens, where you'll find the further mill pond and a network of paths. Some parts of the garden have been left to grow wild so as to benefit wildlife, but you'll also find a gorgeous courtyard for alfresco dining.
"We both enjoy gardening, I find it quite relaxing," said Louise.
"We re-landscaped the garden in such a way so that it takes care of itself.
"It's going to be a real wrench to leave Lurg Lodge, it's the peacefulness that I love the most.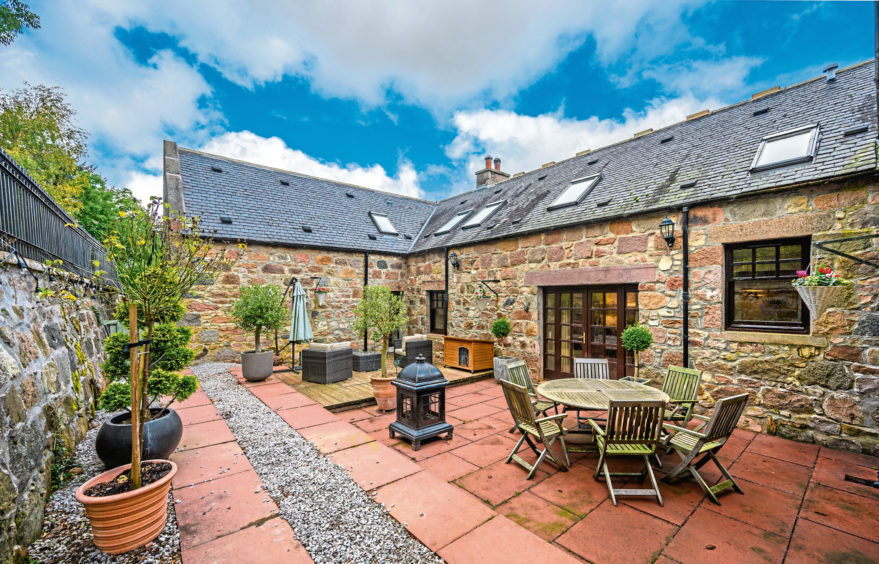 "We aren't far away from town but it's very quiet here. It's rare to have a cafe on your doorstep in the countryside as well, that has been a huge bonus."
Offers should be made of more than £595,000.
Contact Aberdein Considine on 01224 971110.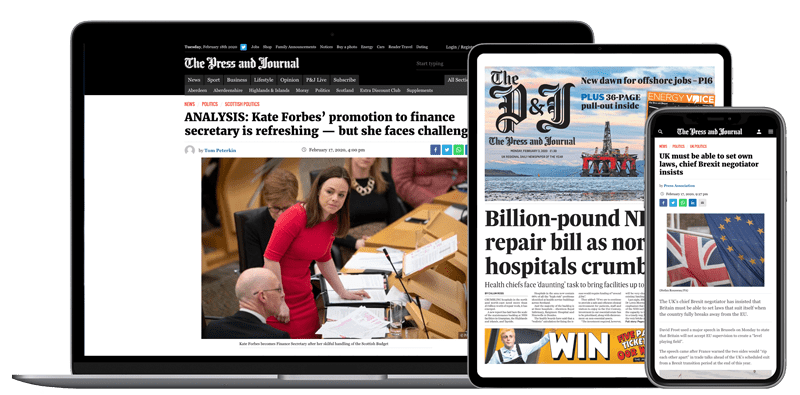 Help support quality local journalism … become a digital subscriber to The Press and Journal
For as little as £5.99 a month you can access all of our content, including Premium articles.
Subscribe