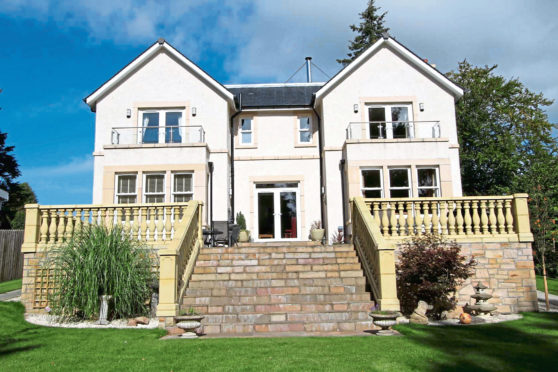 Ian and Lynne Calder always dreamed of building their own property, after falling in love with the close-knit community of Cults.
The couple have spent more than 30 years in what is now a popular suburb on the outskirts of Aberdeen, which they affectionately refer to as a "village".
But their demanding careers and raising a family put their ultimate vision on hold, until they took the plunge with a plot of land just off Craigton Road.
Ian has recently retired as a consultant engineer, and Lynne has stepped down from her inhouse lawyer role.
Slowing down at long last has enabled the couple to finally enjoy Rocklands Lodge – a beautiful four-bedroom family home.
This impressive detached home started off life on a sketch pad, after Ian came up with the entire design.
An architect and builders then came on board, and Lynne designed the gorgeous interior.
For while Rocklands may look every inch a new-build, the interior has a more traditional feel.
"People always tell us that they can't believe it was finished in 2016," said Lynne.
"We lived round the corner on Springfield Avenue, when this plot came up for sale.
"Building our own house was something we always wanted to do, part of the bucket list if you like.
"This is something we are leaving behind which will always be here, because it is so solid.
"We like to think of it as the house the Calders built."
After raising two children and welcoming four grandchildren, Lynne and Ian wanted to create a family home with enough space for everyone.
The positioning was also an absolute must.
"Of course we wanted to create a lovely family home," said Lynne.
"But we've always had south-facing gardens, that was non-negotiable for us."
The house took two years to build and was relatively straightforward – although there is perhaps a clue in the name when it came to the one and only stumbling block.
"It is called Rocklands for a reason," said Ian.
"We were building foundations on sheer granite, that was quite challenging.
"It's what makes the house so solid though, so it's swings and roundabouts."
The grand entrance hall provides access to an elegant lounge, which overlooks the rear garden.
This room also boasts an open fireplace, ideal for the colder months.
A good-sized study offers versatility, as it could easily be turned into a playroom or further living space.
The dining room caters for formal occasions, although Lynne and Ian spend most of their time in the dining kitchen/family room.
This fabulous space has modern features which are perfectly balanced with a more vintage look.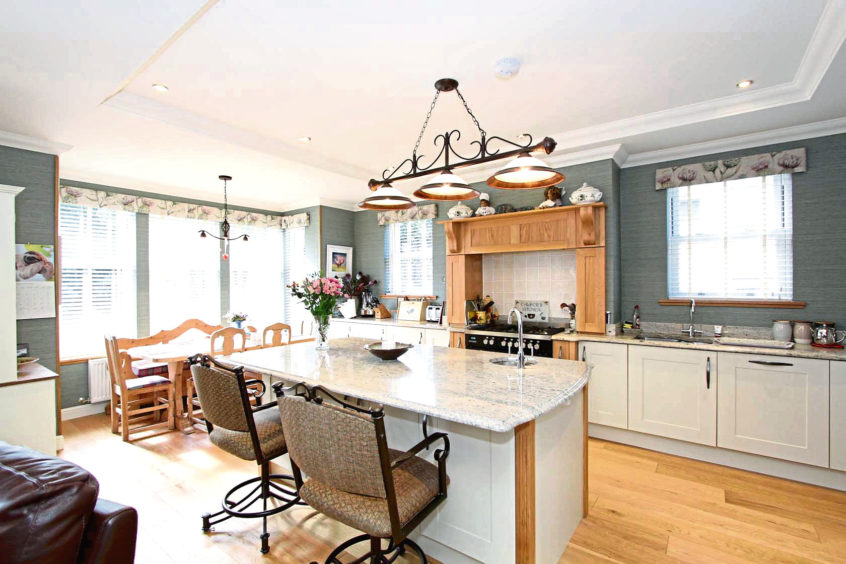 You'll find granite worktops, integrated appliances and a central island.
The lovely living area offers a tranquil spot where you can enjoy the sun throughout the day, thanks to that all important south-facing aspect.
A wood-burning stove completes the look, and patio doors provide access to the garden.
"I don't like stark houses with white walls," said Lynne.
"I prefer colour and depth.
"We spend most our time in the family area. It's a lovely space to have."
An impressive staircase with oak balustrade gives way to an extensive landing and all four bedrooms.
Every detail has been carefully considered throughout Rocklands Lodge, but particularly so in the master bedroom.
You'll find a balcony with views across the garden, a fitted dressing room area plus en suite shower room.
A further bedroom also offers a balcony, and the remaining two bedrooms are both of good size complete with built-in storage.
The family bathroom completes the accommodation on offer.
Outside there is a secluded rear garden, complete with a terrace area and a fish pond.
"What we love about the location is the fact that we've got one foot in the country and one foot in the town," said Lynne.
"We see excellent wildlife here, including deer and a lovely-looking fox.
"We often walk to Hazlehead Park and get a coffee, and we've had plenty of barbecues out on the terrace.
"We're rattling around in here though.
"This house is crying out for a family with children, a dog or a cat.
"It's a real family house.
"We've been in Cults a long time, it must be 35 years at least.
"We've always loved the village atmosphere, the ease in which you can explore Deeside or get into the city.
"We've been really happy here, and hope a new family can now take over."
Offers should be made of around £845,000.
Contact Burnett & Reid LLP on 01224 646565.