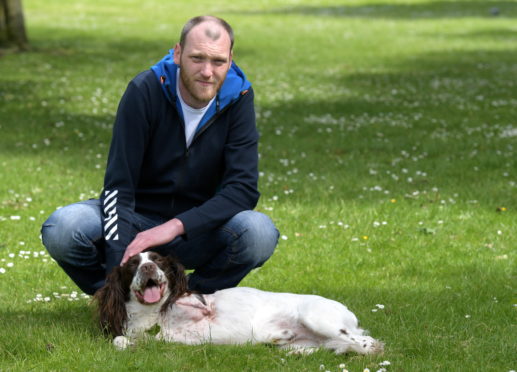 A "heartbroken" Aberdeen family were forced to have their beloved dog's leg amputated after the animal plunged down an unmarked hole.
John Holt said he had thrown a ball for his three-year-old springer spaniel Elmo on Sunday morning.
But instead of bounding back with the object proudly clutched between his teeth, the dog tumbled down an uncovered hole near Mr Holt's home on the city's Invercauld Gardens.
The 37-year-old fish worker found Elmo had broken his knee and rushed him to vets who had to operate, costing him thousands of pounds.
The father-of-two then had to break the news of the amputation to his devastated daughters, aged 10 and 17, and is planning on complaining to the council.
He said: "I threw his ball and he just fell down this hole from where the tree must have been. It looks like they have dug round it to remove the tree.
"I had to take him to the vet and they said there was nothing that could be done except to amputate, which cost me £1,300.
"I told the council and they have sent me an incident form to report it but I don't think that is enough.
"My dog was so healthy and happy before but he is just a different dog now.
"My girls were totally heartbroken to see what had happened to him.
"There are about 20 or 30 kids who play around there. If my dog can get hurt so badly I'm worried about what could happen to them.
"To me it is nothing but pure negligence from the council."
Last night the authority said the hole had been filled in but had sunk since the trees were removed two years ago.
A council spokesman said: "We were very sorry to hear about this incident and we have spoken to the gentleman concerned.
"Our investigations show that two trees were removed many years ago and the hole filled in at the time. It would appear that over the years the filled-in area had sunk through wear and tear resulting in two areas of sunken grass approximately 10cm (four inches) and the unfortunate incident that resulted.
"We will be onsite tomorrow to refill the affected areas."