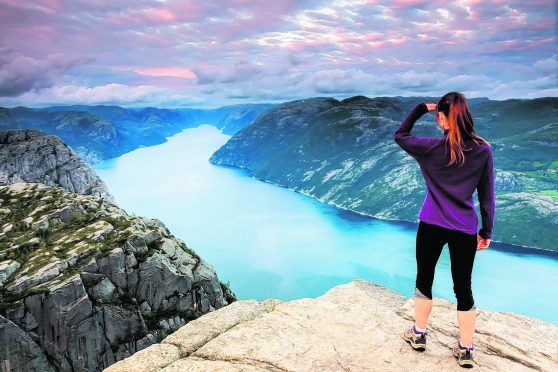 As I sailed out of Stavanger with the wind blowing in my hair and a strapping bearded Norseman at the helm, it would have been easy for me to close my eyes and picture myself on board a Viking ship steering to war.
That was, of course, until my little boat edged out of the harbour walls and its huge outboard engine kicked in, propelling me back against my seat.
Clutching on for dear life and screaming at the top of my lungs, my bearded Norseman – Håvard Gundersen – takes great delight in steering us (a group of all female travel journalists) into the oncoming tide at speeds of up to 60mph.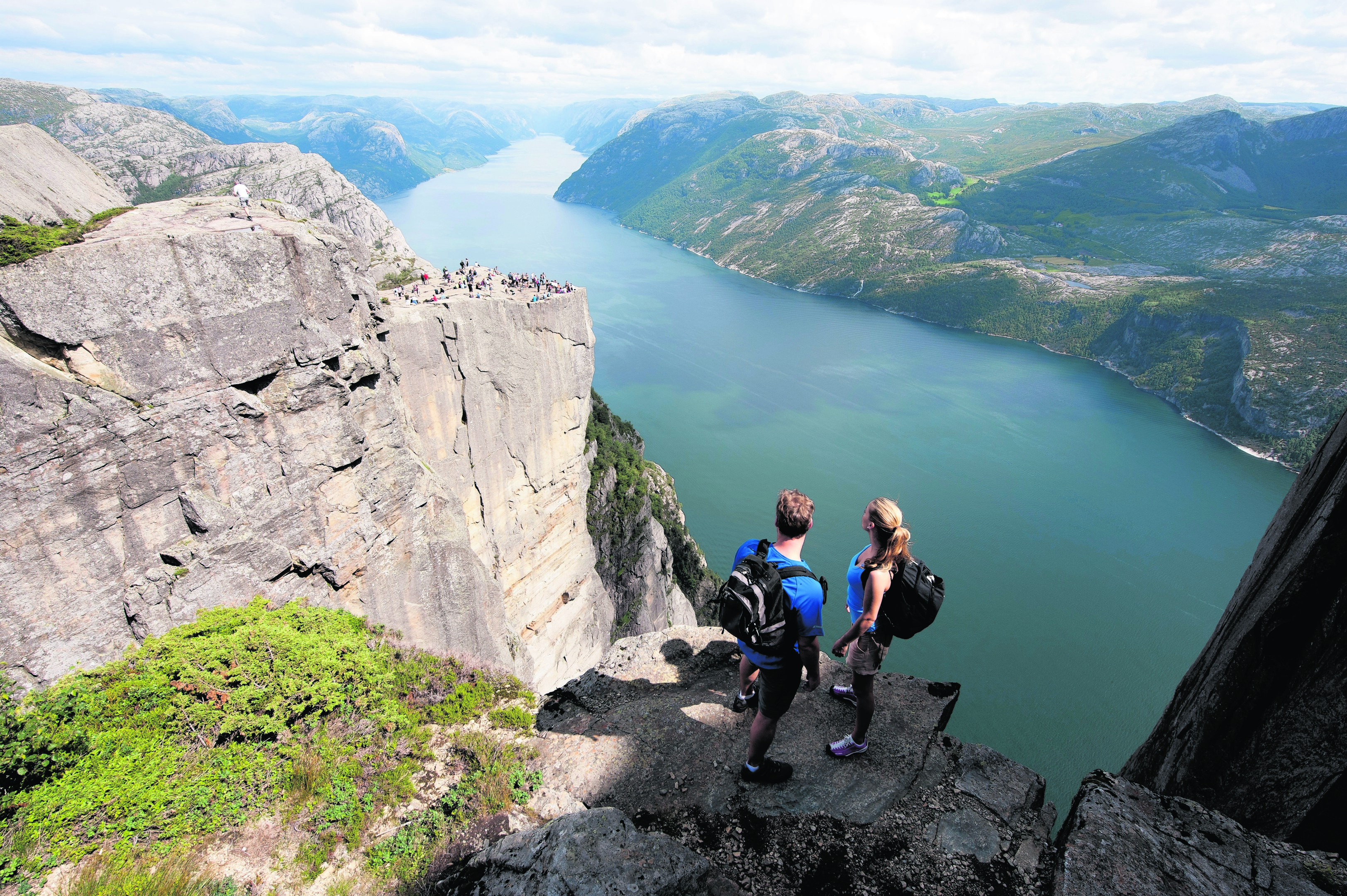 Although I was indeed on a slender, flexible boat – all characteristics of the traditional Scandanavian warship – the vessel I was on was made of rubber.
Only having a long weekend in the Norwegian city, it was important for us to fit a lot into our stay and our hairy captain was wasting no time taking us from the mainland to Flor og Fjære.
This palm island is a hidden gem and a complete oasis off the coast of the city. Only reachable by boat, why would we be sensible and take the ferry like everyone else? After all, this was supposed to be a trip of a lifetime.
And it was definitely an experience I will never forget. Once you get past the initial fear factor – that little voice in your head that keeps telling you you're going to fall off – it really is quite enjoyable.
But I would say it is a definite bonus if, unlike me, you manage to keep your eyes open long enough to take in some of the most breathtaking scenery and wildlife along the fjords, and all this before you even reach the island itself. Owned and run by Siri and Olav Bryn, Flor og Fjære is their labour of love.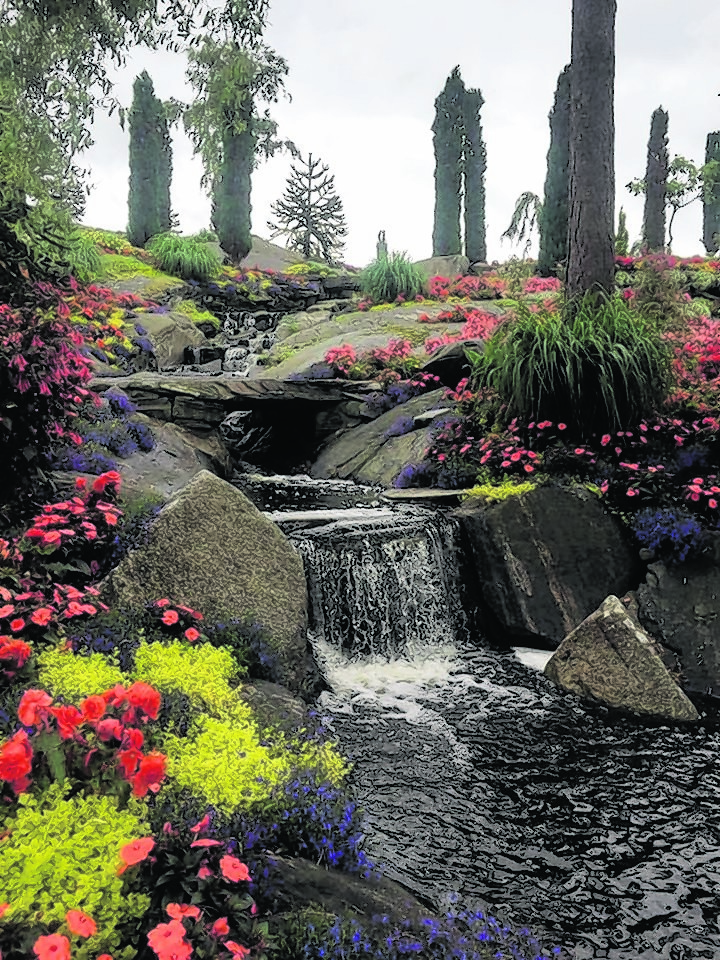 A small island filled with an array of trees and flowers you could only dream of, the pair spend every year redesigning the landscape so that the tens of thousands of people who visit them continue to return.
Some 50,000 exotic annuals are planted by hand here every year, which somewhat unusually blossom beautifully on the island's special micro climate.
The 20-acre family run site is filled with manmade beaches, waterfalls and even sports the odd Bonzi tree alongside the grapes growing on the vines. When we arrived, on what could only be described as a bit of a dreich day, we were greeted by Siri who was eager to show us her home.
Although run as a very successful business, allowing visitors to come and explore the magnificent gardens before being served with a slap-up meal, the Bryns have lived there for more than 50 years.
"In 1965 my father-in-law came here looking for somewhere to have a summer home and this became the family home for many summers," Siri said.
She added: "Then he decided to move out here permanently and build a year-round home. As he got stronger and healthier (following an illness) he became bored and he had to have something to do.
"So he planted trees. He planted a field of flowers and would send them into the city."
Siri explained that her husband's family quickly caught on to the idea that money was to be made from the spectacular gardens they had eventually produced and started ushering people over to see their home.
And by 1995 the family had opened up a restaurant to extend their guests' stay.
But not all of Stavanger's natural beauty is contained within that tiny island. If you want to experience the best of the best, you have to be prepared to work for it.
After spending my Sunday morning relaxing while cruising along the crystal-blue waters of the Norwegian fjords, I was instructed we were to take a "moderate hike" up a cliff to take in breathtaking views, unrivalled by anywhere else in the country.
So, ever prepared, I turned up in Primark's finest leggings, a skirt and a t-shirt to see everyone else kitted out in the latest mountaineering gear. Thank my lucky stars for my newly-bought pair of hiking boots, which I was almost tempted to leave at home for my Skechers.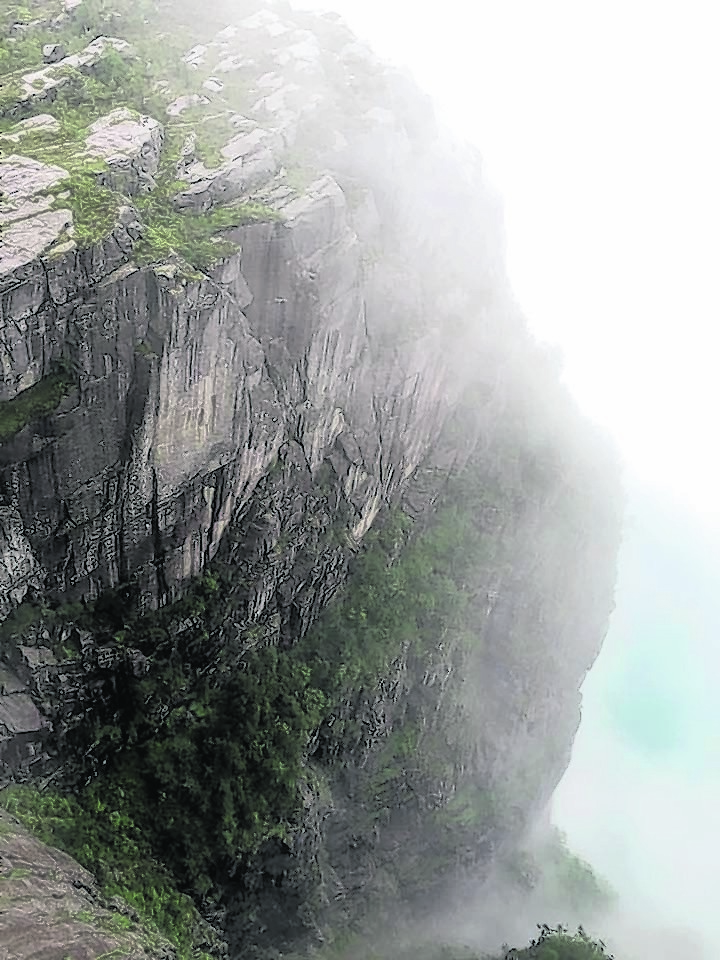 Fast forward two hours and I am standing, just, on top of Pulpit Rock, a platform jagging out of the side of a cliff almost 2000ft above the fjords. From here you can see for miles. Well, that is on a day when the haar is not as thick as pea soup.
Being distinctly unfit, I somehow managed to struggle up the giant mountain, convinced I was going to die as the midgies ate away at my flesh and the muscles popped out of my leg each time I tried to scramble up a boulder.
All to find I could see nothing when I reached the top.
The journey up, however, was spectacular – when I was able to stop long enough to catch my breath and take it all in.
Resembling scenes from the Hobbit and Lord of the Rings, the mist seemed to settle like magic over the rocks as the pools of water glistened and the leaves looked as though they were bursting out of the trees.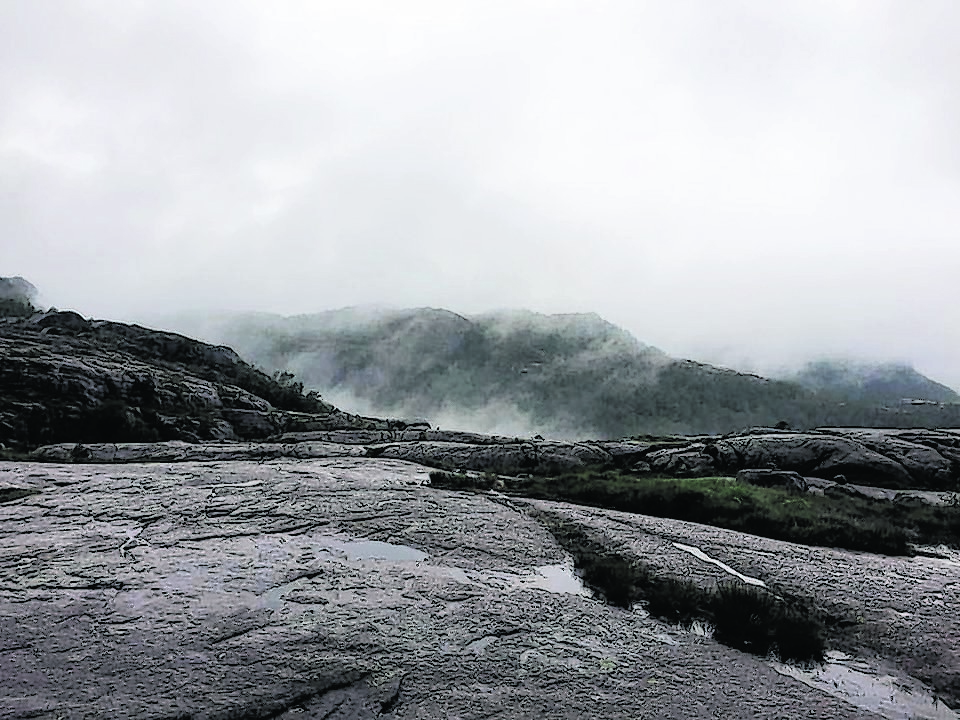 Never have I seen anywhere to rival the natural beauty, although, hailing from Scotland, it is easy to see the similarities between the two countries.
As Aberdeen has seen a huge impact on its businesses and economy since the downturn in oil, Stavanger has suffered too. But this city has been through hard times before and seems to be coping better with the collapse of the industry.
In the early 1900s Stavanger relied heavily on the canning industry, with more than half of the young women in the city being employed in one of the many factories. When that industry died people turned to oil for jobs but a large region was left empty following the demise.
Now, as Stavanger is preparing to deal with the end of the oil, the focus seems to be on regeneration and promotion of their natural assets.
And with a weakening krone because of the 12-year-low in oil prices, the city is now becoming more affordable to tourists who were once unable to pay the notoriously expensive prices.
Storhaug was once an area known as the city's backyard but now it is one of the hippest and most interesting places to go. Here you will find an eclectic mix of shops and a wide range of restaurants to suit anyone's tastes.
One highlight of my time in Norway was the unforgettable evening we spent eating at Sabi Omakase, a restaurant run by Roger Joya, the fourth best sushi chef in the world.
As we sit down to eat our 19 delicious courses, all cooked from scratch in front of us and paired with their own wines, we are told to be open minded before we are presented with an extraordinary culinary experience which sees me taste reindeer and whale for the first time.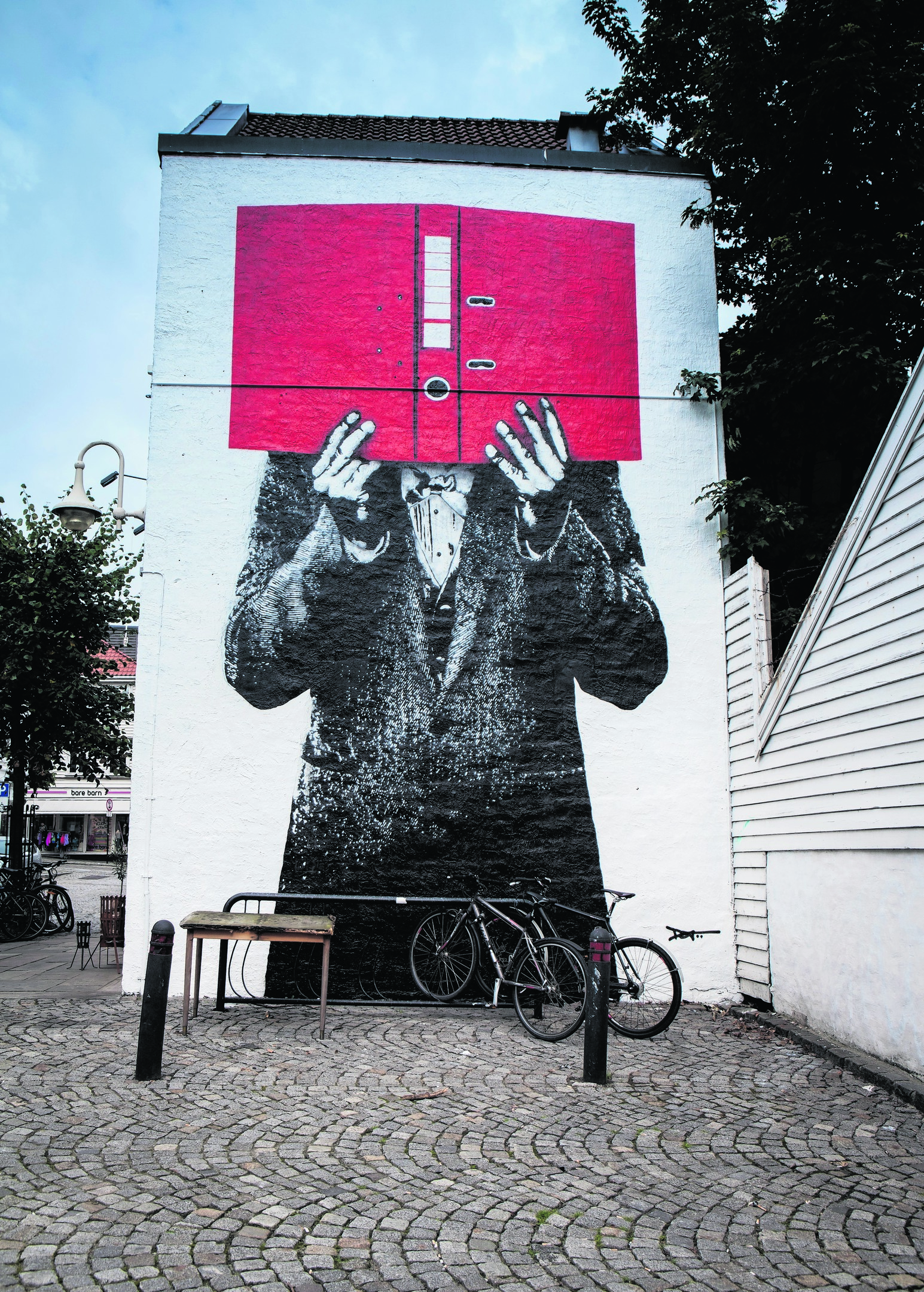 Also in the Storhaug district you will find Mathakken, a trendy new indoor food market which is adjoined by its own cheese factory. Round the corner Osterhuest, a cafe-come-deli, serves some of the most delicious home-cooked food I have ever tasted.
If you fancy a tipple while in the neighbourhood you are only a short distance away from Olbaren Ost, a tiny bar which has popped up on the site of a former brewery. This quaint watering hole is popular for its craft beers which draw the hipsters into the neighbourhood.
Aside from food, the area, with its traditional painted wooden houses, has one of the greatest collections of street art I have seen. And if you are keen to see the work of Banksy's rivals, a 90-minute tour will take you round the city.
The NuArt Festival is held in the city every September and allows street artists to come and brighten up the walls with their own unique designs. In the past world-renowned graffiti artists, including Pure Evil, have displayed their works around the city.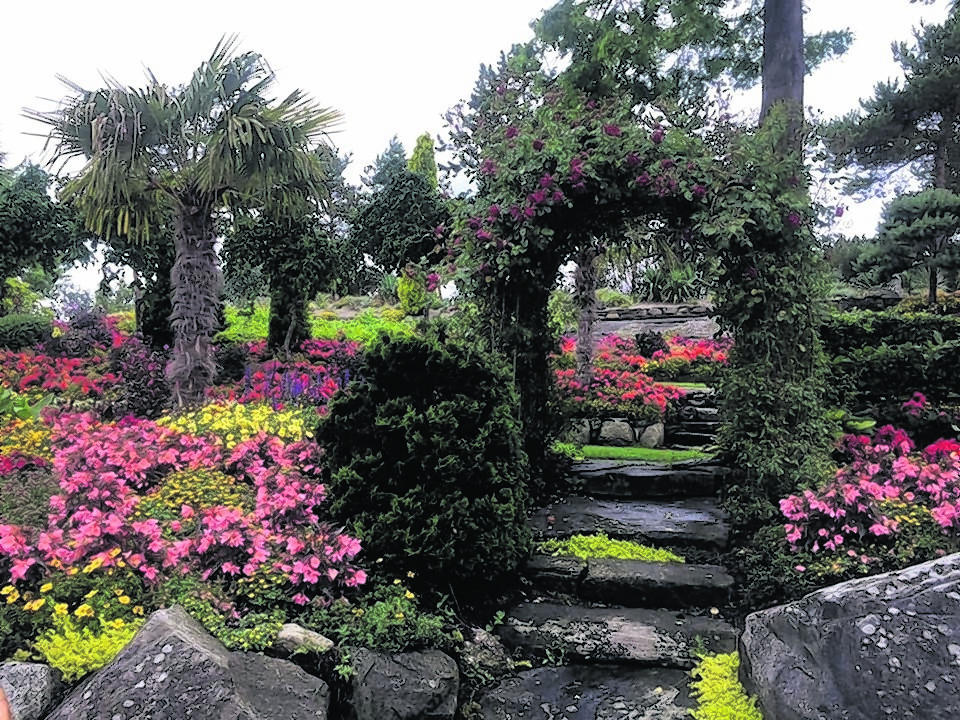 The street art, set amidst the quaint traditional seaside surroundings, shows the changing face of Norway. It is a modern trendy place, with deep roots shrouded in mythological legends. More than 1,000 years ago, Norsemen set out from their mystical land of gods and legends to seek out new worlds.
But I can now testify that it is their homeland that is truly worth exploring. Just remember your hiking boots and beware of bearded men on boats.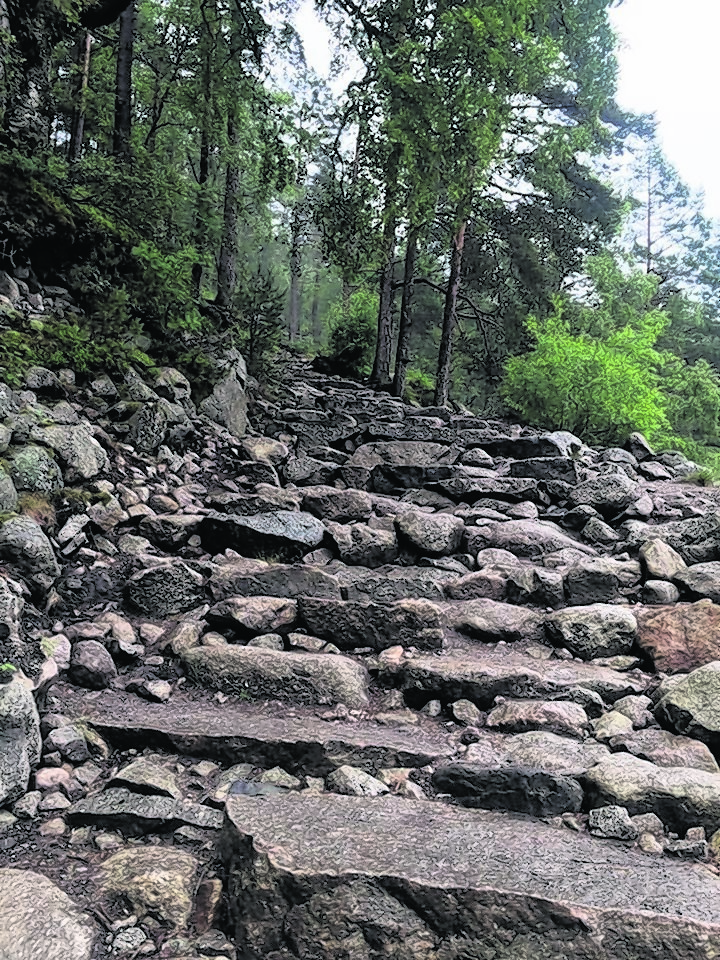 Flights from Aberdeen are with SAS and start from £77.50 one way. www.flysas.com
Comfort Hotel Square, www.nordicchoicehotels.no/comfort/comfort-hotel-square/
From 699 NOK for a double room, incl breakfast
NuArt tour – guided tour every Saturday during the summer, 2pm from Stavanger tourist office. 150 NOK per person. www.streetarttours.no. Guide – Mike Wojtowics.
Fjord cruise and hike the Pulpit Rock – 780 NOK for adult; 500 NOK for children. Includes: boat trip into the fjords + bus to/from the Pulpit Rock.
Need to purchase ferry ticket from Tau to Stavaner, 50 NOK. www.rodne.no
RiB boat with Fjord Events. 800 NOK per person for two hours. www.fjordevents.no
Flor og Fjære – Lunch trip, inc tour of the gardens, buffet lunch, dessert, and boat journey 990 NOK / 1150 NOK on Saturday www.florogfjare.no
Recommended places to eat and drink: Fisketorget restaurant, Renaa Matbaren, Ostehuset, Ølbaren Øst (beer bar), Omakase (set menu 1295 NOK), Bevaremegvel restaurant, Tango Bar og Kjøkken.