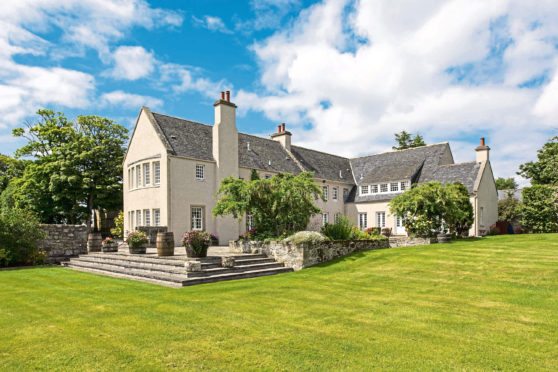 After spending the night at Glenmorangie House, I felt like I'd been a guest at a lovely party.
Until earlier that day, I hadn't met any of the other 20-plus guests I was to spend the evening with, who ranged from a dozen American golfers and a family from South Africa to fellow Scots.
New friendships got off to a good start when the Americans offered the other guests a complementary glass of Champagne.
Meanwhile, we were offered a whisky cocktail and canapes, courtesy of the hotel, before heading into the elegant dining room.
At 8pm on the dot, we sat down together to enjoy a set-menu fine- dining experience at an enormous table in a room filled with antiques, paintings and fine furniture – think Downton Abbey and you'll get the picture.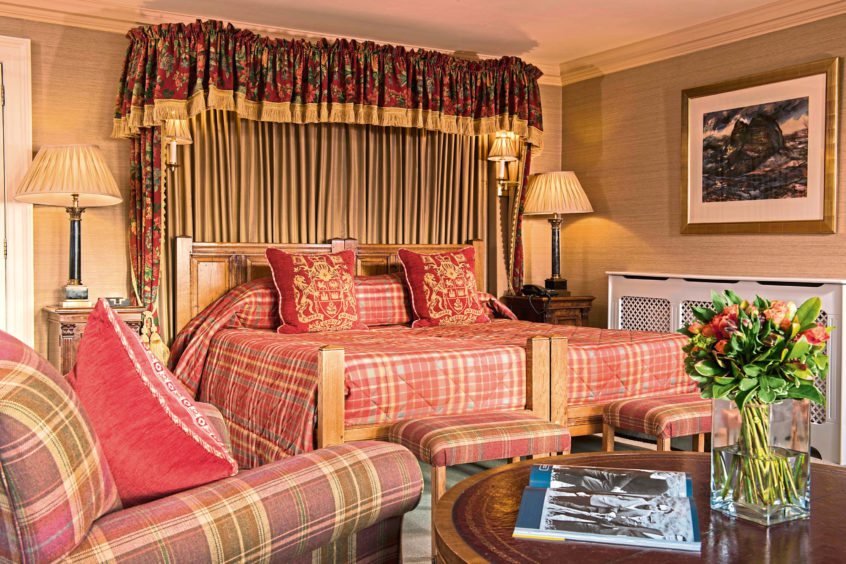 Over the next few hours we indulged in delicious fare, great conversation and laughs aplenty while friendships formed, suggestions for places to visit were swapped and, in our case, an invitation to try river rafting in Colorado extended.
Like all good parties, the evening ended with a dram in hand, served in the hotel's Buffalo Room, which takes its name from a big set of horns hanging above the fireplace.
Meanwhile, one talented guest gave us a few tunes on the piano, conversation flowed and numerous glasses were raised, in front of a splendid roaring fire, to new friends.
It was one of the nicest hotel experiences I've had. And that is because Glenmorangie House doesn't feel like a hotel but more like a charming country house belonging to a well-heeled, hospitable friend.
Parts of the building, which sits within impressive grounds and includes walled gardens, date from the 17th Century.
Strolling through them we spotted everything from courgettes to figs growing, although I'm told it has never been warm enough yet for the latter to fully ripen.
No sign either, thankfully, of the ghostly monk said occasionally to be glimpsed walking through the gardens on his way to prayer.
The house sits on the outskirts of the village of Hilton of Cadboll near Tain, and was bought by Glenmorangie Distillery in the 1980s.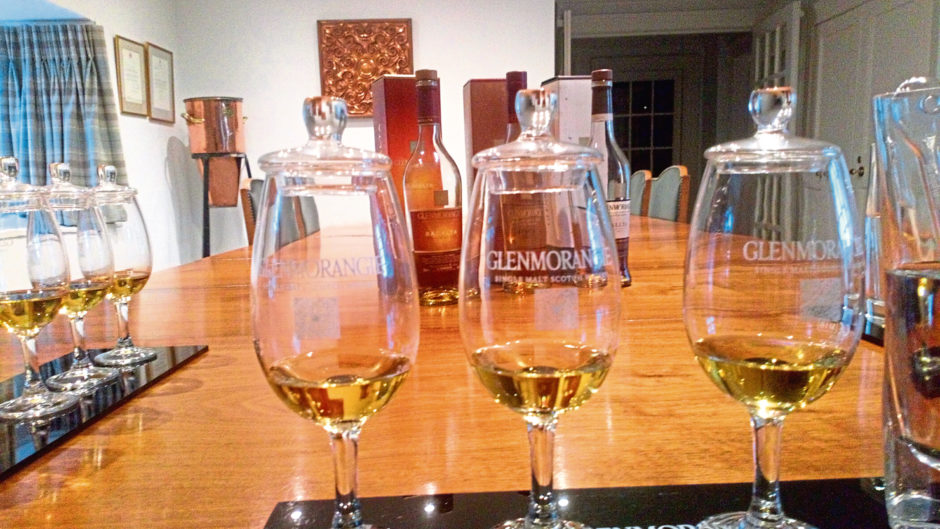 It was originally kept for business/corporate use until 1998 when it opened the doors and invited the public in.
They've been beating a steady path here ever since.
House manager David Guthrie looks after guests really well and had organised a visit to the distillery for us. First, though, we tucked into a wonderful lunch platter containing locally supplied charcuterie, a variety of smoked fish, cheeses, chutneys, crackers, salad and home-made bread,
Minibus driver Robert then took us to the distillery, swinging by Tarlogie Spring, a hard-water spring whose water contributes to the unique flavours of Glenmorangie whiskies.
The tour was fun and informative and ended with a dram.
Then it was back in the minibus for a stop at the coastal village of Hilton, where we met sculptor Barry Grove.
He dedicated five years of his life to making a recreation of The Cadboll Stone, a hugely important piece of Scotland's Pictish history.
The original is housed in the Museum of Scotland, while Barry's interpretation, which weighs several tonnes, stands in a field, which at one time would have been a busy highway for Picts criss-crossing the sea.
It's a hugely impressive piece of masonry, full of intricate carvings Barry kindly took time to explain, but he can't be there all the time, so having more detailed information boards wouldn't go amiss.
Back at the hotel we enjoyed a Private Edition tasting session, conducted by Amy McAngus, senior front of house assistant. These sessions are also open to non-residents, and a great way to learn more about the water of life.
We tried Glenmorangie Bacalta, extra matured in Madeira wine casks; Glengmorangie Spios, fully matured in ex-American rye whisky casks, and Glenmorangie Allta, made with wild yeast.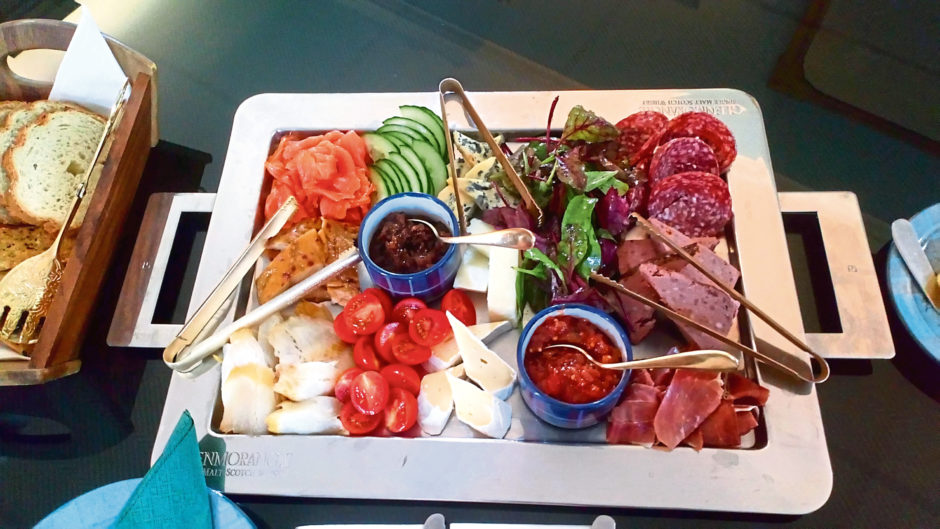 The Spios was my favourite – very smooth, warming, quite sweet and easy to drink.
Following the tasting we met our fellow guests for the first time before sitting down to a veritable feast prepared by chef John Wilson – braised breast of Cadboll grouse, hand-dived Orkney scallop ceviche, roast saddle of Highland roe deer, warm chocolate and vanilla mousse, followed by coffee and chocolates in the Buffalo Room.
After leaving the party, we retired to our very comfortable bedroom with luxury en suite bath and shower room, and slept like logs.
After a hearty breakfast, and before saying goodbye to our new friends, we enjoyed a walk through the gardens down to the nearby beach which, for fans of geology, is fantastic as it's full of interesting ancient rocks and stones.
The area is also home to a host of other nearby attractions including the Seaboard villages and busy towns of Tain and Dornoch.
Glenmorangie House also offers regular special weekend deals and whisky-tasting offers.
THE HOLIDAY
A night in a master bedroom including bed and breakfast, Private Edition tasting and cold buffet lunch costs £516.95 for two people. Glenmorangie House, Fearn, by Tain, Ross-shire. Telephone 01862 871671. Visit www.theglenmorangiehouse.com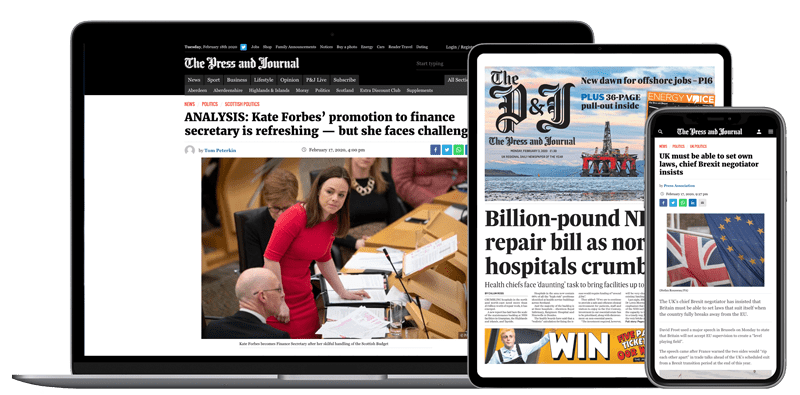 Help support quality local journalism … become a digital subscriber to The Press and Journal
For as little as £5.99 a month you can access all of our content, including Premium articles.
Subscribe