Susan Welsh spent her holidays undertaking a 'virtual' tour of Europe, but would it be as much fun as a trip abroad?
Remember at school you'd often be asked to write a story about what you did on your holidays?
I've done the same thing after spending a lockdown holiday at home in Inverness, but this was a holiday with a difference.
If we couldn't travel to Europe, then we'd bring Europe here.
The plan was for us to "virtually" visit some of our favourite European countries.
My partner Andy rolled his eyes at this news, but being a good sport, went along with my plans, although he put his foot down at the idea of us starting the holiday in our usual style.
That is, getting up at 4am, sitting in the car for several hours, then tucking into a Wetherspoons breakfast at the airport washed down with a pint of lager at 7am.
He was right, that was probably taking things too far.
Making plans, I tried to include food, drink and experiences popular in each country, balanced with using our then-permitted one trip a day out for daily exercise.
I expected it to be fun, but didn't expect it would be a holiday I really, really enjoyed.
Monday: France
While still in bed I listened to Edith Piaf singing Padam (via Spotify), while warm sunshine set the scene perfectly.
After eating a continental-style breakfast outside – orange juice, croissants and coffee – I headed back indoors to tackle a mountain of red onions and garlic to make French onion soup.
Cue watering eyes, running mascara and the whole street smelling of fried onions.
My neighbours must love me.
Years ago, we'd enjoyed a boating holiday on the Canal du Midi and cycled along its banks.
We recreated this by cycling along the banks of the Caledonian Canal from Inverness to Dochgarroch in idyllic conditions, counting 13 butterflies, 15 ducks and 79 cyclists en route
Back home, we tucked into the soup, which resembled hot mud but tasted delish.
There was just enough space in our little back garden for a game of petanque, played using the grandkids' bowling set, then we tossed a coin to decide whether to make a model of the Louvre's glass pyramid using our empty wine/beer bottles or draw the Mona Lisa.
Mona won.
Drawing her was a hoot, but much harder than expected.
You'll see my efforts here – I believe the word you're thinking of is "epic".
Andy failed to finish his masterpiece due to "artistic differences" – aka his tea was ready.
More French-inspired food for dinner, before we watched the subtitled French film The Diving Bell and the Butterfly.
A moving and inspirational film, and a lovely way to end our trip to La Belle France.
Tuesday: Spain
I woke to find the Earth had moved for me; spinning wildly, actually.
Nothing to do with too much vino from the night before but caused by a bout of vertigo-labyrinthitis which I haven't had for years.
A call with the doc – no medical insurance required – and some neck-head exercises and thankfully it began to ease.
But it put paid to plans for an online flamenco class and making a garden-beach scene using a toy paddling pool and pouffe which I planned to fake swim on.
Instead I made a proper tortilla, my version of churros and chocolate, and enjoyed a slow walk under blossom-filled trees in a nearby park (homage to Spain's cherry blossom festival) and sat in the sun.
My daughter Catherine, who lives with us, presented us with a jug of sangria and tapas mid-afternoon, while her partner Aaron got in on the act, pretending to be a beach peddler flogging us fake handbags.
Homemade paella for dinner then a Zoom call with relatives living in Madrid to hear how they were enjoying their first taste of freedom in weeks.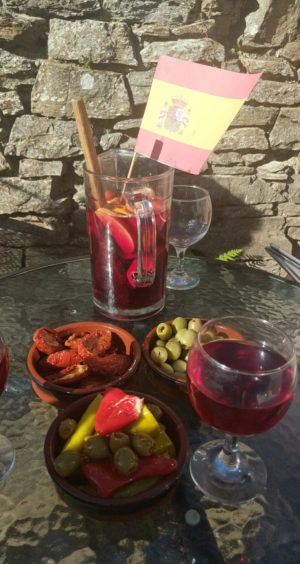 It felt like an authentic Spanish day, apart from forking out £7 for a bottle of red wine compared to the classy 2 euro supermarket wines we buy when there.
Wednesday: Austria
It could only be one thing for breakfast – Alpen.
We got the bikes out again and cycled-hiked to the highest point in Inshes Park where we enjoyed panoramic views across Inverness and beyond.
There were even snow-capped mountains in the distance – just like Austria.
Having listened to Frank Ifield's 60s hit She Taught Me To Yodel, several times, we tried yodelling ourselves, which drew odd looks – I'm sure at least one passer-by thought I was choking.
For dinner I tried to make kasespatzle (a traditional Austrian dish that's a bit like pasta).
The kitchen looked like there had been an explosion in a flour factory by the time I finished, but the warm, cheesy dish was great, although you'd to overlook the fact it resembled a bowl of vomit.
Yummy chocolate cake to follow then a Zoom call with close friends in Austria.
In my opinion, any film with singing nuns, Nazis and Alps has to be worth seeing, so we ended the day watching The Sound of Music.
Every Austrian I know hates it, but I love it and it reminded me of visiting Salzburg, where many scenes were filmed.
I went to bed humming a song about a lonely goat herd – very romantic.
Thursday: Germany
I'd to fight the temptation to get up early and put towels on the best seats in the house and instead cracked the only German joke I know.
What do you call a German barber?
Herr Cut.
We cycled out to Alturlie Point on the city outskirts, admired the huge banks of coconut-smelling gorse and enjoyed views across the glistening waters of the Moray Firth.
Germans, I read somewhere, are really into personal care and grooming, so I attempted to create a spa at home.
I drew the bedroom curtains, dotted scented candles and Christmas fairy lights around and played generic spa music.
Creating a sauna, now that was a challenge.
My solution was to lie on the bed, covered with a big fur blanket and four hot-water bottles.
Believe me, within minutes, I was sweating.
Lying there, wearing face masks, we looked like extras from a horror movie.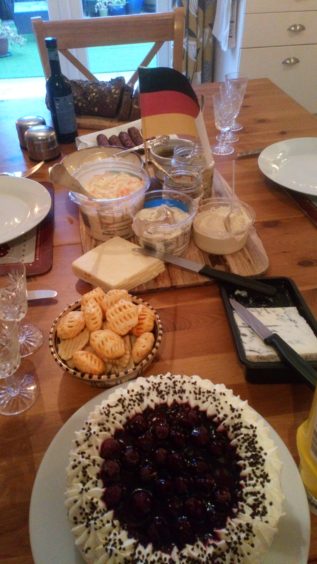 Andy couldn't fully chill out due to being "uncomfortable about being near so many naked flames".
At night we staged our version of Oktoberfest, calling it Mocktoberfest.
We listened to traditional "oompah" band music, ate big sausages, sauerkraut and Black Forest gateau and drank a few beers.
Friday: Italy
"My boyfriend is Italian, at least I think he is, as his hands are always 'Roman'."
I think I first heard that joke in 1968, but it still makes me laugh.
Rome was built on seven hills, so today's plan was tackling seven hills in Inverness.
We started with Godsman's Brae, a very steep path that reminded me I'm not 20 any more but nearly 62, then worked our way up and down hills across the city before finishing at Tomnahurich Cemetery.
It has, at its centre, a massive hill, often called "the Hill of the Fairies".
A narrow road leads to the top and there are footpaths with steep steps.
Either route is worth the effort as the panoramic views from the top are sublime.
While there we searched for a grave belonging to an Italian lion tamer called Ambrose Salvona, who died in 1917 aged 88.
His story was revealed a few years ago by Highland archivists.
He had travelled to Inverness from Italy with a dancing bear and at the end of his life, had died in a poor house.
He was such a popular figure locally there was a procession across town taking him to his final resting place, where he was "buried by friends" according to cemetery records.
Having found his grave, we paid our respects, listened to the birdsong and admired the cemetery's lush, green setting.
Catherine and Aaron are both good cooks and they pushed the boat out to make home-made pasta with seafood sauce for dinner.
As it was the last night of holidays, we toffed up a bit – full-length dress for me while Andy's "good suit" got an airing.
The pasta was sublime, as was the tiramisu and chianti we washed it down with.
We aimed to have a night at the opera, but I failed to track down the Three Tenors concert, so instead, watched the original version of The Italian Job.
When Michael Caine uttered the famous cliff-hanging last line "Hang on a minute, lads – I've got a great idea", that signalled the end our virtual holiday.
We were lucky as the sun shone every day, which helped make it feel special.
We spent a fraction of what we would have done had we gone abroad, easily found a good selection of continental food and drink locally and enjoyed being tourists in our own town.
Would we do it again?
Absolutely – memories are memories after all, wherever you create them.