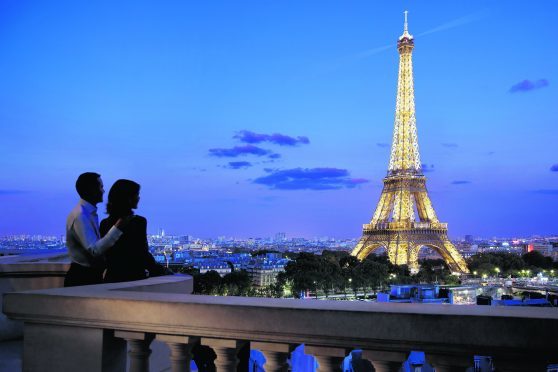 Ooh la la! John Coleman samples the Shangri-la Hotel, 10 Avenue d'lena, Paris
"We'll always have Paris…" Bogart's line from Casablanca resonates as I take in the breathtaking view from our hotel room: the Eiffel Tower, Napoleon's gold-capped tomb, Sacre Coeur, the placid swirl of the Seine, and can only conclude that the Shangri-la has it all.
The hotel was the former residence of eccentric botanist and explorer Prince Roland Bonaparte, great nephew of Napoleon, who built it 120 years ago. With 101 rooms, including 36 suites, Shangri-la, Paris, opened in 2010 as the Hong Kong-based group's first venture into Europe.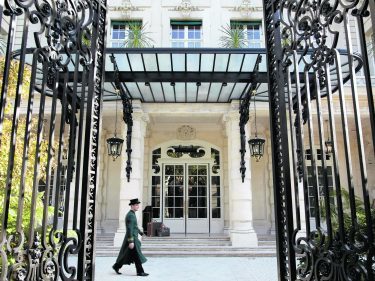 Guests arrive through the original iron gates, the hotel's facade in Louis XIV style, the entrance flanked by two huge Ming dynasty-inspired vases, the lobby with high ceilings and refurbished marble. We find Prince Roland's imperial insignias and ornate monograms subtly integrated into the architecture, complemented with the Asian influenced decor.
Three restored salons with connecting rooms and the grand staircase in Pyrenees marble recall the lavish events hosted by the Bonaparte family for 19th-century Parisian society. The Grand Salon has a massive white
marble fireplace, crystal chandeliers and bronze wall appliqués
with Roland's symbols of imperial crowns, bees and lion heads incorporated.
Rooms and suites, like our Eiffel Tower room view, are decorated in shades of blue, white and ecru with silk-threaded wallpaper, textured wall panels and crystal hardware on custom-made furnishings. We're told designer Pierre-Yves Rochon meticulously studied archival documents and photos to rework textures, wallpapers, carpets, lighting and bath fixtures from Roland's era into his 21st-century design.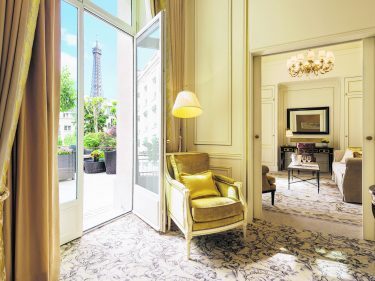 Four out of 10 rooms and 60 per cent of the suites have a direct view of the Eiffel Tower and almost half have a balcony. The marble bathrooms, with rainfall showers and bathtubs, have a flat screen television integrated into a large mirror. Some bathrooms have a direct view of the Eiffel Tower from the bathtub.
There are thoughtful, innovative touches. Desks are equipped with stationery items from paper clips to staplers, scissors and erasures. We note, too, a pad and pencil on a little shelf beside the toilet bowel should inspiration suddenly occur to a guest.
The biggest suite is in the prince's former apartments. Ceilings are five metres high, there's one bedroom, 105sq m living room and a dining area, with kitchen, for up to eight guests. The suite can be connected to two rooms to give a total living space of 350sq m and three bedrooms.
The Shangri-la suite, on the top floor of the hotel, has a 100sq m terrace giving a stunning, 180 degree view across Paris. The suite can also be connected to create an 'apartment' spanning the entire upper floor with four bedrooms and total living area of 500sq m.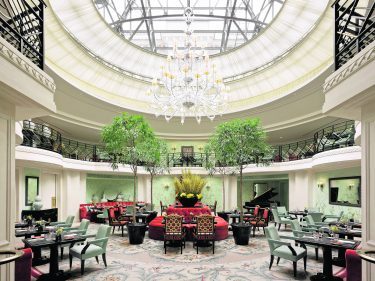 The hotel's French restaurant, L'Abeille, The Bee, Roland's insignia which is incorporated into the plush silver, grey and taupe decor, has two Michelin stars while the Cantonese cuisine Shang Palace, France's only Chinese Michelin-starred restaurant, has one star.
The La Bauhinia restaurant, with a 1930s, Eiffel-inspired steel and glass cupola, serves French and Oriental dishes. Professional climbers are
called in twice a year to clean the cupola and change the dozens of light bulbs in the magnificent chandeliers. The spa is in what were Roland's stables, the 15-metre swimming pool surrounded by huge windows flooding it and the fitness room with natural light.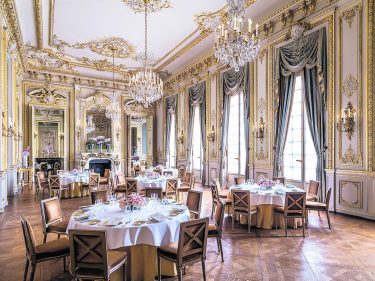 The hotel is in an exclusive residential area of the 16th arrondissement with extensive museums including the Guimet, housing Europe's largest collection of Asian art, Museum of Modern Art and Marmottan Monet Museum. Fashion designers of Avenues Montaigne and George V are steps from the hotel.
The hotel's service is exceptional, reflecting superbly trained, courteous staff who go beyond the call to be helpful. Shangri-la is expensive, rooms starting from 675 euros a night, soaring to 18,000 euros for the Prince Roland's Imperial suite and 20,000 euros for the Shangri-La suite.
We're told, though, the hotel attracts guests from across the world and is often at capacity. Guests include corporate executives, celebrities, couples for weddings and special occasions as well as others simply to dine or for spa treatments.
The hotel has won a string of awards including for 2015 Conde Nast Best Dining Experience, Conde Best Hotel in Paris, and World Luxury Hotels' Luxury Romantic Hotel.