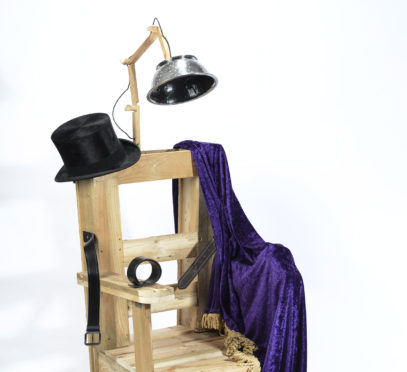 Harry Potter, the Wizard of Oz, Sleepy Hollow and an Aberdeenshire man who once used an electric chair to shock his sister will all feature in a new Peterhead exhibition.
The town's Arbuthnot Museum will become home to all things magical this summer with an eclectic series of displays created for 'Abracadabra'.
It will feature original and replica objects, showcasing everything from stage magic such as card tricks to the screen magicians who have taken centre stage in film favourites.
At the heart of the stage and screen displays will be artefacts relating to Aberdeenshire magician Walford Bodie, known as the Electric Wizard.
To coincide with the 150th anniversary of his birth, the exhibition will delve into his career in which he wowed Victorian society by using electricity as part of his act.
Carla Angus, performance and events development coordinator at the museum, is excited for the exhibit to open and found particular interest in the Bodie's story.
She said: "The whole exhibition is broad and captures ideas about magic from the past – stories, folklore, witches, fairies, vampires and ancient tales from across the world.
"Walford Bodie is fascinating to us as he's so local, but people in the magical community either love him or loathe him.
"His real name was Samuel Murphy Bodie and he lived in Macduff for many years in a house he had built in mock Tudor style.
"He was known for using electricity in his act – he lived from 1869 to 1939 and so he was performing when electricity was only starting to be more common domestically.
"Many people still didn't understand what it was about.
"He was using this unique, exciting, monstrous thing as part of his act and would shock his sister Isabella Henry – known on stage as La Belle Electra – in the electric chair, which would have been amazing for audiences."
The exhibition will feature a replica electric chair as used by the notorious magician.
Mrs Angus said: "It's 150 years since he was born. There's not loads of information about him but there are pictures and we've got a family album on loan from Aberdeen Libraries.
"He had quite an interesting life. And in fact he was so famous around the world that Houdini was one of his friends.
"During his time performing he was one of the best paid entertainers around, became incredibly famous and produced books and all sorts."
During the exhibition's run, there will be variety of accompanying activities including a magic school and potion class as well as visits by the Owl and Pussy Cat group, which will be bringing live owls, and sessions with the Critter Keeper and his unusual creatures.
In a first for the museum, on the Wednesdays they are closed to the public there will now be escape room sessions running where visitors get clues and have to escape the museum.
Councillor Anne Stirling, chair of the council's communities committee said: "It's fantastic to see Live Life Aberdeenshire going from strength to strength with another intriguing exhibition coming to Peterhead.
"It will be the first time this particular collection has been on public display and with a range of fascinating objects as well as the accompanying activities it's sure to appeal to adults and children alike. A great day out to plan for the summer holidays."
Abracadabra – a magical exhibition will open to the public on June 28 and runs until August 17.
For opening times, event information and tickets, visit www.livelifeaberdeenshire.org.uk.