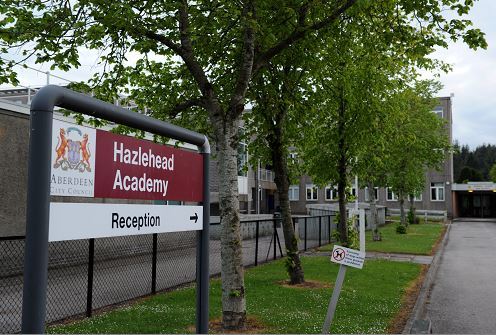 Teachers at an Aberdeen school have been told to "have higher expectations" of what pupils can achieve in a critical inspection report.
Education Scotland rated Hazlehead Academy as "weak" in pupil attainment and achievement after a visit last October.
Inspectors have now written to parents, identifying the need for a plan to improve the school.
In the letter, the schools watchdog said staff at Hazlehead should "evaluate the difference they are making to help young people achieve as highly as possible".
A particular focus was placed on the benefit being provided in fourth and fifth year.
Between 2015-18, the proportion of S4 and S5 pupils gaining SCQF 5 qualifications in literacy and numeracy was "significantly much lower" at Hazlehead Academy compared to other similar schools across the country.
Education Scotland has also called for improved planning of courses and for them to have "higher expectations of what young people can achieve".
The school's senior teachers have been tasked with drawing up an improvement plan and to better learning, teaching and assessment to meet the needs of pupils.
Staff recruitment and turnover was also highlighted, while the number of exclusions was noted as being above the national average.
Inspectors also called for the teaching of Gaelic to be taken into account when strategic plans are made to increase to numbers continuing to learn the language from primary through the early years of secondary.
Hazlehead is the city council's Gaelic medium education secondary, offering continued exposure to the heritage language after primary school.
It is understood council education bosses are to brief local members this morning on planned improvements.
Last night Hazlehead councillor John Cooke said: "It is clearly disappointing to see the school evaluated at weak on attainment and achievement clearly.
"That said, I have had assurances from council officers that they have already put in place an action plan to address the issues.
"We have got a full briefing with council officials tomorrow and I am hopeful of improvements."
His ward colleague Martin Greig added: "This is a reminder to staff to keep working together to improve educational opportunity for pupils.
"Hazlehead Academy has a strong positive reputation as a friendly community.
"Looking ahead, I have faith in the teachers and students working together for the best."
The council's education convener John Wheeler said: "We note the findings in the Education Scotland report and we have already been working with the school to support the development of an action plan to address the issues raised.
"Significant progress has already been made and we will continue to work with the school and Education Scotland to secure improvement."