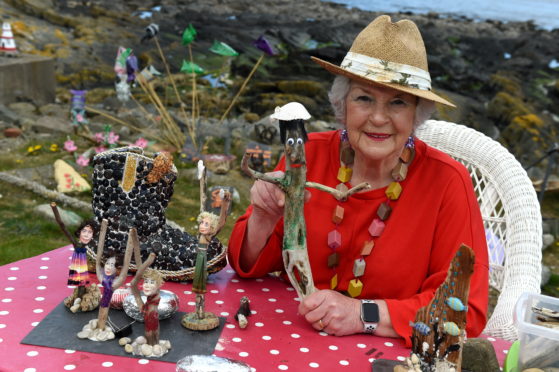 While lockdown has been a lonely time for many, one north-east grandmother has been connecting with youngsters from around the world – from the crafts hut in her garden.
Isobel Gregory, also known as Grandma Griggly, started making videos "to entertain local bairns" throughout lockdown.
She first took an interest in arts when one of her daughters gave her a box of paint for her 55th birthday and she also attended some workshops at Duff House.
During lockdown, she decided she wanted to keep Pitullie children entertained by making arts and crafts out of common household items.
Daughter Christine suggested she make videos and with her help along with her other daughter Susan, she now has a YouTube and Facebook page where she shares her content.
Mrs Gregory already has 30 videos uploaded online and she "still has a few more to do." She makes her masterpieces in the craft hut in her garden and said "it's like a wee job to her now."
More than 2,000 people follow the Grandma Griggly Facebook page and her YouTube channel has 134 subscribers.
Several children have also started making their own videos showing off their art work inspired by Grandma Griggly.
Mrs Gregory hasn't been able to go out since lockdown she said this has been "a great way" to keep herself entertained as well.
The 73-year-old speaks in Doric in her videos and said: "Although not everyone that's watching understands, they still tell me that it makes them smile."
Each video is between three to five minutes long and there's a variety of different arts and crafts activities ranging from tinfoil figures, tie-dyed baby wipe art and twig characters.
Much to her surprise, people in Australia and New Zealand got in touch to say they are enjoying her videos.
She said: "I was never expecting this but the support has been really encouraging. It's not just children that have been watching, there are mum's having a go too.
"It was originally to give local bairns something to do. The support has been very encouraging, I've received a lot of positive messages and children have been sharing their art work too."