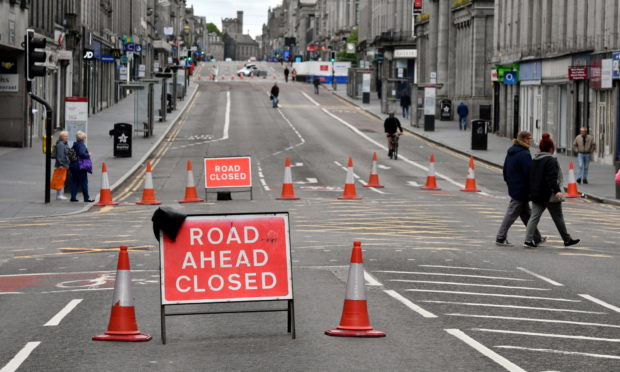 Leading city centre business leaders have come out supporting a raft of road closures aimed at stopping a second peak in the coronavirus outbreak.
The temporary work to create more space for physical distancing has prompted significant protest from small businesses.
Many have claimed they were not consulted before roads were closed and double yellow lines painted at kerbs outside their premises.
More than 1,500 people have signed a petition calling for the measures to be scrapped.
The plans, funded by a £1.76million Scottish Government grant, were drawn up by council staff, NHS Grampian and Aberdeen Inspired, the business improvement district organisation.
Bus companies, taxi firms, Police Scotland, the Disability Equity Partnership, and other local groups were also consulted, the council said.
Parts of Union Street, between Market Street and Bridge Street, as well as Rose Street and Chapel Street, between Thistle Street and the Granite Mile, Schoolhill and Bon Accord Street have been closed-off to cars entirely.
One-way systems are also in force, including in Thistle Street and the remainder of Chapel Street.
Last night, a number of leading figures in city centre business showed their support for the measures.
The work has been carried out to make it safer for people to walk or queue when premises reopen as lockdown is eased.
It is also hoped it will encourage cycling.
This will, the council claims, protect the health service from having to deal with a second wave of coronavirus and help restart the economy.
Bosses at The McGinty's Group, Hop And Anchor, Siberia Bar And Hotel and the Bon Accord Centre last night praised the scheme.
The director of The McGinty's Group, who owns nine city venues, Allan Henderson said: "We fully appreciate that these are significant changes being made to the city centre and the project has progressed very quickly in exceptional circumstances.
"It is imperative that hospitality businesses can reopen soon to take advantage of the better weather in the summer months and I feel that the red tape surrounding permissions need to be as simple as possible to allow this.
"Aberdeen City Council should be applauded for their attempts to help city centre businesses and though everything will not be perfect immediately, it is crucial that businesses work together and give constructive feedback as the situation evolves."
Craig Stevenson, Bon Accord Centre manager, added: "Making sure our city centre is both safe and welcoming is key to bringing people back into the heart of the city.
"Creating more space for pedestrians is not only critical from social distancing perspective – it will also help improve the overall experience."
Despite complaints of a lack of consultation, the council said businesses in affected areas were being contacted and has made a guide for businesses on physical distancing  available on its website.
A council spokeswoman said works particularly in Union Street and nearby streets were being put in place before the next lockdown phases are relaxed so when people start returning in larger numbers, the space to allow for physical distancing has already been created.
Aberdeen City Council transport spokeswoman Councillor Sandra Macdonald said: "We're carrying out these works now so when the lockdown eases in the next phases, people going to the city centre shops, restaurants and bars and local residents will be able to physically distance straight away.
"The measures we've put in including pedestrianisation of some streets are being carried out to help protect the health and wellbeing of residents and help the NHS as the country moves out of lockdown.
"Similar measures are being carried out in other cities and towns as part of a concerted effort across Scotland to reduce transmission of Covid-19."
The council has launched an online questionnaire on the work, promising to review, monitor, and evaluate the interventions while discussions are held with stakeholders, and when the measures are in place.
The temporary measures will be in place as long as the NHS and government advise people to physical distance.