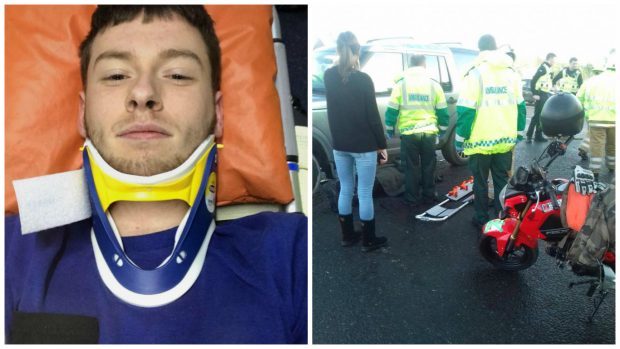 A teen motorcyclist was trapped under a car for almost 20 minutes – after crashing on his way to visit a friend in hospital.
Andrew Law blacked out in a collision with a 4×4 on the Lang Stracht in Aberdeen at about 2.20pm on Saturday.
The student's 125cc Rieju Marathon Pro slid and flipped, causing him to smash into the back of the car's front wheel arch.
When he came to, he found himself underneath the vehicle with the exhaust threatening to set fire to his jacket.
But when a friend who had been following on his own bike riding behind tried to pull him free he found his helmet was jammed.
It eventually took firecrews using airbags to lift the vehicle so he could be freed and taken by ambulance to Aberdeen Royal Infirmary with minor injuries.
Mr Law, who is studying for an HND in computer networking at North East Scotland College, and pal Ian Harvie had been on their way to the same hospital.
Speaking last night after being discharged, he said that the accident could have been a lot worse had it not been for his protective gear,
"I was on the Lang Stracht going into hospital to visit a mate. I ended up going in an ambulance myself," he said.
"I blacked out as I hit the car and awoke underneath. My mate, who was on the road behind me, pulled me from underneath the car.
"I was in the middle of the car, underneath, and he took me to the side of the car, but I couldn't get out because my helmet was stuck underneath.
"The fire brigade came and lifted the car up. It must have taken about 10 to 20 minutes. They put some airbags underneath it and jacked it up, they slid me out underneath.
"All my protective gear was on, that saved me a bit."
He gave special thanks to Mr Harvie "for pulling me away from the exhaust burning my jacket".
He said his family and friends feared the worst when they heard he had been taken to hospital following the incident.
Mr Law said he was left with "a lot of bruising and scratches" – the worst of which is on his back.
He had never been in a major accident until Saturday.
Whilst in the back of the ambulance on his way to ARI, Mr Law took a photograph of himself fitted with a neck brace.
He posted the selfie to social media as his way of paying a "massive thanks" to the emergency services and his friend following the crash.
A fire and rescue spokesman said two appliances had been called from North Anderson Drive to deal with the incident on Saturday.
He added: "We received the call at 14.23pm from the ambulance service. It was a road traffic collision, one motorcyclist was trapped beneath a car.
"We used airbags to extricate the casualty. he was handed over to the ambulance."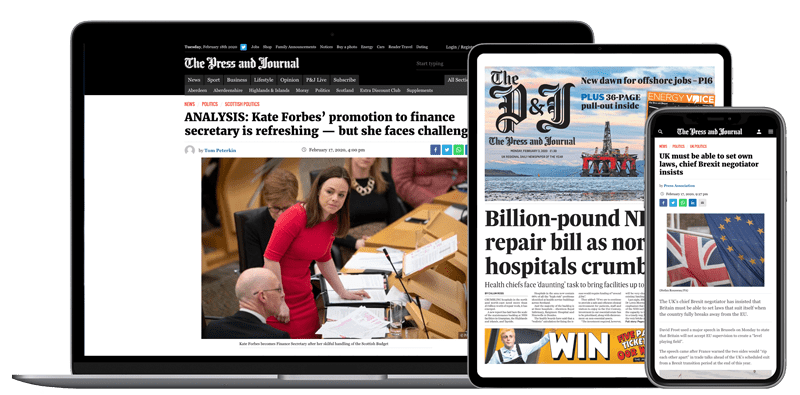 Help support quality local journalism … become a digital subscriber to The Press and Journal
For as little as £5.99 a month you can access all of our content, including Premium articles.
Subscribe