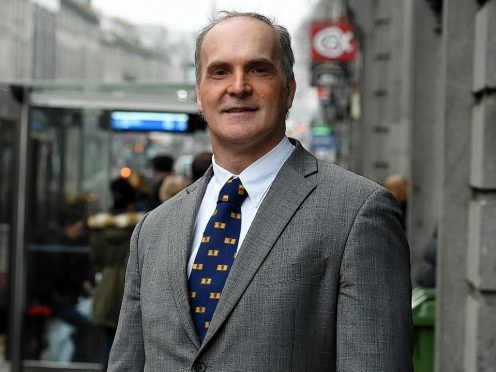 A self-styled political activist has been fined after sending a city councillor sexually suggestive e-mails.
Peter Dow was convicted of behaving in a threatening or abusive manner towards Catriona Mackenzie, who represents the Torry and Ferryhill ward, at Aberdeen Sheriff Court yesterday following a short trial.
The 57-year-old had denied the charge but yesterday Sheriff Margaret Hodge found him guilty of the offence, which spanned a six-month period last year.
Miss Mackenzie gave evidence yesterday where she told fiscal depute Jamie Dunbar she had never met Dow, of Hollybank Place, Aberdeen, but was aware of who he was due to reports in the media.
She said she was just days away from the local government election when she received the first e-mail from Dow on April 29.
Dow's e-mail was sent after he learned that Miss Mackenzie, who also works as a part-time press officer for Aberdeen Central MSP Kevin Stewart and Aberdeen North MP Kirsty Blackman – was standing in the election on May 5.
Mr Dunbar read out the letter, including the excerpt "Are you meeting voters? I think I might like to meet you. (Full disclosure, I'm 56-year-old bachelor with an interest in younger ladies)."
Miss Mackenzie said she was "a bit concerned" about the "inappropriate" nature of the e-mail because her home address was printed on the ballot paper.
Mr Dunbar then read out the text from another e-mail from Dow dated October 29 which was sent to Miss Mackenzie and Kevin Stewart.
In the email, Dow invited the councillor to his flat, where he offered to be "shaved, showered and presentable" for her.
It stated: "I do hope it is not inappropriate to suggest that if councillor Catriona Mackenzie would like to see me half-naked or indeed fully naked at my home then I surely would oblige her at her convenience?"
Miss Mackenzie said she was "alarmed" by this email and felt "physically sick" when she read it.
Defence agent Charlie Benzies argued that Dow was a "fantasist" who had been trying to be "flirtatious" but had not threatened Miss Mackenzie.
However, Sheriff Hodge dismissed this and found Dow guilty.
Fining Dow £300, she told him that any reasonable person would be alarmed by his e-mails, particularly the "overtly sexual" second one.
Last year Dow was in court after posting tweets on social media site Twitter threatening to kill the Queen.
He was fined £500 after being found guilty of a breach of the peace.