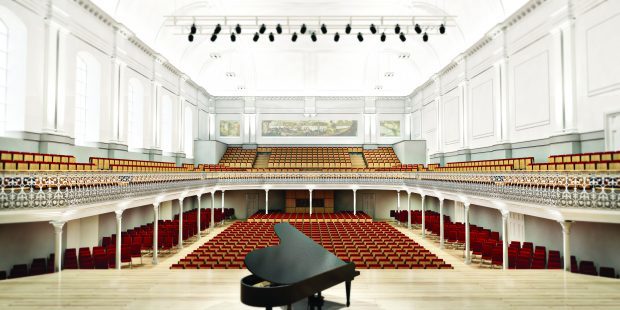 A sponsorship campaign has been launched to raise money to fund the ambitious transformation of the city Music Hall.
Two generous donations totalling £10,000 from Aberdeen Standard Investments and BP have kickstarted the scheme.
Aberdeen Performing Arts named the new drive the 1822 Club after the year the building first opened.
Sponsorship packages on offer range from £1,000 to £15,000 with each taking the name of a historic figure associated with the building.
Jane Spiers, the chief executive of APA, the charitable trust behind the project, said: "Over the years the Music Hall has welcomed many a famous face to its stage, but there is a handful of historic figures who have played an integral part in shaping the building and adding to the story it tells today.
"We have affectionately named our new sponsorship packages after these influential characters and we hope local businesses will join us in celebrating the wonderful history and promising future of the Music Hall."
The building began its life as the County Assembly Rooms and was designed by Archibald Simpson, the namesake of the tier one sponsorship package – the Simpson Supporter, worth £15,000.
Other tiers of sponsorship includes an £11,500 Matthews Supporter package, the Mary Garden Supporter at £5,000, the Strachan Supporter at £3,000 and the Prince Albert Supporter at £1,000.
Claire Drummond, the heard of charitable giving at Aberdeen Standard Investments, said: "One of the core focuses of our charitable donations is to support local community projects in which our employees live and work and a great way of doing this is to support the much needed transformation of an iconic building in Aberdeen – the Music Hall."
And Tim Smith, vice president of external affairs at BP North Sea, said the venue would be a "great addition" to the "cultural landscape."
He said:  "BP has a long and proud history supporting arts and culture in the north-east of Scotland. Through the BP Big Screen events, BP Portrait Awards and our support of the annual Robert Gordon University Gray's School of Art Degree Show we are helping to nurture local talent and attract world-class art and performances to the city."
Top level 1822 Club sponsorships will reward sponsors with complimentary passes to Music Hall reopening celebrations, tickets to new season events as well as other benefits such as company logos printed on promotional material.