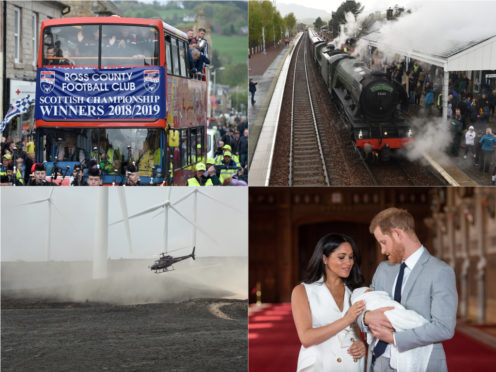 It will perhaps be one of the most memorable images of 2019 – the moment the spire of Notre Dame collapsed as the flames burned below.
The 850-year-old Gothic cathedral was undergoing construction when the fire broke out, destroying the iconic spire and roof.
Parisians and the rest of the world wept as it burned, and pledges were immediately made to rebuild the beloved building.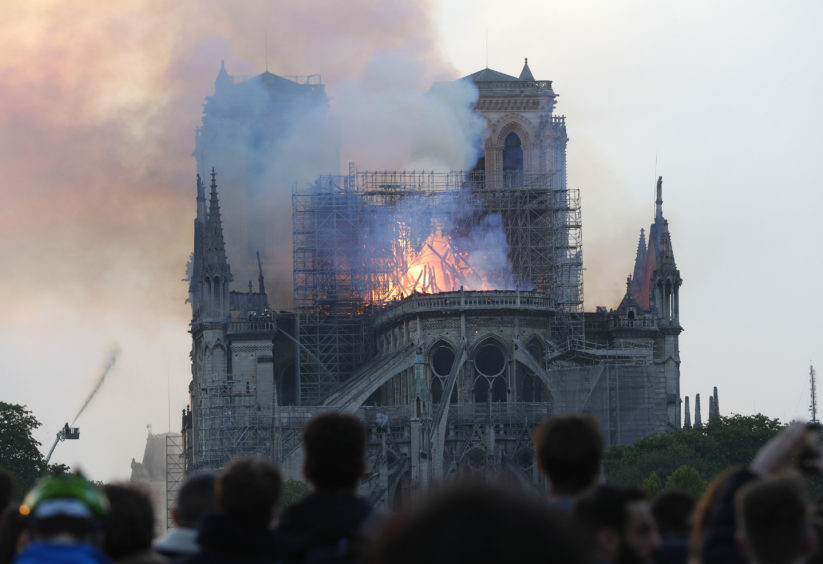 Closer to home, firefighters across the north and north-east were put to the test when several wildfires broke out – spreading for miles and lasting many days.
Helicopters were drafted in to water bomb the estates, while farmers and estate workers also tackled the flames to protect moorland.
In Aberdeen, a fire also hit the derelict Victoria Road School – prompting calls for a decision on its future to finally be taken.
Here's what else happened in the second quarter of 2019:
APRIL
April 9: Aberdeen babysitter Syeda Begum is jailed for three years for severely injuring a child by shaking her so badly she was brain damaged.
Aberdeen babysitter jailed for three years for shaking child
April 19: Two women aged 22 and 36 die in a tragic incident at Aberdeen beach esplanade.
Women killed in Aberdeen beach tragedy were foreign nationals who may have 'underestimated the conditions'
April 21: Terrorists strike at three churches in Sri Lanka and three luxury hotels in Colombo, killing 259 and injuring 500.
Three of billionaire Anders Holch Povlsen's four children die in the attack. Mr Povlsen, who owns the Glenfeshie Estate in the Cairngorms, later thanks the Highland public for their support following the tragedy.
April 25: One of the worst-ever UK wildfires recorded ignites at Paul's Hill windfarm near Knockando, sending billowing smoke high into the sky above Moray.
April 27: Ross County supporters turned out to pay tribute to their heroes as the Staggies marked their Scottish Championship title win with a victory parade in Dingwall.
VIDEO: Ross County parade league title through the streets of Dingwall
MAY
May 1: Deeside war hero Captain Alwyne Farquharson, head of Clan Farquharson, turns 100, making him the oldest clan chief in Scotland.
Ballater Highland Games celebrate 100th birthday of beloved war hero chieftain
May 2: Peter Mayhew, known as the "Big man with an even bigger heart", dies age 74 after a life in the limelight thanks to his role as Chewbacca in the Star Wars films.
May 3: Aberdeen Beach Ballroom celebrates its 90th birthday
Iconic Art Deco Aberdeen Beach Ballroom celebrates 90th birthday
May 6: The Duke and Duchess of Sussex welcome baby Archie to the world. The seventh in line to the throne is given the full name Archie Harrison Mountbatten-Windsor.
May 7: Scottish singer Lewis Capaldi confirmed as one of the first gigs for Aberdeen's new arts venue, P&J Live.
Lewis Capaldi confirmed for Aberdeen's new multi-million pound arena after UK tour sells out
May 9: Campaign launched to create Scotland's second Tourism Business Improvement District (Bid) in an attempt to secure Moray's future as a world-class destination for visitors in a self-sustainable way.
May 9: Stonehaven's mystery Banksy-esque artist is unmasked as Jim Malcolm, the secretive sculptor behind scrap metal artworks throughout the seaside town.
May 10: Victoria Road School in Aberdeen is badly damaged by a major blaze, putting plans to refurbish the historic building as housing up in jeopardy.
Video: Roof collapses at historic Victoria Road school as fire crews battle blaze
May 11: The Flying Scotsman visits Inverness following a spellbinding journey along the Highland Main Line.
VIDEO & GALLERY: 'Fairytale trip' for the Flying Scotsman through the Highlands
May 29: Nicola Sturgeon publishes referendum bill to pave the way for IndyRef2.
May 30: The killers of oil worker Steven Donaldson jailed for a combined 57 years.
JUNE
June 1: Taste of Grampian turns 20
June 5: Inverness West Link stage 2 gets underway
Turf cutting ceremony marks the start of Inverness West Link Stage 2
June 8: Woman, 55, killed in lightning strike incident in Lochaber
June 10: Scottish Funding Council confirms it is investigating a £282,000 departure package to Aberdeen University's former principal, Sir Ian Diamond.
EXCLUSIVE: Scottish Government launches investigation into former Aberdeen University principal's pay-off
June 12: The Crown Office confirms a fatal accident inquiry will be held into the Sumburgh helicopter disaster, which killed four people in August 2013 – including Elgin woman Sarah Darnley, 45, and Gary McCrossan, 59, from Inverness.
Crown Office announces fatal accident inquiry into 2013 Super Puma Crash
June 21: Aberdeenshire Council votes in favour of axing free parking in its town centre car parks, despite concerns from businesses.
June 26: Cuminestown dad Anthony McGladrigan is stabbed to death in his own home after trying to protect a man fleeing from Liam Hay, who had been on a five-day drugs binge.
June 26: The Duchess of Rothesay meets cancer patients at Maggie's Aberdeen before touring The Press and Journal's new offices at Marischal Square in the city centre.
Camilla experiences the fast pace of journalism with visit to The P&J