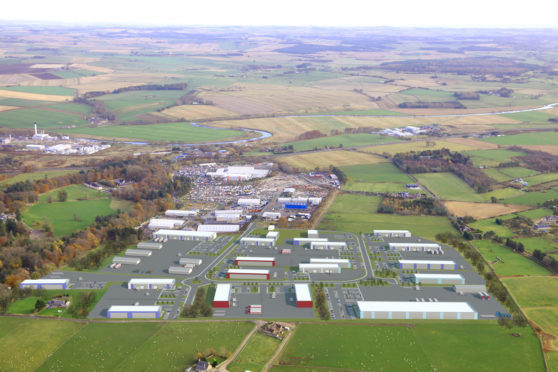 It's an initiative which will beef up the north-east economy.
And councillors have now given their backing to the construction of a £17 million abattoir outside Inverurie.
The new Scotbeef meat processing facility, which will create up to 30 jobs, is a joint venture between ANM Group and Scotland's largest meat processing company, JW Galloway.
It will take shape at the expanded Thainstone Business Park and, in addition to being approved by local councillors, has the strong backing of NFU Scotland.
Councillor Sebastian Leslie said: "From a commercial and employment perspective, we should fully support this, certainly in respect of the number of jobs it will create."
Cllr Fergus Hood added: "This modern plant will secure food processing in the north-east, which is fundamental to the north-east economy, and it will underpin its development in this part of the country."
Plans for new £17million abattoir at Thainstone to be decided next week
Local resident Paul Davison raised concerns over noise and odour, but the planning officer pointed out that the council's environmental health department had stated it was satisfied with assessments.
The officer added that the development was adjudged to comply with all relevant policies of the Aberdeenshire Local Development plan.
NFU Scotland had written to councillors urging them to back the proposals, describing them as a "huge opportunity" for the region.
In a letter to councillors, union bosses pointed out that cattle production and beef processing in the north-east has a "clear downstream impact", supporting hundreds of allied businesses such as hauliers, animal feed producers, agricultural suppliers and construction.
Charlie Adam, a beef producer at Leochel-Cushnie, near Alford, said: "I firmly believe the proposals to develop at this site are critical to the profitability and sustainability of cattle production, both in the north-east and in Scotland more generally.
"In a very competitive food market, in which margins are tight, it's essential that firms invest in infrastructure to meet the needs of the market and continue to support the jobs and rural economy to which they are inextricably linked."
Scotbeef managing director Robbie Galloway hopes to create up to 30 jobs and double weekly capacity once the new plant opens.
He had called the proposals "critical" for the industry in the region.