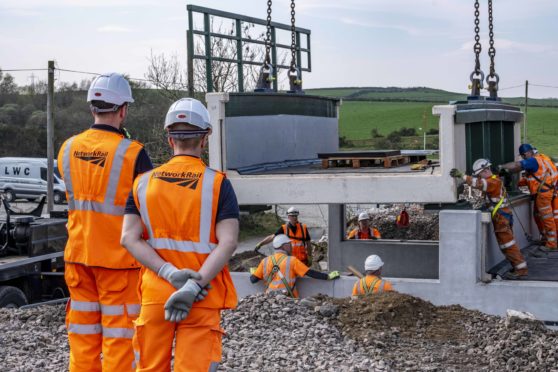 Network Rail has pledged to overhaul its working practices following an outcry from sleep-deprived residents in a north-east town.
For months people in Kintore have faced noise and light pollution at all hours while work takes place on the huge Aberdeen-Inverness double-tracking project.
People living nearby have had to endure drilling, hammering and heavy machinery  a short distance away from their bedroom windows, with some also complaining that floodlights were being shone into their properties.
The situation worsened to the point that some claimed their homes had become "uninhabitable" forcing them to temporarily move.
Their complaints prompted local councillors to step in and demand a meeting with  senior management involved in the scheme.
On Tuesday East Garioch councillors Fergus Hood and Glen Reid met with project bosses with townspeople also present.
Mr Hood said the meeting had proved fruitful and Network Rail had agreed to make a number of changes, including reducing night time working.
The firm will also consider repositioning its floodlights and ensure senior managers are present on site to ensure workers do their best to not disturb the surrounding householders.
He said: "I think we have made a fair bit of progress on this and I hope that residents will now have a better time of it as a result of this intervention.
"We did tell Network Rail that we shouldn't have to manage this project for them and expressed our disappointment at having to get involved in this.
"But once we saw the strength of feeling in the community we couldn't ignore it and had to take action to try and help them."
The next phase of work will begin tomorrow, which will last 12 weeks and will involve 16 miles of track being laid.
This will require the line to be shut at various stretches between Dyce and Huntly and Inverurie until August with replacement bus services in place.