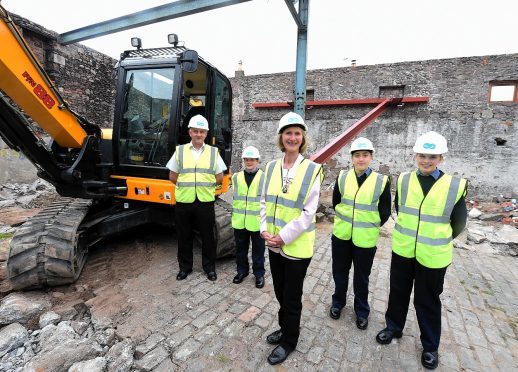 Work has officially started on a £625,000 headquarters for the north-east's seafarers of the future.
Stonehaven Sea Cadets have been raising money for their new base for 15 years, and are now redeveloping a former warehouse on Marischal Street, at the town's harbour.
The group has been based on High Street since 1959, but have "outgrown" the premises.
On completion, the new base will give the group more space for activities and education, new changing rooms, toilets and disabled access for the 44 cadets.
It will also provide the space for further recruits to join the ranks, addressing the unit's ever-expanding membership waiting list.
A turf-cutting ceremony has been performed by the cadets led by the Lord-Lieutenant of Kincardineshire, Carol Kinghorn, at the new site.
The group has so far raised £250,000 for phase one of the project – which will include converting the warehouse into a "wind and water tight" structure.
This stage also includes constructing a new ground floor, first floor and stairway.
However a further £250,000 is still required for the internal fittings including fitting out the classrooms, kitchen, dining area, toilets, showers and lift.
Principal of the cadet's RYA training centre, Andy Lawson, said: "We are a charity that gets little or no support from the Navy. It will cost about £625,000 for the construction and building the facility and it is all raised through donations, and we are still working away.
"We have got about 45 cadets just now. The problem is the building we are in is owned by the council and we can't afford to maintain and upkeep it as a charity since we don't own it.
"The thought was we'd go forward and invest in our own building."
Mr Lawson, who is also operations manager for the Stonehaven lifeboat, added: "I joined in 1979 and both my son, daughter and wife joined as well. It is a great, visual thing in the harbour in Stonehaven.
"We are obviously increasing the size of our space, it is a more modern training facility with better toilets and changing rooms for the kids getting on the water, and obviously closer to the water as well."
The cadets can be reached by e-mailing stonehavenseacadets@hotmail.com