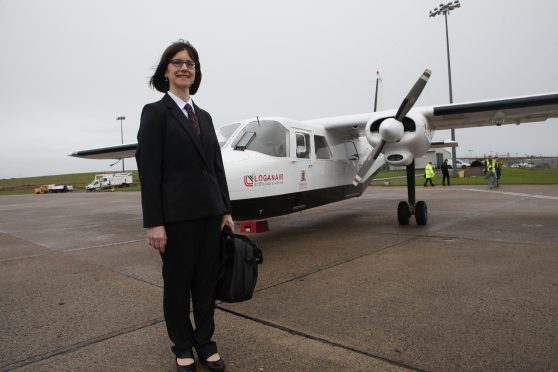 With a following wind, passengers barely have time to look out of the window between take-off and landing.
Nevertheless, a big milestone was reached in the history of the world's shortest flight when it carried its millionth passenger.
The short hop of 1.7 miles between Westray and Papa Westray in the Orkneys is officially recognised by the Guinness book of records.
It is part of the globally acclaimed Orkney Inter Isles Air Service.
At a ceremony at Kirkwall Airport yesterday to mark the impressive milestone, one of the route's most frequent and long-serving flyers, Royal Bank of Scotland mobile-banker Anne Rendall was gifted with a celebratory bouquet of flowers by newly-appointed Captain Alex Rendall.
Operated by Loganair since 1967, the service connects seven Orkney islands.
The duration of the flight from Westray to Papa Westray is officially two minutes, but under ideal wind conditions can be completed in only 47 seconds.
Other stops include Eday, Stronsay, Sanday and North Ronaldsay, plus the airport of origin, Kirkwall.
Mr Rendall, 27, from Kirkwall, is the latest Loganair pilot to take over cockpit duties on the famous route having recently completed an extensive training programme to operate the eight-seater Britten Norman Islander aircraft.
Anne Rendall has completed more than 10,000 trips on the service, visiting island communities across Orkney and tending to their banking requirements.
Her trips take her to Sanday, Westray, Stronsay, Papa Westray and North Ronaldsay, and once a month she boards the ferry to Hoy. On each island she opens up the Royal Bank of Scotland office there and will serve 40 to 50 customers during each visit, from crofters to fishermen to those serving the tourist industry.
Jonathan Hinkles, Loganair's managing director said: "The route is a jewel in our network and known across the world. However, despite its fame, it's an essential life-line service for the people of Orkney, connecting the individual islands via a convenient air-link.
"It's used by teachers, doctors, policemen and school-pupils, helping them to go about their daily routines with ease and simplicity.
"We've been operating the service on behalf of the Orkney Island Council for 49 years, with our eight-seater aircraft a stable fixture above the Orcadian skies during the time.
"I'd also like to congratulate Alex for being promoted to Captain of the Britten Norman aircraft while thanking Anne as one of the airlines most frequent passengers."
Ms Rendall said: "Loganair's service has become part of the fabric of Island life and the Royal Bank of Scotland is delighted to have helped celebrate this milestone."