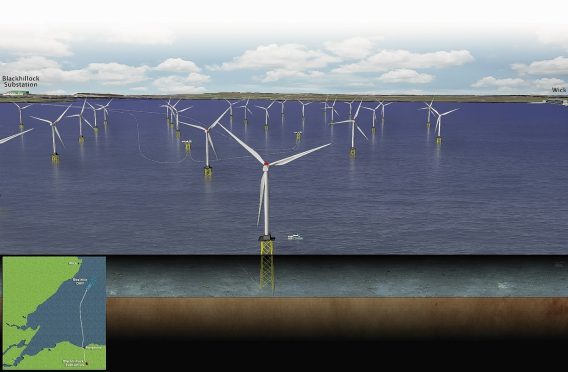 Council chiefs have accused Scottish Government ministers of ignoring their pleas for help to secure Highland a fairer share of massive profits from green energy schemes.
A row over the issue reignited yesterday with council leader Margaret Davidson claiming Energy Minister Paul Wheelhouse had snubbed the north by refusing to discuss it.
She told a resources committee meeting in Inverness that she had written to him twice in recent months hoping to discuss the matter and "got a flat refusal to get involved".
While welcoming job creation, she described a pledge of £4million in community benefit from the 84-turbine Beatrice Windfarm in the outer Moray Firth as "paltry."
She said: "We need to keep asking for government support in approaching the developers and saying this needs to be substantially increased."
Councillor Davidson cited depopulation and poverty along the local coastline, and a need for urgent investment to boost employment opportunities.
Sutherland Labour councillor Deirdre Mackay, a colleague in the council's new coalition administration, had raised the issue for a second time in a matter of weeks.
She calculates that during its 25-year lifespan, profits from Beatrice and other green energy schemes in Highland will reap up to £30billion for their backers.
"These are eye-watering profits by any standards emanating from our local natural resources," she said. "It's only fair these companies pay out a fair share to our communities and wider Highland in return."
Caithness councillor Matthew Reiss added that his constituents had "contempt for the system" while paying more for electricity than people elsewhere.
A spokeswoman for SSE, a partner in the Beatrice project, said: "In addition to the £6million community fund (£2m for Moray) it's estimated to pay around £28million to the Crown Estate's coastal communities fund and bring up to £224million in local socio-economic benefits. The coastal fund will be open to Highland communities."
Lindsay Roberts of the trade body Scottish Renewables said onshore wind schemes had this year generated community benefits of more than £11.5million.
She added: "Offshore wind has the potential to generate billions of pounds of investment and create thousands of jobs."
A spokeswoman for the Scottish Government said: "The payment of community benefits is not mandatory for commercial developers and is not a material matter in the planning process.
"There is no legal basis on which to mandate these payments.  However, the Scottish Government works with developers to encourage them to share the benefits of offshore wind with onshore communities – through community benefit payments and through the return to the local economies.
"Our position on assigning Crown Estate revenues to local communities, post-devolution of Crown Estate, has been set out in the recent Ministerial correspondence with Highland Council.
"We share Highland Council's desire to see the best possible outcome for Highland communities from SSE's Beatrice development."