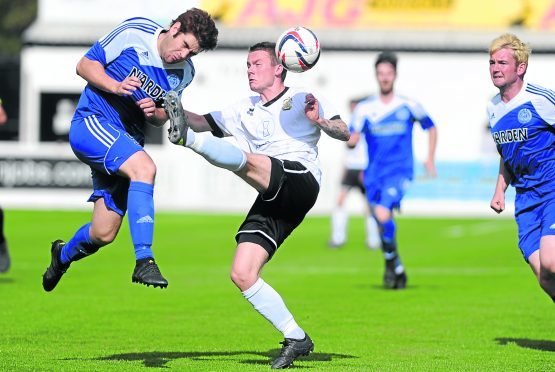 A group of footballers from Nairn are attempting an ambitious swim across the Moray Firth in support of one of their teammates.
Nairn County midfielder Calum Riddell was recently diagnosed with a malignant brain tumour. The 28-year-old was on honeymoon with wife Rebekah when he received the news.
Now, a group of colleagues from the club, ex-teammates and friends will plunge into the freezing waters of the Moray Firth as they attempt to swim four miles from Whiteness Point to Rosemarkie in support of Calum on Sunday September 17.
More than £30,000 raised online for Highland League footballer
Water temperature and currents will be massive factors in the challenge.
From the other side, the group will cycle the 30 miles back to the Westerlea Hotel in Nairn in the "From Sea to Land Together We Stand" challenge.
Mr Riddell said: "I am really grateful to all of the boys for their support. I know this is going to be a huge demand for some of them and it is really humbling that they are putting themselves through such a physical challenge to support me.
"They have put a lot of work into getting this off the ground and organising everything to ensure their safety when completing the swim and I cannot emphasise enough my gratitude to them all for coming up with this idea and agreeing to participate. I look forward to supporting them all on the day.
"The support I have received from everyone has been really overwhelming. I am determined to fight this and I would like to take the opportunity to thank everyone who has contributed towards the fundraising so far – I will always be indebted."
Organiser Wayne Mackintosh, ex-County captain and current Formartine United star, said: "I have always thought it would be a great challenge to swim across the Moray Firth. It is on our doorstep and what better cause to attempt it than in support of one of our own.
"We are all a really close bunch and I knew the boys would be keen to rally round and attempt it, even though it is a very tough challenge.
"Calum is a top bloke and all of his close mates are keen to support him and his family by showing positivity. His attitude towards this illness has been nothing but courageous and inspirational and we just want to let him know that we love him and he is not alone."