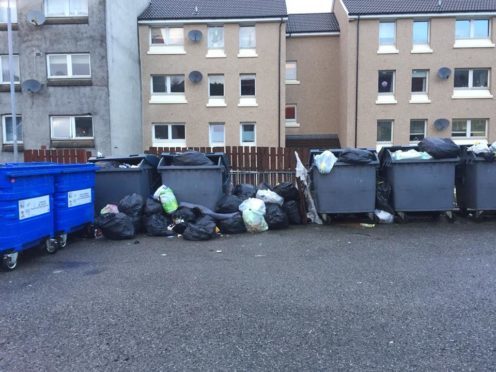 A great-granny says rubbish is making her part of Oban look like a slum after she was driven to clear up other people's mess in the wake of three-weekly bin collections.
Helen Reid of Shuna Terrace in Soroba asked her neighbours to use "a bit of common sense" after she got to work on the communal area.
She posted before and after pictures on social media and wrote: "Just spent an hour cleaning the bin area. Hope whoever leaves rubbish about sleeps well tonight knowing that a 70 year old great granny cleaned up after them."
Mrs Reid said: "This is going to be an on-going thing because we don't have enough bins. Because the uplifts are every three weeks now we need extra bins. That little area serves about 40 flats."
But she added: "There are lots of rubbish bags on the pavements. Why do some people stick it on top of a full bin when the one next to it is empty? I am not blaming anybody I just think people could use a bit of common sense. Don't send children down to put the bin out because they can't reach up to open the lid.
"It is a heavily populated area with lots of cars parking in front of the bins so in the evenings people tend to leave them lying on the ground, which is a great opportunity for rats and dogs to get at them.
"Soroba is becoming a bit of a slum area these days. I've lived in Soroba for 36 years. I love living there. I can't stand seeing all of that lying around so I just went out and did it."
She tidied and swept the area on Sunday morning. She added: "I don't blame the binmen."
Argyll and Bute Council went from fortnightly to three weekly bin collections at the end of 2016.
A spokeswoman for the council said: "We would like to thank the lady concerned for doing her bit to keep the communal bin area clean and tidy. We are aware of the problems in areas of Soroba that use communal bins and are continuing to work with our partners at Argyll Community Housing Association to provide more recycling facilities. We have been collecting general waste more often as a result of residents' concerns. We'd like to encourage those who use communal bins to make use of all the bins available in their area where possible as space is often available in bins that are not the nearest to their property."