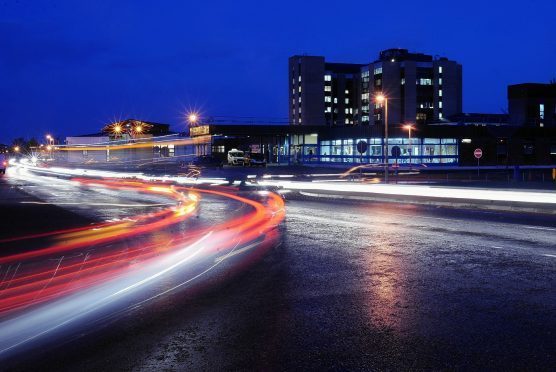 Health chiefs were forced to request a snow plough escort to transport a sick three-week-old baby down the A9 in treacherous weather conditions.
The mother and daughter made the 110-mile mercy dash from Caithness General in Wick to Raigmore in Inverness yesterday.
The dramatic journey was revealed in a post from Miss Sutherland where she highlighted the ongoing row over consultant cover at the rural hospital.
Last night, campaigners said it was "regrettable" that Mollie had to make the "traumatic" journey – and said the case showed that Caithness General should "kept as a functioning hospital".
In a post on the Caithness Health Action Team (Chat) Facebook page, the mother wrote: "Travelling down to Raigmore in an ambulance with a newborn baby with a snow plough in front of us because the roads are that bad."
NHS Highland and the Scottish Ambulance Service insisted that a road transfer was appropriate.
But Edward Mountain MSP for the Highlands and Islands, said: "I struggle to imagine how traumatic it would have been for mother and baby.
"In conditions like this you can't rely on always having perfect access. That is one of the reasons I support the whole issue of keeping Caithness General as a functioning hospital.
"It is very regrettable that the mother and child have had to go through these circumstances."
Ron Gunn of Chat added: "It is obviously a worry for the mother and the whole family. It is a far from ideal situation.
"I expect that would have been a pretty horrendous journey. It is not a particularly comfy journey at the best of times, it can take three hours. Obviously this would have been much longer in these conditions."
A spokeswoman for the SAS said: "Our crews are working incredibly hard and pulling out all the stops to treat patients and save lives against the backdrop of unprecedented weather conditions.
"A full clinical assessment was undertaken by NHS Highland and the SAS, taking into account the patient's condition and it was deemed that road transfer was an appropriate method of transport. The patient was safely conveyed with a snow plough in support, to ensure safe passage no matter what the road conditions were and we are grateful for Bear Scotland's assistance."
Pamela Garbe, Rural General Hospital Manager, said the baby arrived safely and was being assessed by paediatricians: "Had the condition of the baby been such that a time-critical emergency transfer was necessary then air ambulance and specialist retrieval assistance would have been requested. Where weather is an issue for air ambulance operations the SAS can call on the support of coastguard helicopters.
"I applaud our staff in their management of this case as well as strenuous efforts being made across our patch including great community effort."