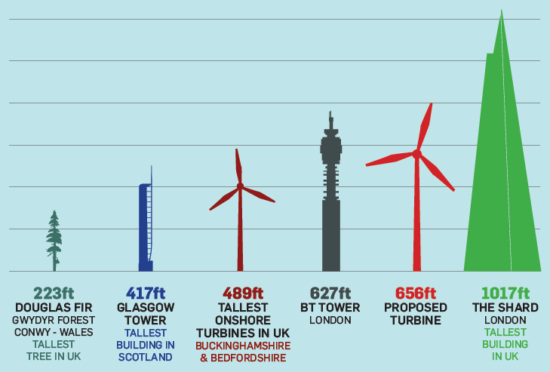 The Western Isles could be among the first places in Scotland to have "super turbines" as developer EDF announces plans for 656ft-tall structures on Lewis.
If approved, they would be the largest onshore turbines in Scotland and the same size as those being built in the North Sea.
The news that EDF is considering increasing the turbine size at its proposed wind farms has been met with outrage on the island.
Fears Speyside could become encircled in 'ring of iron' amid wind farm 'saturation'
Lewis Wind Power, part of the giant renewables group, has planning permission for 45 turbines which are 492ft tall at Uisenis on the Eishken Estate in South Lochs. These would be extended to 656ft height.
Another 36 turbines are planned for the "Stornoway General" area of mainly common grazing land out on the Pentland Road.
These are approved at 475ft but would increase to 613ft. At present the tallest UK turbines are near Aylesbury, in Buckinghamshire, and Leighton Buzzard, in Bedfordshire. Each are 489ft tall.There are two projects on the Scottish mainland attempting to install turbines of up to 656ft, in the Borders and Dumfries and Galloway.
The Stornoway Wind Farm is already controversial, being the subject of more than 200 objections to the Scottish Land Court.
Calum Macdonald, former Western Isles MP and developer of Point and Sandwick Trust's Beinn Ghrideag community scheme, said: "The size of the proposed new turbines being considered by EDF is simply staggering.
"These are the same size as the gigantic offshore turbines that are now being built in the North Sea. They are out to sea for a good reason which is that their enormous size is thought to make them unacceptable anywhere onshore, far less near a town like Stornoway or near an iconic location like Loch Seaforth."
Rhoda MacKenzie, a spokeswoman for a group of four grazing committees who want to develop their own community schemes, said this proposal would leave little or no capacity for community projects.
She said: "It's going to have a detrimental effect on tourism. The largest wind turbines in the UK? I hardly think that's going to bring people here."
Ms MacKenzie added: "When it starts getting into 'super turbines', that's intrusive. It's intrusive for the people that live near them. It's intrusive to the landscape."
Lewis Wind Power met representatives from the Scottish Government, Western Isles Council, SNH and Sepa on Monday.
Will Collins, project manager for Lewis Wind Power, said: "If we do decide to proceed with higher tip heights then we would need fresh planning consent, meaning that all local people and businesses would be consulted on the detail of our plans and have the opportunity to put over their views, positive or negative, to us as the developer and also directly to Scottish Government.
"If we were to move to larger turbines we are likely to use fewer of them, meaning there may not be huge changes to the overall capacity of the two schemes, and thus no real impact on the amount of spare capacity on the grid connection to the mainland. The key point remains that without our two schemes there will be no interconnector to the mainland and no further community projects connected to the grid.
"I think most local people, businesses and organisations want the same thing – to see major renewable energy development here on Lewis and to secure the jobs and the economic benefit our two wind farms would deliver."