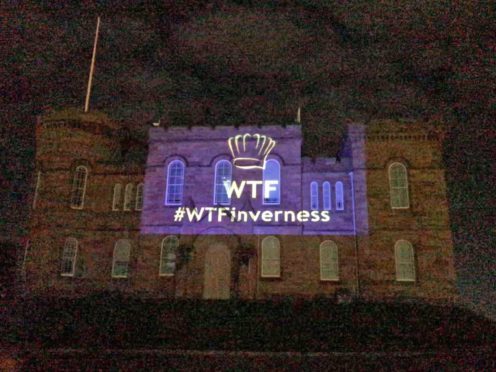 An upmarket Highland hotel has been left with a red face and facing a bill from the council after putting up "tawdry and unauthorised" advertising posters emblazoned with a controversial slogan across the city.
Highland Council is chasing plush Achnagairn Hotel at Kirkhill for the costs they are incurring to take the controversial advertising material down from authority-owned property.
Achnagairn bosses yesterday revealed they were behind the mysterious campaign with a plane flying a banner across the skies in the past week.
Highland businesses recognised for their exceptional customer service
A 20-mile radius around Inverness has been flooded with "WTF" material – a well-known abbreviation for a an expression of disbelief ending in a four-letter word – from a crowd of 30 dressed in black wearing chefs' hats with 'WTF' emblazoned on them to logos projected onto Inverness Castle, bridges and trains.
The campaign was dreamed up by owner Gillian Lacey-Solymar to celebrate her restaurant Table Manors being awarded a coveted 2 AA Rosettes at the 5 star Achnagairn Estate.
She claimed to be seeking to create an element of mystery, saying: "WTF" you might ask? "Where's The Food", Wonderful Tasting Fare", "Wow That's Fab!" or "What's The Fuss? All reasonable interpretations."
But the exercise backfired spectacularly last night, with Inverness Provost Helen Carmichael branding the scheme "tawdry and unauthorised".
The councillor, whose constituency covers Achnagrain, said: "This is so unexpected and surprising from such an establishment.
"I am so disappointed they have gone down this route to promote their otherwise wonderful hotel."
Mrs Carmichael said the adverts were "unauthorised" and she has been helping officials remove over 50 of them from its own signs, lampposts and pedestrian barriers, including one from right outside the Town House.
She added: "Our Community Services are seeking to recover the costs of the removal of the signs."
This could run into thousands of pounds.
The five- star Achnagairn Estate is part of the Perfect Manors group company just outside Inverness.  Further "celebrations" are being promised for tomorrow.
The company said in response to the criticism: "We did not wish to cause any offence, and deliberately put things up in a way that could be easily removed, but we were rather hoping that given we have invested so heavily in the area and created so many jobs and we attract so many visitors from overseas to Inverness that the council would be supportive of our rather fun and quirky marketing campaign."