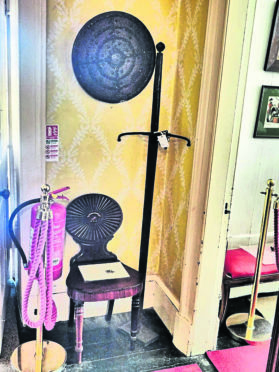 Police have returned to a remote Scottish island to try and find the thief who carried out an audacious theft of a historic 7ft sword.
One theory police are working on is that the weapon may still be on the isle of Canna, which is home to just 18 people.
Police Scotland is appealing for information following the theft of the claymore from a museum on the Inner Hebridean isle.
Bizarre theft of 'significant' historic claymore sword from museum on tiny Hebridean island
The sword was removed from Canna House. It is believed to have been taken sometime between June 6 and June 9.
Police Scotland confirmed today that an officer went to the island by boat last week to carry out further inquiries.
It is the second time officers have travelled to the island in their investigation, which was said todat to still be "ongoing."
The 7ft sword – which dates back to the 17th century – is described as a two handled broadsword with a double edged blade, a wooden grip and a stamped fleur de lys.
Reporting officer Constable Neil Davies said: "Incidents like this are extremely unusual in the Small Isles and I can assure people we are working to establish what has happened to the sword.
"We would like to speak to anybody with information which could help with our enquiries.
"There is no indication that entry was forced to the museum so anybody who was at Canna House over this period may have information which could assist us."
The thief would have known that there would not be many witnesses, as Canna has a tiny population.