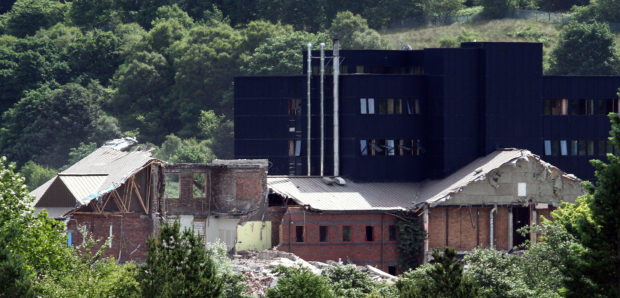 Slowly but surely the familiar red bricks of the old Oban High School building have been coming tumbling down this week.
Only part of the structure remains, with Argyll and Bute Council expecting the demolition works to be completed by early next year.
Pupils moved into the new £36million school next door at Easter.
When the former site is cleared a sports pitch and extra car parking will be in its place. During the busy tourist summer holiday season when the school is closed, the parking at the school will be available for members of the public to use.
Councillor Julie McKenzie, of the Oban North and Lorn ward and a former pupil, said: "It's poignant seeing the last remaining part of the old Oban High School coming down.
"For many of us former pupils of the school it is the end of an era.
"However looking to the future, the new Oban High School will provide a modern, progressive learning environment for pupils.
"All credit to the Scottish Government and the council for investing in Oban's future generations."
Marri Malloy, chairwoman of Oban Community Council, added: "It will release parking when the school is closed which is a great idea. I believe it will create around 120 extra spaces in the town.
"It is nice to see the work progressing because with the high school being up and running, before the summer holiday started the teachers were having to park in Lochavullin car park nearby. This will free up spaces at Lochavullin when they return to work."
A spokesman for Argyll and Bute Council said: "Demolition of the old Oban High School building is now underway, with the space to be transformed into car parking, bus turning, separate pedestrian access and social space for staff and pupils at the new school. The works are expected to be completed in early 2019."
The new school has been built by Argyll and Bute Council in partnership with hub North Scotland Ltd and the Scottish Futures Trust through the Scottish Government's Schools for the Future programme, with Morrison Construction as the main contractor.
It has capacity for up to 1,300 pupils.