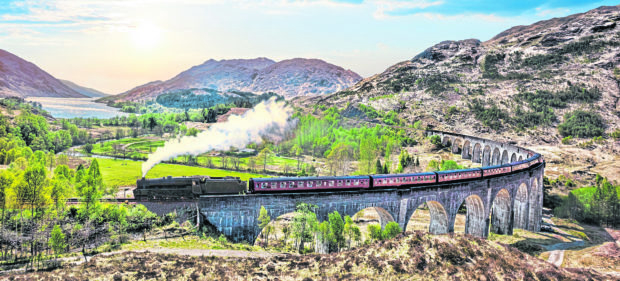 Officials are reviewing the speed limit at Lochaber's "Harry Potter" tourist trap, it has emerged.
A little magic dust seems to be gradually floating towards Glenfinnan to make the villagers' wishes come true- possibly in the prosaic form of a 30mph speed limit.
Residents have become increasingly anxious about the safety of the thousands of tourists thronging around the area daily to catch sight of The Jacobite steam train puffing over the dramatic viaduct on its way to Hogwarts.
PODCAST: The tiny Highland village that is being overwhelmed by Harry Potter fans on a daily basis
With very little official parking for hundreds of cars, and no pavements along the busy A830 Fort William-Mallaig trunk road to keep sightseers safe, villagers have been working towards a number of solutions to the worries that keep them awake at night.
---
>> Keep up to date with the latest news with The P&J newsletter
---
The 60mph speed limit on the through road was one of their main concerns. In July, villagers conducted a two hour 'snapshot survey' on the road to get an idea of the numbers of tourists potentially at risk.
They counted 740 visitors crossing the road, one way only, in between thundering HGVs, coaches and vehicles of all shapes and sizes, at National Trust of Scotland's designated crossing point for the village's other iconic attraction, the Glenfinnan Monument.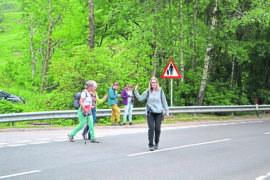 Glenfinnan community councillor Fiona Gibson said: "The A830 is the road to the isles and constantly busy.  Local people and regular hauliers know to slow down.  But we watched people wandering about the road in a world of their own, or trying to hold up the traffic to let elderly relatives across."
Mrs Gibson contacted Transport Scotland to see if anything could be done about the speed limit on the road.
She said: "They came in August and put out lots of cameras, and data strips across the road. They did lots of surveys, and we've heard they're now reviewing the situation. It's fingers crossed time."
Transport Scotland told the P&J: ""We recognise the concerns of the community regarding the speed limit at this location and that, in recent years, tourist activity in the area has increased.
"We had already identified that we would like to revisit the appropriateness of the speed limit on the A830 in this area.
"Our operating company is considering how best to take this forward as part of a range of priorities aimed at supporting our road casualty reduction programme."
In a further wave of the magic wand, villagers now have planning permission in place for the 100-berth car park they want to create on land in front of the viaduct.
All they need is £450,000 to turn it in reality.