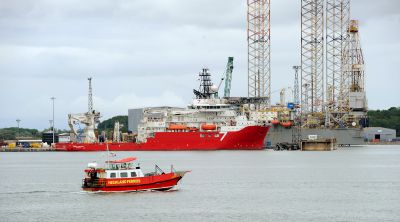 Senior politicians have had to step in to resurrect a tourism project designed to save the last ferry operating between two points on the east coast of the Scottish mainland.
Without their intervention, the small Highland community body pursuing the ferry plan would have lost £200,000 of funding, and faced being wound up completely.
Established in 2017, Cromarty Community Development Trust (CCDT) faced a pressing challenge over the future of the slipways required for the ferry service between Cromarty and Nigg.
They were decaying, with no prospect of them being repaired by their private owner, and one has now been condemned as past the end of its working life.
CCDT directors were advised to apply to the Rural Tourism Infrastructure Fund (RTIF) for money to upgrade and extend the slipways, to allow the use of a larger vessel on the route across the Cromarty Firth.
A second element of the project was to establish a camp site for the increasing number of motorhomes arriving from the North Coast 500 driving route.
At the beginning of June, Tourism Secretary Fiona Hyslop announced that the CCDT had been one of the RTIF winners and could expect £300,000 from the fund.
But four months later, without any warning, CCDT was informed that the £200,000 for the slipways had been withdrawn.
The decision jeopardised more than £130,000 of match- funding, and there was a "very real risk that the CCDT would have to fold".
CCDT directors began a programme of lobbying, and documents released to The P&J under freedom of information laws show a letter sent by local SNP MSP Kate Forbes to Ms Hyslop.
Ms Forbes wrote: "I urge you to overturn whatever decision has taken place locally, and ensure that the original funding will proceed as promised.
"Failure to do so, will leave a small community organisation in financial jeopardy and also result in the project being literally and metaphorically dead in the water."
Despite initially being told there was no appeal, the trust was subsequently informed it could look forward to the reinstatement of the full RTIF award, if conditions and deadlines were met.
Jacquie Ross, CCDT chairwoman, said: "It is true that we faced suffered a huge set-back some weeks ago, when it looked as though we were losing the funding for the slipway. This could have brought the CCDT to its knees.
"But the issue has now been addressed and we are working well with the different agencies, particularly the Highland Council and HIE.
"We all want to deliver this vital project. If we don't, Cromarty will lose its ferry. It is as simple as that."
A VisitScotland spokesman said with a commitment that Highland Council would "undertake a more proactive role with this project to see it to completion", the panel agreed to extend the funding deadline, subject to further detail being provided.
A Scottish Government spokesman said the RTIF panel was established by VisitScotland and operates independently of ministers.