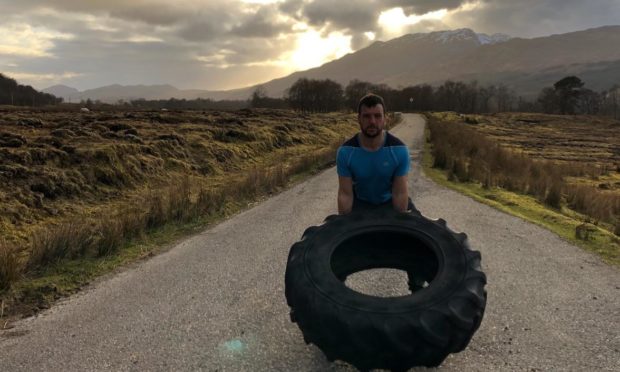 A former soldier is to take on a flipping hard challenge this weekend in Wester Ross in a bid to raise funds for the NHS.
Geoff Bowery, who is currently residing in Strathcarron, aims to flip a 90kg tyre for a distance of 2.2 miles in a bid to support the work of the health service during the coronavirus pandemic.
Mr Bowery, who served in the forces for 22 years, latterly as a personal trainer, now lives in Saudi Arabia with his wife and six-month-old son.
The family have, however, found themselves stranded in the Wester Ross village after visiting Mr Bowery's in-laws prior to government restrictions coming into force.
The personal trainer has said his current challenge, which will be undertaken on Saturday at sunrise, is to provide a challenging experience but one that is "worthwhile".
He said: "I often do one challenge annually as a fundraising event, so I am going to flip the tyre from here to the Strathcarron Hotel which is four kilometres away.
"There is a lot of open space here where I can adhere to government guidelines on social distancing.
"If I were comfortable doing it I probably wouldn't do it – I am doing this because I think it is going to be challenging."
Mr Bowery man anticipates the challenge taking between four and four-and-a-half hours, but is confident he will succeed, saying: "The critical thing is to keep a good technique throughout."
He set himself a fundraising goal of £300, which he has already more than doubled prior to even crossing the start line.
All proceeds will support the NHS.
Mr Bowrey added: "The work NHS staff are undertaking is challenging, admirable and awe-inspiring.
"I applaud the work they are doing and we should remember it is not just nurses and doctors.
"They are doing a fantastic job but the hard work also extends to the porters, carers and cleaners.
"It is a big enormous team that reaches out wider than the front line itself."