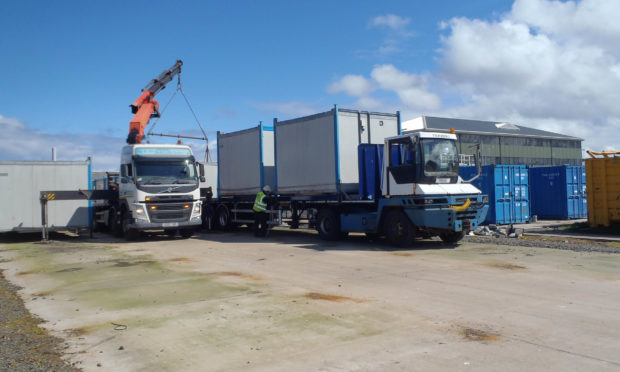 At a time when accommodation is lying empty across the country during lockdown, it helps when the room can be brought to the occupier.
This month 80 portable accommodation units left the Dounreay nuclear plant in Caithness and were transported hundreds of miles to England to help the prison service during the Covid-19 outbreak.
The self-contained units with beds and toilet facilities, known as Bunkabins, were used as temporary living quarters for workers over a five year period during a project as part of Dounreay's decommissioning.
Now surplus to requirements after the project ended, the cabins have been disconnected from the site's electrical and sewage system following an urgent appeal from the cabins' owners to recall any unwanted units.
They have now been added to the prison estate to be used in some cases as isolation cubicles during the coronavirus crisis.
As well as helping prisoners and the fight against coronavirus, a side effect of the move is the acceleration of Dounreay's decommissioning.
The accommodation complex covered several acres of the former nuclear research site and their disappearance has brought about a significant change to the skyline.
Site operations director Mick Moore said: "Keeping our staff, site and community safe is our highest priority in response to the coronavirus outbreak.
"This request proved a good outcome all round, as we get to safely decommission more of the site and the prison service gets some excellent accommodation units to help it manage the coronavirus outbreak."
Prisons are moving towards single-cell accommodation, as much as possible, to limit the spread of infection and the number of deaths during the pandemic.
This follows public health advice that prisons present a unique environment where rapid outbreaks of the virus could place a significant strain on local NHS services.
Isolation units are being used to house prisoners with Covid-19 symptoms and also others currently in shared cells to be separated as part of distancing restrictions.
A Prison Service spokesperson said: "As part of our robust and flexible plans to deal with the outbreak we have already started to install hundreds of temporary cells at prisons in England and Wales.
"There are positive early signs that our approach is proving effective."
Bunkabins have also been used in a number of other situations, from construction sites to festivals and from student villages to sports and leisure facilities.