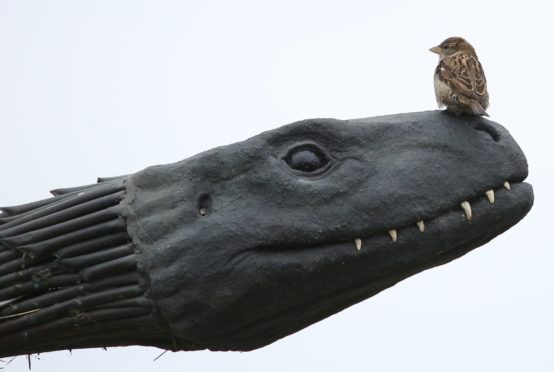 A sculpture of Nessie on the banks of the loch has become home to a family of sparrows.
The large wire sculpture is in the grounds of a historic pub on the shores of Loch Ness – which has suffered a huge loss of income because of the lockdown.
But Adam Da Silva, the owner of the Dores Inn, says the lack of customers has encouraged the family of sparrows to build a nest in Nessie's head.
"It has been so quiet now with lockdown they have been undisturbed and just got on with it. We would normally have up to 400 people a day but the sparrows are our only 'customers' at the moment," said Mr Da Silva.
The Dores Inn is situated on the quieter shores of south Loch Ness, eight miles from Inverness, and normally attracts hundreds of people a day at peak season – many hoping for a glimpse of Nessie.
But Mr Da Silva said that since lockdown started in March he was more than £100,000 down in takings. He hopes to re-open as soon as the government allows it.
Mr Da Silva said: "Normally we can seat 350 to 400 in the garden, but the lockdown has had a massive effect. Now it's just the sparrows."