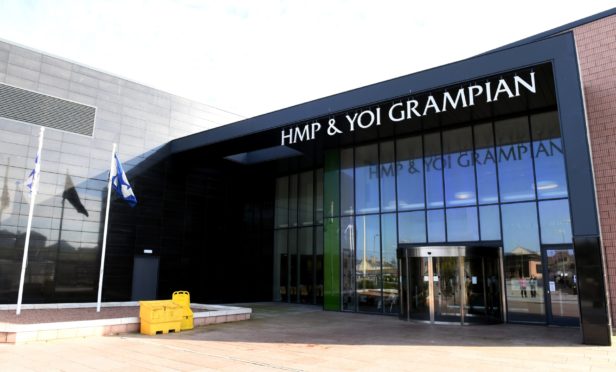 A call for improved facilities for female prisoners in the Highlands has been made after it emerged an 82-year-old woman facing domestic abuse charges was placed on remand in jail 107 miles from home.
Monica Robinson, from Inverness, appeared in private at the city sheriff court last week, made no plea, was committed for further examination and remanded.
Solicitor advocate Mike Chapman, who represented her in court, is furious she had to be transported to HMP Grampian in Peterhead as no emergency homeless bail accommodation could be found for her.
As Porterfied Prison in Inverness is an overcrowded, ageing building it is no longer deemed fit to provide female cells. The closest female facility is now at HMP Grampian.
Mr Chapman made strenuous efforts with Highland Council's housing and social work departments in a bid to find emergency homeless accommodation as a bail address – but was told all spaces were full because of Covid.
He said: "I found it impossible to find a suitable place for this vulnerable 82-year-old because homeless accommodation was full as a result of coronavirus.
"She is now more than 100 miles away in a place she doesn't know, away from family and friends. I believe other prisoners there are even helping her out with toiletries."
Highlands and Highlands Labour MSP Rhoda Grant, who long campaigned for better prison facilities for women in Inverness – and is seeking a specialist unit when the new HMP Highland jail is finally built – said: "The stark thing here is that this woman is on remand, she has not been convicted of anything.
"One of the reasons for people with convictions being relocated from Porterfield to facilities elsewhere was that they would be able to access professional support to better deal with their difficult problems.
"But there has to be a place at Porterfield for remand prisoners. You're innocent until proven guilty and therefore to be taken away from your family and friends, is unacceptable, especially for someone of this age."
She added: "It speaks to the need for a facility in Highland that allows women to be closer to home. That could be a community custody unit where those on remand or coming to the end of their sentence can be held.
"If it has transpired that the reason this woman is in jail is because there is no homeless accommodation then that needs to be sorted.
"We have such a backlog in the justice system and the council has a duty of care to find this woman accommodation if that's the only thing that's keeping her in prison."
Mrs Grant is campaigning for a community custody unit to built in line with the construction of a new prison, which has currently been delayed because of priorities elsewhere in Scotland – including Barlinnie.
Edward Mountain MSP said: "Far too many prisoners from the Highlands are being transferred out of the region because HMP Inverness is not fit for purpose. The Highlands needs a modern prison and I continue to press the SNP Government to fund this shovel-ready project."
A Scottish Prison Service (SPS) spokeswoman said: "We do not comment on individuals.  SPS are required to accept those remanded by the courts. At this time the female facility for this area is located in HMP Grampian."
A Highland Council spokesman said: "All Highland women are remanded, where that is the court decision, to HMP Grampian as we have nothing closer. Highland Council is aware of the high numbers of remand across Scotland and would support the use of bail in all appropriate cases."
Plans for a much-needed new £80million prison in Inverness, next to the Retail Park beside the A96, have been delayed to make way for other prison projects across Scotland, including Barlinnie.
A recent inspection report revealed almost 300 inmates from across the Highlands were in jail hundreds of miles from the north because Porterfield prison – one of the oldest in the country – was too small.