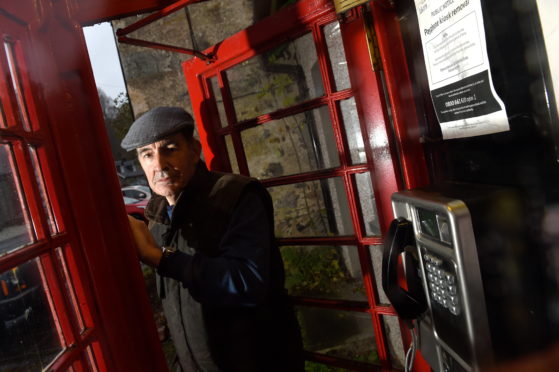 The threatened removal of more than 100 payphones across the Highlands has prompted the council to complain to the communications regulator about BT.
Officials have accused the telecoms giant of 'disappointing and ill-considered' proposals and says it is disregarding attempts to save them.
Highlanders fight to save more than half the payphones on a BT hit list for removal
Consultations have been going on for the past two years, including a two-phase consultation this year in which the council received 296 representations from community councils, local groups and individuals.
All but two of the responses highlighted serious concerns about the detrimental impact of BT's proposals on communities.
A report due to go before councillors at next week's full council meeting states: "The timing of BT's proposals is extremely disappointing and ill-considered as it has required the council to consult with community and public sector partners who are largely preoccupied with community response and resilience work related to Covid-19.
"This is an inappropriate use of stretched public sector resource and an added unnecessary concern for communities at a time of national crisis."
The report also points out that 52 of the call boxes in the 2020 consultation were already consulted on last year, including 46 payphones whose removal the council had vetoed based on community representation.
The reports authors add: "BT is therefore seeking to disregard 84% of these recent vetoes on removal.
"This is in contravention of OfCom requirements that BT must first request a review of such decisions by the council and OfCom, should it wish to disregard them."
The report accuses BT of disregard for its own public service obligation in its proposal to remove all public call boxes from certain areas, including Alness with its higher than average levels of deprivation, and the entire Badenoch and Strathspey ward, with its hillwalkers and tourists depending on call boxes in emergencies.
Badenoch & Strathspey councillor Bill Lobban said all the remaining payphones are needed and should remain.
"BT will keep on trying to close them, thinking eventually we'll make a mistake and they'll succeed, but there are very strong feelings here.
"There are many areas where there is simply no reception and if you're stuck in a hollow with the snow coming down you can trudge to the red box to summon help.
"If it's not there, BT is quite simply endangering lives."
A majority of Skye call boxes have also been targeted for removal, with the report describing this as "questionable, given the remote rural geography of that community".
BT says there has been a 90% decline in payphone use over the past decade and there is either 3G or 4G coverage over the UK with the ability to roam across networks and call emergency services even without credit or coverage from your own mobile provider.
Yesterday it did hold out a glimmer of hope to the council – but that may come at a cost.
A spokesman said: "If the authority tells us that it would like to keep particular payphones, or adopt them, they will remain.
"We've investigated and in this case, like in all consultations, we have followed Ofcom's guidelines.
"We've gone further and had regular dialogue with Highland Council officials from before the consultation started to ensure they were aware of our proposals and rationale, as well as answering any concerns.
"We will review any feedback from communities and continue to liaise with the council."