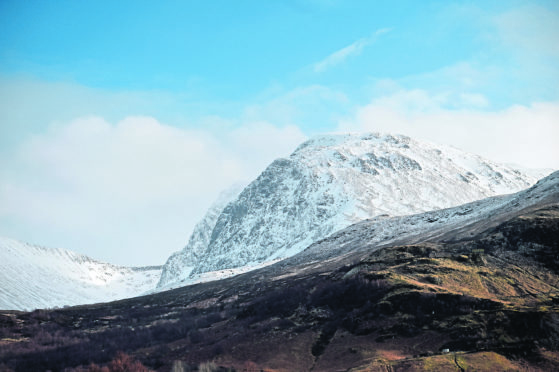 It's one of Scotland's most famous locations.
But Ben Nevis has been transformed into Bin Nevis by some of the 100,000 walkers who scale the 4411-ft peak every year.
Nearly 375lbs of rubbish was cleaned from the UK's highest mountain at the weekend – including half a toilet, a military flare and items of underwear.
The mountain – and many others in the UK – was cleaned by an army of volunteers as part of the Real3Peaks Challenge.
Mountain guide, Rich Pyne, who organised the event, said: "Tissues and banana skins were in abundance, as were underpants and plastic wrappers.
"The summit itself was a complete mess, which was a real shame as the rest of the hill looked very promising after the clean-up which took place a month ago by The John Muir Trust.
"We spent an hour there, and ended up with approximately three bin bags each. It was quite a load to carry for five miles."
He outlined the diverse assortment of the waste collected in 34 bags.
These included banana skins, apple cores, orange peel, toilet roll and wipes, plastic bottles and their tabs, cans and glass bottles, hats, socks, tee shirts, long johns and an umbrella.
There were also cigarette ends, dead flowers, a sleeping bag, beach shelter, half a boot, a pair of jeans, a 5L water bottle and the rest of the porcelain toilet we carried off last year.
Mr Pyne added: "If every person that went on Ben Nevis took down one piece of litter, the hill would be pristine in about 18 months.
"I can see we do and are making a difference, and it is wonderful to be able to give something back to the places we visit and love."
The iconic Fairy Pools at Skye were also cleaned.
In his report, Adrian Trendall wrote: "We did a circuit around the main car park and removed a shocking amount of beer bottle, cans and plastic bottles.
"I can half understand some of the litter such as crisp bags and sweet wrappers being blown away by the wind, but glass bottles must have been deliberately thrown into the undergrowth.
"More shocking was the amount of toilet paper and associated human waste, a problem that will hopefully be solved with the opening of toilets on site by next Easter.
"I still find it sad revisiting the Fairy Pools and seeing how it has been trashed by its own popularity over recent years."