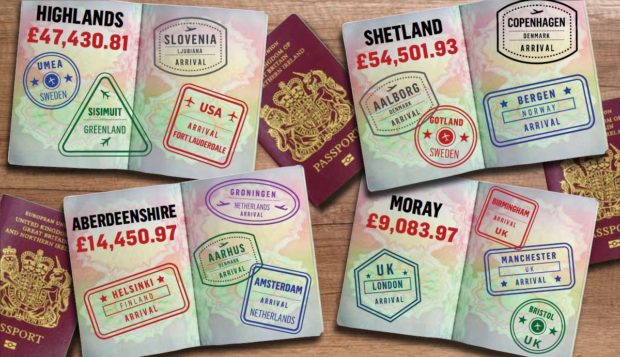 Taxpayers have paid out hundreds of thousands of pounds to send councillors and officers to far-flung locations such as Florida, Greenland and Slovenia in the past two years.
New figures obtained by the Press and Journal reveal north and north-east councils have spent almost £125,500 for official trips in 2017 and 2018.
Of the four councils that provided the information, Highlands spent the most on flights, with £47,430 across 2017 and 2018.
The authority paid for 129 return flights for staff and elected officials, however about £17,000 of these were funded by external organisations.
Among the trips that were funded by the public purse was a principal accounting technician, who travelled to Fort Lauderdale in America on a Virgin Atlantic flight which cost £738.30.
The authority also sent a sustainability officer to Sisimiut, Greenland, via a British Airways flight to Copenhagen, Denmark, and a connecting Air Greenland flight which cost £3,058.
And a coastal planning officer made the trip to the Ljubliana, the Slovenian capital, in a direct Easyjet flight which cost £514.07.
All trips were economy class.
Shetland Islands Council paid £54,501 for 146 flights across 2017 and 18, the majority of which were to the mainland.
However the council's convener also made trips to conferences and other civic events in Bergen and Aalborg in Norway, Copenhagen and Gotland in Sweden, and Brussels.
The total cost of these economy flights was £4,198.
---
>> Keep up to date with the latest news with The P&J newsletter
---
Meanwhile Aberdeenshire Council spent £14,450 on 55 return trips in total across the two years.
Among these were four trips made by the current provost, Bill Howatson, who journeyed to Denmark twice, Norway and Amsterdam to attend conferences, in trips totalling £1,164.
Councillor Richard Thomson, the current SNP-Labour opposition group leader, travelled to Norway, Denmark and Amsterdam to attend three meetings of the North Sea Commission Resources Group, which totalled £1,279.
And Councillors Charles Buchan and Mark Findlater attended the Kimo International Conference and AGM, an event which focuses on marine sustainability, in both 2017 and 2018, which amounted to £1,828.
All flights were economy class.
Moray Council spent £9,083 on trips to locations including Manchester, Birmingham, Bristol and Sumburgh.
Aberdeen and Western Isles councils claimed it would be too expensive to provide the figures.
All councils have said they were "working hard" to cut now on any trips which are not essential, and are increasingly moving towards video conferencing where possible.
However, the authorities say there are still events which require attendance in person and which necessitate air travel.