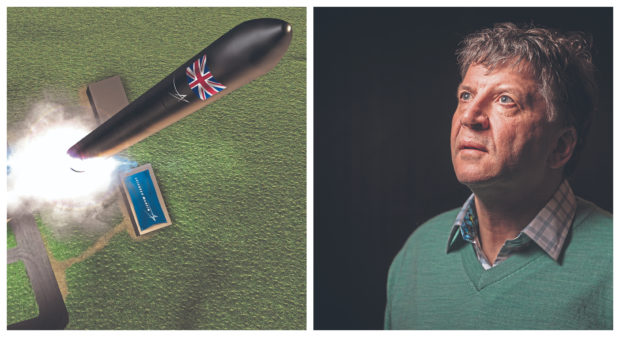 Space wars have erupted in the Highlands amid explosive claims that the region's development body has been "working against" rocket-launching projects on the islands.
The boss of Shetland Space Centre (SSC) has alleged that it was "deliberately kept out" of a major funding competition to develop the UK's first spaceport.
Frank Strang, a former RAF officer who wants satellites to be sent into orbit from his site at Unst, lifted the lid on how he was left feeling "disappointment, frustration and anger" at the way the process was handled by Highlands and Islands Enterprise (HIE).
In an interview with the P&J, he claimed HIE opted to back a site in Sutherland for the £17.3 million spaceport despite its own analysis showing that Shetland and Orkney would be better locations.
Mr Strang also suggested that the finding was withheld from SSC, and that HIE had cost the Unst project business support by "back-briefing" against it across Europe.
Meanwhile, Shetland MSP Tavish Scott branded HIE's conduct "extraordinary", suggested it was now "actively working against the interests" of the Western and northern isles, and that he had raised the matter with Scottish Government ministers.
Last night, HIE described the claims as "surprising and disappointing".
The UK Space Agency (UKSA) announced financial support last summer for an HIE-backed scheme to launch satellites from The Moine in Sutherland.
Mr Strang, who owns the former RAF Saxa Vord site on Unst, suggested that his team's efforts to enter the contest were thwarted by HIE.
Highlands to get first spaceport in the UK – sparking jobs boom potentially worth £3.8bn
He said SSC asked officials from the agency how they could submit a bid, but they were told "leave it with us", and "they never came back to us".
After the competition closed, a member of the SCC team bumped into two advisers to the UKSA, and asked why Unst was not considered for cash support.
They responded that "we were told that nobody (on Shetland) was interested", according to Mr Strang.
Then, he said the UKSA sent him a copy of the "Sceptre" report, which was produced by HIE and partners in February 2017.
Mr Strang said he "almost threw up" when he read it – because "it was obvious that we had been kept out of something".
The executive summary of the report said: "The site offering the maximum payload mass to orbit is Saxa Vord in the Shetlands, from where direct launch is possible to both SSO and polar orbits.
"A site in the Orkney Islands would be next best, followed by the north coast of the mainland."
However, the report did add that the remote nature of the Unst site "means it is logistically the most challenging".
Mr Strang claimed that an HIE official reported that they were "told not to show it to you".
Despite missing out on UK Space Agency and HIE funding, the SSC team have continued to progress its plans to launch rockets from Unst.
Mr Strang said that SSC had recently reached an agreement to work with a German firm, however he "never heard from them again" after an HIE official was featured in a German newspaper "talking about it being problematic to launch from Shetland".
He alleged: "They back-briefed against us and they are doing it everywhere."
Mr Strang, who grew up in Sutherland, fears the backing of the Moine site for the first spaceport could jeopardise the region's ability to cash in on the lucrative sector, because of potential delays linked to legal wrangles, opposition from some local crofters, logistical issues and environmental concerns.
---
>> Keep up to date with the latest news with The P&J newsletter
---
"It's prejudicing it. It could cost the economy tens of millions," he said.
"I think they could get there in Sutherland, and I wish them well, but it's going to take a long time and a lot of money, by which time the boat may have sailed."
Last night, an HIE spokesman said: "Some of the claims being made are particularly surprising and disappointing. If there is any evidence to substantiate these then we'd like to see that."
He added that HIE had supported SSC, including financially, and that it released the Sceptre report in December 2017 after receiving a request.
But Mr Scott, a Liberal Democrat MSP who is also an SSC director, said: "All I want is for HIE to adopt a level-playing field approach to this, that any of the three sites – Benbecula, Sutherland or Unst – can develop, and if they develop they will be given a fair wind by the economic development agency of the Highlands and islands.
"Sadly that is not the case. At the moment HIE are supporting one, and actively therefore working against the interests of both the Western and the northern isles.
"It's extraordinary, especially when they are using public money to do it. I have asked ministers to explain why it is not a level playing field."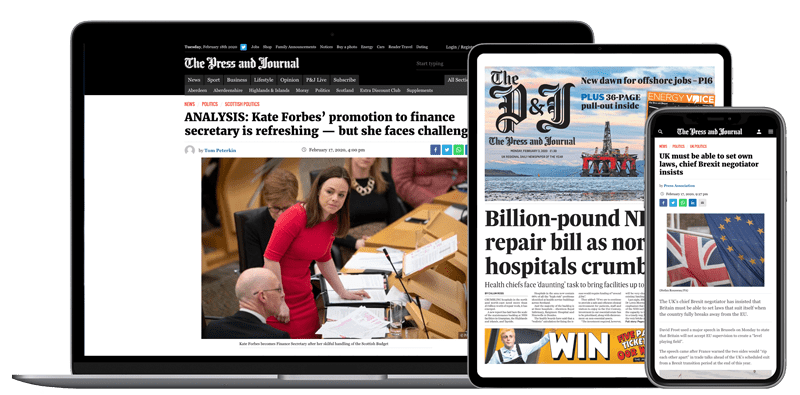 Help support quality local journalism … become a digital subscriber to The Press and Journal
For as little as £5.99 a month you can access all of our content, including Premium articles.
Subscribe