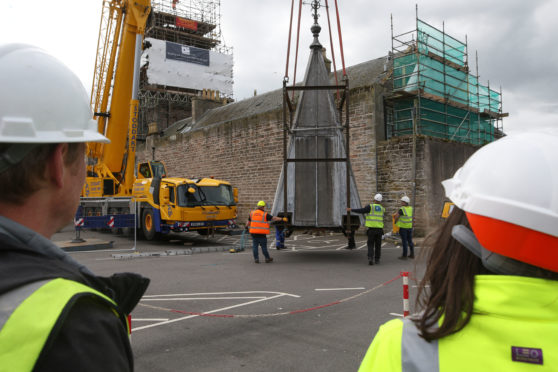 Nairn's crowing glory is going to be back in place this weekend after the town's newly refurbished steeple is replaced at the historic courthouse.
Highland Council is aiming to crane lift the tower back onto the top of the town centre building on Sunday, weather permitting.
In order for the crane access to proceed with the lift, the courthouse's rear car park will be closed overnight at both entrances from the A96 from 10pm tomorrow until 10am on Sunday.
A Highland Council spokeswoman said: "Crane set up will take approximately an hour-and-a-half from 7am on Sunday, with the actual lift likely to take half an hour from 8:30am.
"For public safety, the High Street will be closed off in the immediate vicinity of the Courthouse for the duration of the lift.  Areas adjacent to the Courthouse will also be cordoned off for safety reasons.
"The construction works are currently on programme and the public are able to view the various stages of works required at Nairn Service Point. "
Works are being carried out by Laing Traditional Masonry, and project managed by  Highland Council.