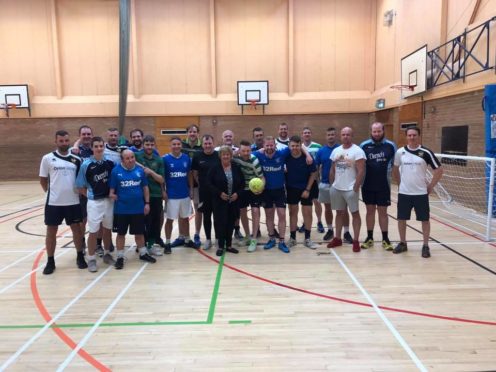 A special football tournament to honour the life of an Inverness man by raising funds for a local charity took place for the 13th time at the weekend.
The contest, in memory of Shaun Scullion, took place  at Charleston Complex on Saturday.
Sides made up of Rangers supporters and Celtic fans met in the final, with the former securing a 7-4 victory.
The event is held to remember the 20-year-old from Kinmylies who died in 2006 from an aneurysm.
The event, which is organised by his family and friends Steven Corcoran, Jamie Kilpatrick and James Duncan, has raised around £14,000 to benefit local causes since it launched.
And this year's proceeds, which weighed in at £943, are again to be distributed to the Charleston Community Foundation.
The organisation aims to assist people under the age of 18 living in the Kinmylies, Muirtown and Scorguie areas of Inverness by supporting disadvantaged families.
Mr Scullion's mother Morag described the charity's work as "tremendous" adding that it was a "very deserving" cause.
She said: "It's such a fitting tribute to Shaun and we are delighted to have raised more than £900 for charity as well."